Break Down the Doors: 10 Closet Cases In the Movies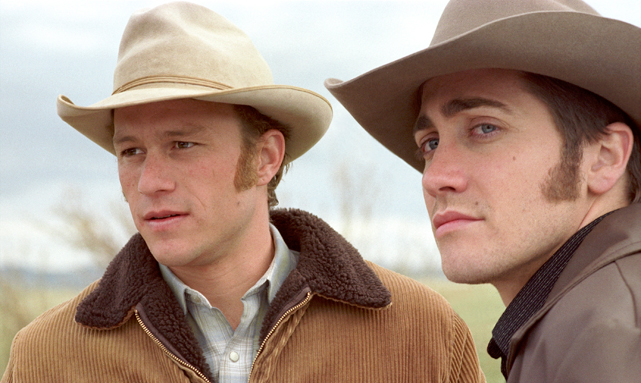 We owe a lot to the movies below and their characters—the ones who make the brave decision to come out and even the ones who never get to be that bold. They help those who struggle today, and remind others of the formative and common experience of what it means to come out.
1. Col. Frank Fitts (Chris Cooper), American Beauty
Chris Cooper made quite a mark with his portrait of a deeply paranoid military family man. It's difficult to even refer to this dangerous character as "in the closet"—Fitts is so out of touch with himself, as well as everyone in his family, that it's unclear whether he's even aware of the prison he occupies.
2. Ennis Del Mar (Heath Ledger) and Jack Twist (Jake Gyllenhaal), Brokeback Mountain
Before any mention of the closet or homophobia can arise (and it never really does), Ennis Del Mar (Heath Ledger) and Jack Twist (Jake Gyllenhaal) are confronted with their love for each other, a powerful force which in many ways just "happens" in the confines of their own corner of a mountain range. And therein lies the movie's heartbreak, because ultimately the only way the two cowboys can ever truly acknowledge each other is by cocooning themselves in the empty mountainscape where they first found each other.
3. Megan (Natasha Lyonne), But I'm A Cheerleader
This clever satire on the ex-gay movement puts a charmingly clueless Megan (Natasha Lyonne) in the middle of a group of misguided folks as they do whatever it takes to remain in the closet. The fun of Cheerleader is that it manages to strike a near-perfect balance between outrageous camp, sneaky dark comedy and even some heartfelt moments: Megan's love scene with Graham (Clea DuVall) is beautiful—and surprising.
4. Idgie Threadgoode (Mary Stuart Masterson) in Fried Green Tomatoes
This movie met with a fair share of dissention when it was evident that entire parts of Mary Stuart Masterson's character—namely her sexuality—were glossed over in the adaptation of Fannie Flagg's novel. Interestingly, Flagg adapted the screenplay herself, and a close watching reveals that Idgie's feelings for Ruth (a delicate Mary-Louise Parker) are nonetheless resoundingly clear.
5. The Politicians, Outrage
Kirby Dick's 2009 doc reveals the parallels between closeted politicians and malicious anti-gay policy, and how many voting members in Congress and beyond who are so adamantly against gay civil rights end up embroiled gay sex scandals down the line. Internalized homophobia is something that most closet-dwellers must address at some point, and those in the public eye, surely don't have it easy when trying to win this very personal battle.
6. Duckie (Jon Cryer), Pretty in Pink
Here's a debate most everyone has taken part in at some point: Was Duckie really gay? My answer? For sure! Consider the evidence: the fashion, the hair, his natural ease making friends with needy females. Pretty in Pink functions just barely as a love triangle, and the original ending—in which Duckie actually does end up with Molly Rindwald's Andie—played so poorly with test audiences they had to reshoot.
7. Matt Mateo (Ivan Sergei) and Lucia Delury (Lisa Kudrow), The Opposite Sex
This gem from Don Roos has the closet door swinging in all sorts of ways, with hilariously wishy-washy characters swirling around Bill (Martin Donovan). Aside from his cute new boy toy Matt (Ivan Sergei) turning "straight" (somehow it doesn't quite stick), another interesting closet case in this movie is Lucia (Lisa Kudrow), who starts out so cut off from the possibility of physical affection and eventually learns to open her doors.
8. Tom Ripley (Matt Damon), The Talented Mr. Ripley
The closet is a place where Tom Ripley (Matt Damon) develops his talents, as it were, to put on a totally different face and persona, something that so many who've been (or still are) in the closet can relate to. His love interest, played by Jack Davenport, is a 1950s-era dandy at ease with himself, bringing to arresting relief just how insecure Tom truly is.
9. Eyal (Lior Ashkenazi), Walk on Water
Lior Ashkenazi plays Eyal, a Mossad agent charged with shadowing the grandchildren of a Nazi war criminal, who becomes increasingly drawn into the world of gay grandson Axel Himmelman. There is the potential for a deeply rich love story here, with Eyal spending much of the movie with Axel, exploring his own potential gay side, so it's frustrating and inexplicable when Eyal ends up with the younger man's sister.
10. Julio Zapata (Gael Garcia Bernal) and Tenoch Iturbide (Diego Luna), Y Tu Mama Tambien
This tale of love and lust shared by three free spirits on the road successfully depicts the true fluidity of sexuality in youth, with two boys (Gael Garcia Bernal and Diego Luna) under the heady influence of an older woman. Whether or not either of these boys is really in the closet is completely beside the point; Y Tu Mama Tambien examines the moment-to-moment notion of sexuality, and of being human.