5 Ways to Feed Your Chocolate Addiction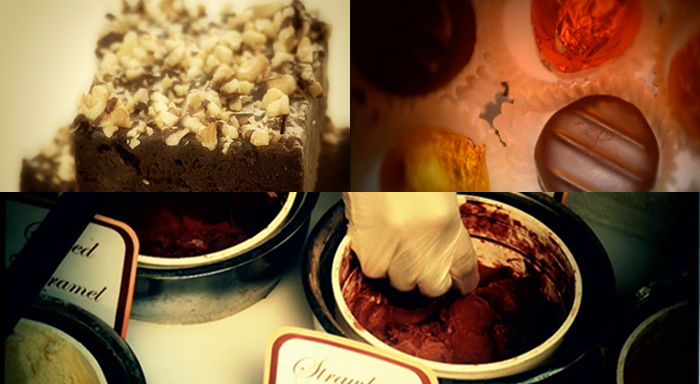 If you've already had your fill of Halloween candy, and watching Chocolat again isn't going to cut it, then read up on, and take some tips from, the ways chocolate addiction has been taken to the extreme.
1. Chocolate Fondue Wrap
Sometimes chocolate addiction means it's not enough to eat a few pounds of it. You have to keep going, slather it all over yourself. If you're at that point, head directly to the Chocolate Spa in Hershey, Pennsylvania. Among their signature chocolate treatments: Whipped Cocoa Bath, Chocolate Fondue Wrap, and Chocolate-Covered Strawberry, "A signature chocolate-themed treatment featuring a Strawberry Parfait Scrub."
2. Chocolate NFL Statues
Some sculptors can't be confined to one medium. Jim Victor seems to prefer working in butter for pieces like his homage to Michelangelo, "David As Surfer." But he's also marvelously adept at chocolate: those works include a life-size bust of Emmitt Smith as an NFL Hall of Fame Inductee. He's also done a full-size chocolate race car at Chicagoland Speedway and posed driver Kyle Bush next to it; fittingly, it's the Mars M&M car.
3. Chocolate Room, Part I
If you happened to be in Lithuania on Valentine's Day in 2011, you would have gone to the mall and seen a whole room made of chocolate. It took local food artists 661 pounds of dark and white chocolate to construct the traditional sitting room which included a vase of flowers, tea cups and champagne flutes and a white cat sitting on a chocolate chair. A few weeks later, when they broke the room down, they were nice enough to give out pieces of the chocolate.
4. Chocolate Room, Part II
It's a very good question: Who decided to give Chanel designer Karl Lagerfeld 10 tons of chocolate to create a hotel room? (The answer is Magnum ice cream.) If he was inspired by the Lithuanian model, the influences are subtle. Instead of a sitting room, he created The Magnum Chocolate (bedroom) Suite. Instead of a white cat sleeping on a chair, he sculpted his favorite male model Baptiste Giabiconi lounging in his undies on a bed eating a chocolate pop.
5. Chocolate Skyscrapers
Pastry chef Alain Roby used 2,200 pounds of chocolate to create the 20 foot, 8 inch model that combines influences of the Empire State Building, Rockefeller Center and the Chrysler Building. (We can call it the chocolate Rocka-Chrya-pire building.)