The Weirder, The Better: 10 Oddball TV Characters You Just Have to Love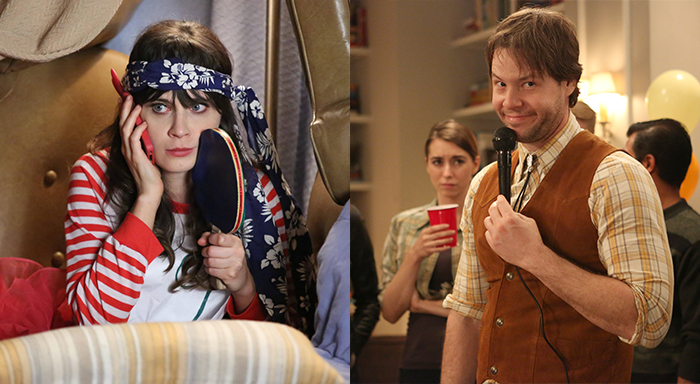 New Girl's Jessica Day, played by Zooey Deschanel, is oh-so-adorkable, but she isn't the only lovable weirdo on your TV set. In fact, the television comedy landscape is populated by a whole lot of them. But their quirkiness just makes our hearts grow fonder.
1. Tracy Jordan (Tracy Morgan), 30 Rock
No one spouts pure nonsense so amusingly as Tracy Jordan. The B-list movie actor who becomes the star of Liz Lemon's (Tina Fey) sketch comedy show has a tenuous grasp on reality at best. But how can you not love a man who reminds you to "Live every week like it's Shark Week."
2. Adam Sackler (Adam Driver), Girls
"Weirdos Need Girlfriends Too" is the apt title of an episode of Girls that manages to capture both the cuteness and weirdness of Adam, Hannah's (Lena Dunham) on-again, off-again sorta-boyfriend: he buys her ice cream (adorable!), he storms out of tech rehearsal of the show he's working on (odd!), he blows up at a cab driver (odd but understandable!), he pastes up signs everywhere to apologize (odd-orable!). Another actor might make Adam seem more like a sociopath than a cute boyfriend, but actor Adam Driver plays up both and adds a certain charm to the combination.
3. Abed Nadir (Danny Puddi), Community
Is there an episode where Adeb doesn't steal the show? He can rap, dance, play paintball like nobody's business and has kissed the prettiest girl on campus. So what if he's not so great at reading people? We'd hang out in his blanket fort anytime.
4. Andy Dwyer (Chris Pratt), Parks and Recreation
Andy Dwyer is often portrayed as the world's most charming bro—Dave Matthews superfandom and all—but he's also pretty damn odd. He spent some time living in a pit, has an FBI agent alter-ego who solves crimes, and maintains a childlike innocence well into his late thirties.
5. April Ludgate (Aubrey Plaza), Parks and Recreation
Not to be left out, Aubrey Plaza's dour-faced intern-turned-achiever April Ludgate turned out to be a great match for Andy's exuberance—while still maintaining a studied, hipsterish eccentricity, as when she lists the music she likes ("German death reggae, Halloween sound effects from the 1950s, and Bette Midler"—though an earlier episode also revealed her Neutral Milk Hotel fandom). Seriously, what's not to love?
6. Erin Hannon (Ellie Kemper), The Office
One of its best elements in the later seasons of The Office is the character of Erin Hannon, played expertly by Ellie Kemper as selectively dim, spectacularly strange and kitten-level cute.
7. Jessica Day (Zooey Deschanel),New Girl
This show caught a lot of flak for its initial ad campaign that centered on the made-up word "adorkable," aggressively selling Zooey Deschanel's cutesy awkwardness. But as it turns out, Deschanel's Jessica Day has a very specific brand of weirdness that makes her feel like a genuine goofball: some of Liz Lemon's brainy awkwardness, some of Leslie Knope's (Amy Poehler) boundless energy, plus Deschanel's singing heart. It's all a win.
8. Amy Fowler (Mayim Bialik), The Big Bang Theory
Here's a meta-oddball: a girl became famous for playing a teenager on TV and decided that instead of turning to meth, liquor store robbery or sex tapes, she would get a PhD in neuroscience, and then play another sitcom character with a similarly advanced degree. Maybe that shouldn't seem strange, but it kind of is when you compare her to other child stars.
9. Morgan Tookers (Ike Barinholtz), The Mindy Project
Though sometimes used as a non-sequitur joke machine, there's a puppyish eagerness to please in Morgan, the ex-con nurse at The Mindy Project's OB/GYN practice. Even when he's fired for highly inappropriate poking around in the personal life of one of his colleagues, he leaves the office—signaling his previously unseen puppy to trot after him. A puppy with a puppy! What's more lovable than that?
10. The Belcher Children (Dan Mintz, Eugene Mirman, Kristen Schaal), Bob's Burgers
It didn't seem fair to pick just one: Tina is the most touchingly earnest; Gene the most ebulliently enthusiastic; and Louise the most adorably cracked. So let's call it a mega-tie!


More TV characters we love? How about the cast of My So-Called Life?