Let the Games Begin: 6 Thrilling Modern Male Outlaws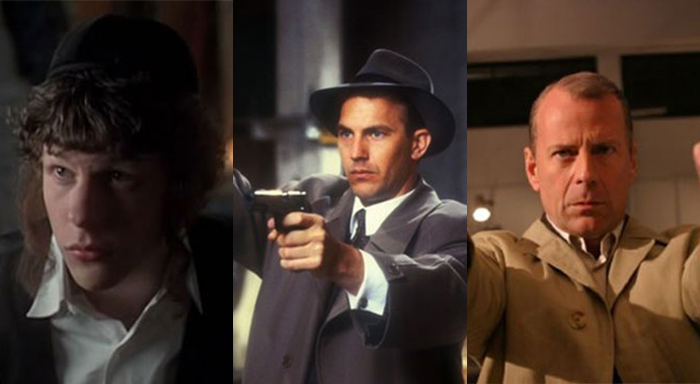 Attention, filmmakers: If you want an audience to get behind a particular character make him do things his own way. Whether he's fighting for the good of mankind or redefining what constitutes evil, we can't help but find him intriguing. These are self-sufficient guys with no apologies, few rules and even fewer questions asked.
1. Louis Cypher (Robert de Niro), Angel Heart
The long, carefully sharpened fingernails. The soft, condescending tone. The bizarre ponytail. De Niro is Louis Cypher, a whole other type of godfather, a quiet enigma who sends Harry Angel on a journey into his own tortured soul. In his few scenes, Louis sits alone, his eerily calm demeanor scaring the crap out of Harry, along with the rest of us. No one has ever eaten a hard-boiled egg so ominously.
2. Connor MacLeod (Christopher Lambert), Highlander
It can be pretty lonely being immortal. Watching others die around you, battling those who share your fate, having to fight for eternal power New York City… This is the curse of one of the most beloved sword-wielding heroes of modern movies.
3. Sam Gold (Jesse Eisenberg), Holy Rollers
What better way to become an instant outlaw than to break just about every moral constraint established by your culture? In this fact-based drama, Hasidic Jew Sam Gold follows the allure of peer acceptance and a quick payday to become an experienced, international drug smuggler. Eisenberg amplifies his natural naiveté to give Holy Rollers a sense of danger and a taste of lost innocence.
4. Goodkat (Bruce Willis), Lucky Number Slevin
Bruce Willis has never had trouble exuding confidence on screen, and here he exudes it in spades. In this comic thriller from director Paul McGuigan, Willis plays an assassin for hire coming after a guy (Josh Hartnett) who's been mistakenly caught up in a high-class gangster war between two elder bosses (Morgan Freeman and Sir Ben Kingsley). He stands firm, shoots straight, and threatens effectively. The guy has rarely looked cooler.
5. Bill Cabot (Morgan Freeman), The Sum of All Fears
In this fourth movie adaptation of a Tom Clancy novel, Morgan Freeman plays DCI Cabot as a guy with enough DIY fortitude to buck convention and rely on a naive intelligence analyst (Ben Affleck) when Russian relations start heading towards nuclear hell in a handbasket. Cabot is experienced, fatherly, cool (of course) and fully capable of dealing with an espionage-crazed world.
6. Eliot Ness (Kevin Costner), The Untouchables
He was the man who brought down Al Capone. How much more "outlaw" can you get? When Brian De Palma's reality-based gangster chronicle was released in 1987, Costner was perfectly cast as Eliot—a seemingly sturdy, determined family man dedicated to bringing down mobsters. But despite his clean living and good looks, Eliot rounds up a band of renegades, grabs some weapons, and pushes Capone and his cronies against the wall.
Get advice from another outlaw—Here are 7 Clint Eastwood quotes to live by.