Sweet! TV's Frontrunners for High School Prom King and Queen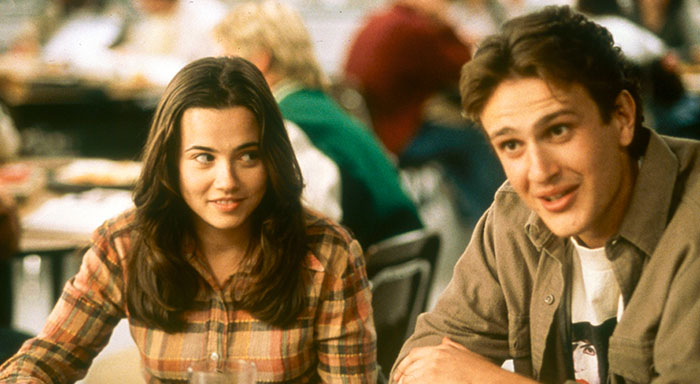 From dramas to sitcoms, these high school TV show couples have brought us frustration, hope and everything in between. We were constantly hoping these characters would make a move, get together or break up.
1. George Michael Bluth (Michael Cera) and Maeby Funke (Alia Shawkat), Arrested Development
Kissing your cousin is wrong—unless you're trying to teach your soulless family a lesson. What starts with a vindictive kiss inevitably turns into insatiable desire, which then results in a "fake" marriage that is actually real. And you know what rules? Nobody cares. The family barely notices.
2. Cory Matthews (Ben Savage) and Topanga Lawrence (Danielle Fishel), Boy Meets World
Ah, young love. Cornelius "Cory" Matthews had his first kiss with Topanga Lawrence in the first season of Boy Meets World and by the seventh season, they've married and moved to New York with their two best friends. Because that's what always happens when you fall in love in sixth grade.
3. Buffy Summers (Sarah Michelle Gellar) and Angel (David Boreanaz), Buffy the Vampire Slayer
Back in the day, there was no hotter couple than Buffy and Angel. Their relationship was always just taboo enough to feel so wrong it's right. But of course, the brooding bad boy went off to do his own dark and mysterious thing, leaving Buffy in the dust.
4. Clarissa Darling (Melissa Joan Hart) and Sam Anders (Sean O'Neal), Clarissa Explains It All
Sam and Clarissa have the perfect setup for a romance—he has access to her room via ladder, she has a Zack Morris-esque tendency to break the fourth wall. A better match-up couldn't be made in heaven.
5. Joey Potter (Katie Holmes) and Pacey Witter (Joshua Jackson), Dawson's Creek
One of history's greatest misgivings is that Katie Holmes did not have the same romantic success in her real life than her character of Joey Potter in Dawson's Creek. On the show she had both Dawson Leery and Pacey Witter, resident hotties of Capeside, Massachusetts, fighting for her attention.
6. Lindsay Weir (Linda Cardellini) and Nick Andopolis (Jason Segel), Freaks and Geeks
Though Lindsay Weir is not prone to making mistakes (besides dabbling in pot and buying a fake ID from Jason Schwartzman), one of her biggest was the decision to break up with Nick Andopolis, the tall, lovable Neil Peart-ophile of McKinley High. Yes, he was kind of an overemotional stalker. And yes, he smoked too much weed to have coherent thoughts. But he did write a song about her called "Lady L" and he was the only person that Lindsay's dad ever seemed to like.
7. DJ Tanner (Candace Cameron Bure) and Steve Hale (Scott Weinger), Full House
It was impossible not to love Steve and DJ. Steve is normally the reason for the Tanner's empty fridge but more importantly, he made DJ happier than she had ever been. Steve going off to college and breaking up with DJ crushed the hearts of young adolescents everywhere… until that fateful series finale when Steve comes back to take DJ to her senior prom. Happy endings never felt so good.
8. Angela Chase (Claire Danes) and Jordan Catalano (Jared Leto), My So-Called Life
During their high school years, girls look for a few standard qualities in their boyfriends: smoldering stare, mop of greasy locks, the ability to lean and illiteracy. No, wait. That last one is only the unfortunate crutch to Angela Chase's relationship with Jordan Catalano.
9. Kelly Kapowski (Tiffani Thiessen) and Zack Morris (Mark-Paul Gosselaar), Saved By The Bell
A.C. Slater had a tan body and a funky way of sitting in chairs. Zack Morris had a gigantic cell phone with which he ordered pizza in class. It was clear who would be the victor of Kelly Kapowski's heart. Through the years, the couple were on-again, off-again, but only because Zack was a hornball with women in the wings and Kelly was clearly too big of a babe to be off the market. Despite their trials, they eventually married, post-Bayside High in an elaborate, classic wedding paid for by their parents.
10. Eric Forman (Topher Grace) and Donna Pinciotti (Laura Prepon), That '70s Show
Donna, in case you haven't noticed, is a 6-foot redhead who looks great in high-waisted pants. Eric is a nerd. But this is TV land, so they survived the 70s together—which means they survived bad fashion and disco.
For more great romantic pairs, check out the most romantic movies of the 21st century.