Breaking Down Walls: 10 Movies That Tackle Racism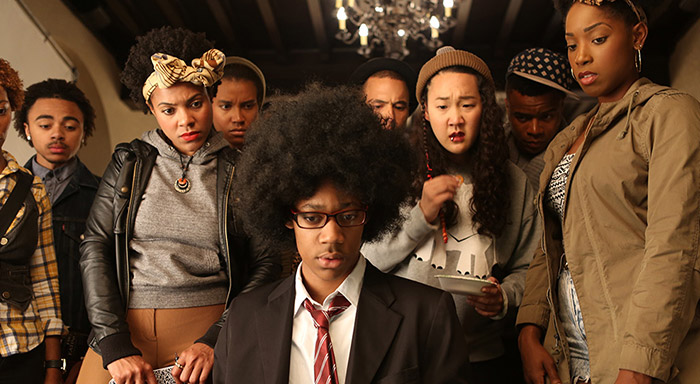 Hollywood sometimes shies away from talking about tough subjects, but the movies that tackle them head-on are all the better for it. Here are 10 great movies about race that offer eye-opening insights on diversity, inclusion and acceptance.
1. American History X
Director Tony Kaye's movie opens up with a violent, race-fueled crime that gets Derek Vinyard (Edward Norton), a member of a neo-Nazi gang, sent to prison. Derek is reformed after befriending a black inmate (Guy Torry), only to find himself condemned by members of his former white supremacist brotherhood upon his release.
2. A Time to Kill
When his daughter is raped by white attackers, Carl Lee Hailey (Samuel L. Jackson) seeks revenge and murders them. But not everyone is on board with him taking the law into his own hands—especially not the Ku Klux Klan. Carl's lawyer (Matthew McConaughey) and his legal assistant (Sandra Bullock) quickly learn the difficulty of proving that a black man facing the death penalty can have a fair trial in rural Mississippi, even if Carl did what any father would do to protect his daughter.
3. Crash
Los Angeles serves as the backdrop for this movie, with director and co-writer Paul Haggis weaving together stories of social injustices and racial prejudice throughout several different characters' lives. Despite the stereotypes each of them hold about their fellow man, they soon discover that their lives are more connected than they realize.
4. Dear White People
In this cheeky dramedy, which debuted at the 2014 Sundance Festival, writer/director Justin Simien brilliantly satirizes serious race issues by portraying them through the eyes of a group of black students at prestigious Winchester University. Though this movie will keep you chuckling, it also serves as a conversation starter and a crash course in diversity that everyone should experience.
5. Do the Right Thing
One of Spike Lee's masterpieces, this movie pits Brooklyn's African-Americans and Italians inhabitants against one another when a neighborhood character named Buggin' Out (Giancarlo Esposito) becomes disturbed by a local pizzeria's wall of fame that features only Italian actors. As tensions rise on one sweltering summer day, the pizzeria's African-American delivery guy, Mookie (played by Lee), must confront some hard truths about his employer, Sal (Danny Aiello) and his son, Pino (John Turturro).
6. Fruitvale Station
This 2013 Sundance Film Festival Grand Jury Prize- and the Audience Award-winning movie was based on the true story of the last day of Oscar Grant's (played by Michael B. Jordan) life. The movie follows Oscar on that fateful day and asks some tough questions about the American justice system Oscar was recently released from, the economics situation that would make someone sell drugs to get by and about racial profiling. In the final scenes, we witness an unarmed Oscar being shot in the back by a police officer after a melee on a train—leaving audiences to ponder even more questions about our society.
7. Guess Who's Coming to Dinner
Joanna Drayton (Katharine Hougton) is head over heels in love with her new fiancé, African-American doctor John Prentice (Sidney Poitier). But when the couple travels to San Francisco to meet each other's parents, they're faced with disapproval from both sides of their families, as nobody is too keen on the idea of interracial marriage.
8. Higher Learning
Though college is a time to meet people from all walks of life, the students in this powerful John Singleton film are in for a rude awakening when they struggle to connect to people other than their own kind. The film follows the lives of three freshmen at the fictitious Columbus University: athlete Malik Williams (Omar Epps), bright-eyed Kristen Connor (Kristy Swanson) and social pariah Remy (Michael Rapaport).
9. To Kill a Mockingbird
Director Robert Mulligan and screenwriter Horton Foote banded together to craft this film adaptation of Harper Lee's Pulitzer Prize-winning novel. Gregory Peck stars as Atticus Finch, a single father and lawyer who, despite the intolerance and ignorance from everyone around him, defends an innocent black man (Brock Peters) in the South against an undeserved rape charge.
10. West Side Story
Innocent teenagers Tony (Richard Beymer) and Maria (Natalie Wood) are star-crossed lovers on the mean streets of Manhattan in this classic musical loosely based on Shakespeare's Romeo and Juliet. Because Tony is white and Maria is Puerto Rican, their romance is dissuaded by rival, race-based gangs the Jets and the Sharks, who are squaring off for control of the neighborhood. Though the singing and dancing is mesmerizing, this classic musical drama doesn't skimp on the heartbreaking consequences of a community plagued by prejudice.
Keep the conversation going. Read our 10 Must-See Movies from Influential Black Directors.