Can't Stop the Music: 10 Movies That Rock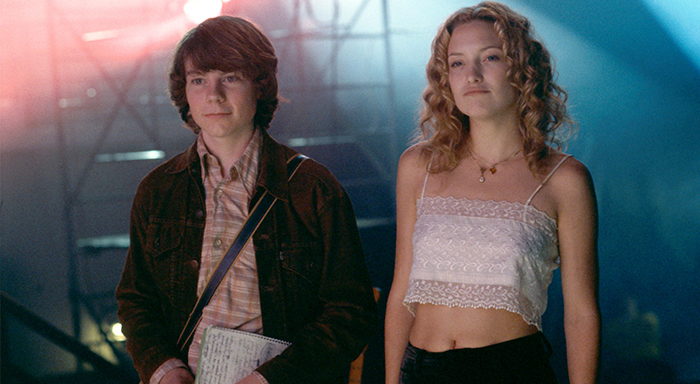 Rock 'n' roll music and Hollywood movies are America's greatest pop-cultural exports—but on rare occasions, the two are made even better when a flick comes along that captures rock music's anarchic and creative spirit. The results? Anything but predictable. Here are our picks for 10 movies that really rock.
1. A Hard Day's Night
Considered the world's first "jukesploitation" flick—it was basically produced as a promotion for its accompanying soundtrack—director Richard Lester's playful, fast-paced movie has been hailed by such authorities as Roger Ebert and Stephen Soderbergh as a major influence in the development of both music videos and modern filmmaking. Pretty impressive for a wacky road comedy featuring a soul-searching Ringo and Paul's irrepressible grandfather (Wilfrid Brambell) tagging along for the ride.
2. Almost Famous
As a teenager, writer/director Cameron Crowe really did travel with some of the biggest rock bands in the world, conducting extensive interviews for the likes of Creem and Rolling Stone before he turned 18. Almost Famous is an autobiographical account of that experience—and more illuminating than any magazine article could ever be, with the larger-than-life rock gods of the fictitious Stillwater (played by Billy Crudup and Jason Lee) partying alongside the impressionable young journalist himself (Patrick Fugit) as he navigates his own adolescent angst toward beguiling groupie Penny Lane (Kate Hudson).
3. American Graffiti
Four years before Star Wars, George Lucas helmed a hit movie that's about as far from epic space-operas as it gets. American Graffiti follows a group of high school graduates (including Richard Dreyfus and Ron Howard) and young hot rod enthusiasts (Paul Le Mat, Harrison Ford) in the early '60s as they race cars, try to pick up girls and bid childhood goodbye. The movie doesn't feature musicians, but it does capture what it felt like to be alive at a time when the radio was always on and a drive didn't require a destination.
4. La Bamba
Luis Valdez wrote and directed this biopic about fellow Chicano artist Ritchie Valens (short for Valenzuela), a brilliant guitarist and songwriter who signed with a record label at 16; a year later, Valens was killed in the tragic plane crash that also claimed the lives on Buddy Holly and the Big Bopper. The acclaimed movie exemplifies how fame affected not just Valens (Lou Diamond Phillips) but those who meant the most to him in his life, including his troubled half-brother Bob (Esai Morales) and mother Connie (Rosanna DeSoto).
5. Pink Floyd—The Wall
Combining live-action footage with trippy animation, this feature-length music video for Pink Floyd's most elaborate album stars Boomtown Rats frontman Bob Geldof as Pink, an overstimulated rock star who withdraws from the world behind a "wall" of paranoia and madness. The story is rumored to be based on that of original Floyd singer Syd Barrett, who quit the band after experiencing a drug-induced breakdown.
6. Purple Rain
Prince scored and starred in this one-of-a-kind rock musical as "The Kid," a tormented Minnesota singer who must contend with his difficult home life, including his violent, alcoholic father (Clarence Williams III). Interestingly, the movie's plot isn't autobiographical; Prince's actual father was a musician whom his son credits as being a loving and supportive dad.
7. School of Rock
Sure, it might look dumb from a distance, but remember that this lowbrow, high-concept comedy comes accomplished from director Richard Linklater (Boyhood, Dazed and Confused) and acclaimed film and TV writer Mike White (Enlightened, Freaks and Geeks). School of Rock tells the story of a down-on-his-luck guitarist named Dewey (Jack Black) who moonlights as a substitute teacher—until he decides to turn his musically gifted students into a full-fledged rock band. The results are as heartfelt as they are hilarious.
8. Sid and Nancy
The movie that introduced the world to Gary Oldman finds him snarling and slurring his way to an early grave as punk legend Sid Vicious. The story of the Sex Pistols frontman's heroin-assisted downfall, culminating in Vicious' own fatal overdose and the unsolved stabbing death of girlfriend Nancy Spungen (Chloe Webb), manages to avoid both glorification and moralizing. The result is an authentic and often beautiful portrait of a life truly lived on the edge.
9. The Doors
The Doors has divided audiences since its release, drawing praise for its performances and criticism for its extensive use of artistic license. The one thing Oliver Stone's psychedelic biopic never gets called is boring. It emphasizes the spiritual and hedonistic explorations of charismatic singer Jim Morrison (Val Kilmer), following the band to the heights of Hollywood excess and to the mystical depths of the desert and beyond.
10. This Is Spinal Tap
The gold standard of mockumentary filmmaking, Rob Reiner's tour de force follows Christopher Guest, Harry Shearer and Michael McKean as they improvise their characters, puffed-up heavy metal stars on the decline. The landmark comedy satirizes not only its self-indulgent subjects, but the hero-worshipping fans and media figures who contribute to their inflated egos.
For more cooler-than-cool movies, increase your hipness quotient by checking out our list of the 10 best cult films of all time.