"BEHIND THE STORY" Recap: "Orange Is the New Black"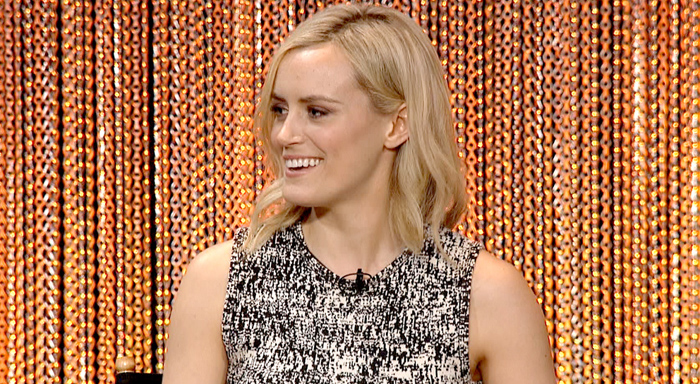 Journalist Andrea Mandell hosts the talented cast of Orange Is the New Black on this week's BEHIND THE STORY. Series creator Jenji Kohan takes center stage, her famously dyed hair a blaze of blue and purple, as Mandell gets the ball rolling with a question about the show's rabid fan base.
"It's incredible," Kohan agrees. "People bathe in these characters… They make shoes with their pictures on them!"
"And duct tape flip-flops," adds Laverne Cox, referencing improvised prison-wear from the show which fans have recreated. Cox describes meeting fans who have "drawings of me as Sophia and drawings of me as Wonder Woman… It's wild. It's a crazy dream come true." Cox became the first openly transgender person to appear on the cover of TIME Magazine in 2014.
The host follows up, asking about the "game changer" series' approach to its diverse and primarily female characters.
"I think the big question is, 'Why not?'" Kohan replies. "Why is this such an anomaly? These are great stories and great characters.'"
"I think a lot of people are scared to go there," Laura Prepon adds. "And from the audience response, we see now that you guys are ready for this." The crowd goes wild.
Mandell asks about the choice to reveal character histories in flashbacks interspersed throughout each episode.
"When you're working on a show that's your life, and I did not want to spend my life behind bars," Kohan explains. "So we built in these backstories partly as blue skies and respite."
"The other thing I think we should hit on however briefly," chimes in Kate Mulgrew: "A lot of us don't know what our crime is!" Mulgrew admits that the mystery hasn't made it hard to get in character as a Russian cook and de facto cellblock boss, though she's not sure  why. "Why does it work, Jenji?" Mulgrew grills her show runner.
"You are Red," Kohan assures her. "You swallowed her whole."
An audience member wonders about real-life cliques within the cast. Lorraine Toussaint, who joined the show in Season 2 as the villainous Vee, says she's extra close with her on-screen partners in crime Uzo Aduba and Danielle Brooks. "When we see each other it's a love-fest."
Of the cast as a whole Toussaint has this to say: "In that first week, while my head was still spinning, every single one of these women came into my room and said, 'Welcome, we're so glad you're here!' …. It was kind of staggering, one after the other. That's unusual."
"Every time I come in [to the prison set]," says Jason Biggs, whose character's scenes take place apart from the action, of the cast's camraderie, "It's literally like I'm entering a party."
View photos of the Orange is the New Black episode.
Check out these sharable quotes from the cast of Orange is the New Black on BEHIND THE STORY.
Test your TV fandom with the Orange is the New Black Quiz and Orange is the New Black Quotes Quiz.