"BEHIND THE STORY" Recap: "Masters of Sex"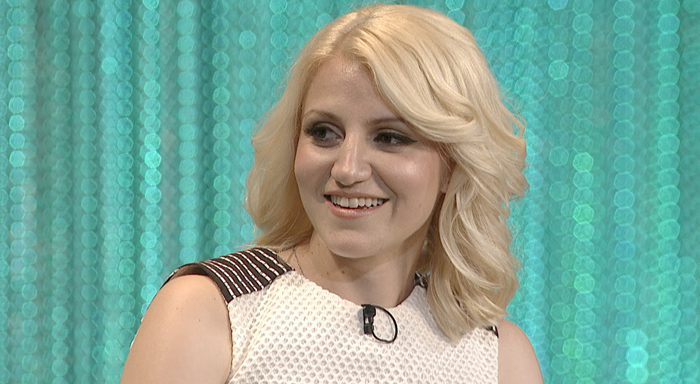 This week on BEHIND THE STORY, the producers and stars of Masters of Sex join BuzzFeed's Jarret Wieselman to go deep on all the hard work behind the acclaimed drama. Wieselman gets the ball rolling with questions about casting.
"We were looking for people that had an unconventional bent to their work and the roles they had chosen," explains creator Michelle Ashford.
"How dare you!" jokes Michael Sheen.
Executive producer Sarah Timberman comes to Sheen's defense, pointing out that the Welsh star played Hamlet at the legendary Crown Vic theater for a year before signing on to the show.
"Oh big deal," chimes in Lizzy Caplan, mock-bragging, "I was in a little movie called Hot Tub Time Machine." The crowd cracks up and applauds.
The host gets serious, quoting Caplan's comment from a previous conversation: "I fought harder for this than any role I've ever had." Wieselman asks Caplan what made her so passionate about the part.
"On one level it was proving to myself that I could do more than one thing," Caplan explains. "I was leaning toward more comedic roles because I thought that's all I was ever going to get…. I wanted to do everything as an actress."
Caplan goes on to describe the harrowing audition process, spending "three hours in full hair and make-up" and thinking afterward, "That was the best audition I have ever had and I am never getting that part."
Other cast members share their audition stories. Teddy Sears explains he brought along an actual stethoscope to use as a prop and had to perform a sex scene.
Annaleigh Ashford originally auditioned for the role of sex study participant Jane, though she became "obsessed" with the role of prostitute Betty DiMello and leapt at the chance when the producers called her back for the bigger part.
Talk turns to the series' feminist themes. The female members of the cast discuss the shared experience of adopting era-appropriate fashion and marveling at its inconvenience.
"We show up at 5 a.m. and it's a solid hour-and-a-half, two hours of setting the hair and the make-up and the whole thing, and these women did it every day. And that's crazy!" points out Caitlin Fitzgerald.
"I feel like undergarments can change everything about how you walk, how you talk, how you move," adds Annaleigh. "So thank god we wear full-out undergarments from the era… but also, it was really hard to pee back then."
Castmates are quick to agree. Caplan shares a recent on-set conversation with guest star Betsy Brandt in which the Breaking Bad actress pulled her aside to whisper, "How do you do it? Tell me the secrets! What do you do when you go to the bathroom?"
Caplan grins as the crowd cracked up. "I guess we all just have to help each other out."
View photos of the Masters of Sex episode.
Check out these sharable quotes from the cast of Masters of Sex on BEHIND THE STORY.
Test your TV fandom with the Masters of Sex Quiz and the Masters of Sex Quotes Quiz.