Alright, Alright, Alright: 10 Pieces of Life Advice from Matthew McConaughey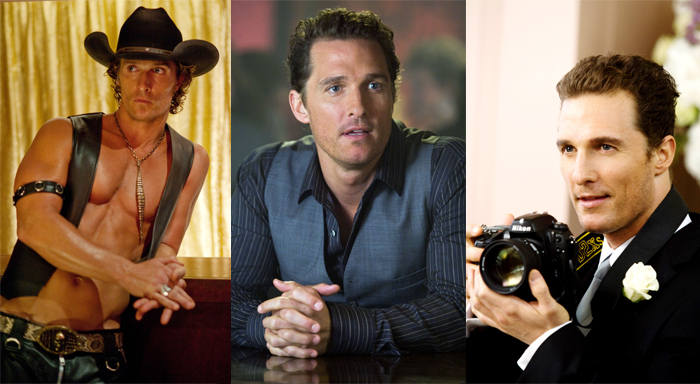 He's an Academy Award-winning actor who's been deemed "Sexiest Man Alive." Plus, he's got one mesmerizing voice that spews weird, wonderful and wacky advice. From his incredible acceptance speeches to his always-entertaining interviews, here are 10 pieces of life advice from the one and only Matthew McConaughey.
1. On Life: "At the end of your life, all the things you thought were periods, they turn out to be commas. There was never a full stop in any of it."
2. On Literature: "A man should always have his diary on him. That way he's guaranteed to always have something incredible to read."
3. On Mistakes: "I step in shit all the time. It's just that I don't get that pissed off when I step in it. I just scrape off my boots."
4. On Self-Realization: "Find your frequency… We all have a frequency where things are clicking."
5. On Grooming: "If you want your hair to be thicker, cut it when the moon is about to be full—a heavy, full, waxing moon. Do not cut it when the moon's waning."
6. On Success: "There's a difference in thinking you are a champion and knowing that you are."
7. On Going With the Flow: "When you get to certain parts in the path of life when you get to run downhill a bit, why trip yourself?"
8. On Real Estate: "Who needs a house when you can live in a trailer?"
9. On Advice: "Man who invented the hamburger was smart; man who invented the cheeseburger was a genius."
10. On trusting yourself: "The best advice comes from people who don't give advice."
1. Esquire 2. GQ 3.GQ 4. GQ 5. Elle 6. Golden Globes 7. Details 8. Daily Mail 9. New York Daily News 10. Details
Find out when you can watch Matthew McConaughey on SundanceTV.
Need some more advice? Check out our 10 life lessons, as learned From Molly Ringwald.