10 Movies From 1999 You Must See Before You Die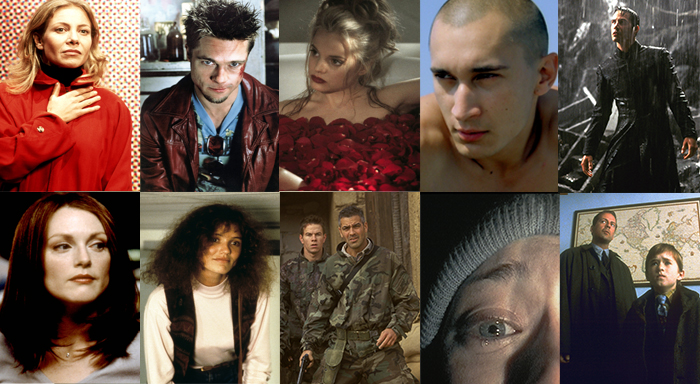 The year 1999 was momentous in the real world—marked by President Clinton's impeachment trial, the death of JFK Jr. and the debut of the Euro—and at the movies. Here are 10 movies from that year that have earned a spot in 1001 Movies You Must See Before You Die.
1. American Beauty
The year's Best Picture winner at the Oscars, American Beauty opens with suburbanite Lester Burnham (Kevin Spacey) informing the audience, "In less than a year, I will be dead." Overpowered by his demeaning job, his dysfunctional marriage to Carolyn (Annette Bening) and his uncommunicative relationship with his self-loathing daughter Jane (Thora Birch), Lester decides to make radical changes to his depressing life.
2. Fight Club
A nameless corporate office worker (Edward Norton) joins a macho cult known as "Fight Club," led by charismatic soap salesman Tyler Durden (Brad Pitt). The club stages brutal fights in dark underground basements, while Tyler also schemes to carry out his anti-capitalistic philosophy, dubbed "Project Mayhem," resulting in an explosive finale.
3. The Matrix
This visually stunning movie features a new heroic archetype in hacker Thomas Anderson (Keanu Reeves). As Thomas becomes Neo, he learns that he was chosen to save mankind from a malevolent machine race that entrapped all of humanity in the year 2199. He also discovers that he's been living inside a computer simulation dream-world, tricked into believing that the simulation is reality.
4. All About My Mother
Pedro Almodovar's melodrama won the Oscar and Golden Globe for best foreign language film. The movie follows grieving single mother Manuela (Cecilia Roth), who finds unexpected emotional support through a transsexual prostitute named La Agrado (Antonia San Juan) and a kind-hearted HIV-positive pregnant nun, Sister Rosa (Penélope Cruz).
5. Beau Travail
Writer/director Claire Denis' drama was inspired by Herman Melville's allegorical short novel Billy Budd, about cruelty on the high seas in the late 1700s. In flashback, troubled ex-Foreign Legion officer Sgt. Galoup (Denis Lavant) recalls his regimented military life, marred by his irrational dislike for handsome new recruit Gilles Sentain (Grégoire Colin). His displaced paranoia leads to the ruination of his own career.
6. Being John Malkovich
Spike Jonze's debut feature was one of the most original movies of the '90s, a fantasy about the quest for sexual identity, spiritual transformation and the attraction of celebrity. Disillusioned street puppeteer and filing clerk Craig Schwartz (John Cusack) finds a secret portal in a Manhattan office building that leads directly into the mind of John Malkovich (playing himself). Craig, his sexy co-worker Maxine (Catherine Keener) and his wife Lotte (Cameron Diaz) soon become obsessed with making the transformative trip into Malkovich's mind.
7. Magnolia
Writer/director Paul Thomas Anderson's drama, set in the San Fernando Valley over a 24-hour period, is all about its characters' emotional desperation, traumatized psyches and fractured relationships. Woman-hating huckster Frank Mackey (Tom Cruise) and strung-out trophy wife Linda (Julianne Moore) must both face their shortcomings as their respective father and husband, terminally ill TV producer Earl (Jason Robards), is at the end of his life.
8. The Blair Witch Project
The plot of this cult horror flick, couched in the subgenre of the "found footage" fake documentary, focuses on a trio of student filmmakers who go to Maryland's Black Hills Forest to investigate a supernatural legend during a horrifying October 1994 camping trip. Blair Witch was released at the dawn of the ubiquitous camcorder revolution. Not only was the movie a precursor to reality TV, it was also one of the most profitable independent films of all time.
9. The Sixth Sense
Writer/director M. Night Shyamalan's thriller was the second highest-grossing movie of the year, and his first to feature the kind of plot-shifting surprise at the end that would come to be known as the "Shyamalan twist." Philadelphia child psychologist Dr. Malcolm Crowe (Bruce Willis) counsels a haunted young boy named Cole (Haley Joel Osment) who claims he can see the spirits of dead people. While Crowe befriends Cole, he also tries to save his marriage to Anna (Olivia Williams). But it turns out his relationship woes were due to circumstances that Crow—and the audience—never see coming.
10. Three Kings
At the end of the first Gulf War, a group of American servicemen (portrayed by Mark Wahlberg, Ice Cube and Spike Jonze)  join jaded Major Archie Gates (George Clooney) to secretly retrieve stolen gold bars that Saddam Hussein had acquired from Kuwait. Instead, the renegade fortune-hunters come face to face with the harsh consequences of the senseless, chaotic war in its aftermath. Director David O. Russell's dramedy is as thrilling and action-packed as it is emotionally intimate and moving.
Next Steps:
1. Download the 1001 Movies You Must See Before You Die app.
2. See the full 1001 Movies You Must See Before You Die schedule on SUNDANCE TV.
3. Order a copy of the 1001 Movies You Must See Before You Die book.