10 Gus Van Sant Scenes We Can Never Unsee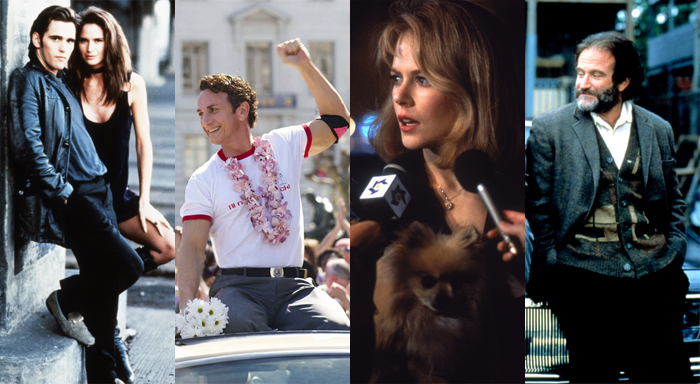 A brilliant if sometimes inscrutable filmmaker, Gus Van Sant has given us some truly indelible scenes. There's a lot of dark stuff there—no surprise, given his penchant for the struggle of youth and life-and-death decisions (or indecision). Here are 10 of our favorite Van Sant moments. These scenes stay with you; they're often deeply troubling, but they're also artfully and affectingly crafted. Just don't say we didn't warn you.
1. Drugstore Cowboy: Hat on the Bed
The discovery of Nadine (Heather Graham) on the floor, dead of an overdose, is no big deal to Bob (Matt Dillon). But his anger at her having broken his hat strictures, well, that's another matter. "She threw a hex on us we'll all be lucky to outrun… For Christ's sake, get this goddamn hat off the bed!"
2. Elephant: School Shooting
Loosely based on the events at Columbine, Elephant is especially eerie for how normal everything seems–kids, teachers, the corridors of a public school–until Alex (Alex Frost) and Eric (Eric Deulen) stroll in armed like soldiers and bodies start falling in a kind of dissociative haze.
3. Gerry: Death in the Desert
The strangely silent story of two friends (Casey Affleck and Matt Damon) who get lost while hiking in the desert culminates in their collapse from dehydration and exhaustion… and Gerry's (Damon) feeble strangulation of Gerry (Affleck) in the dramatic, desolate landscape.
4. Good Will Hunting: Say That You Don't Love Me
Ben Affleck, Matt Damon and Robin Williams scored Oscars for this feel-good drama, but Van Sant was also nominated for Best Director—in part because of emotionally crackling scenes like this one, between stars Damon and Minnie Driver.
5. Last Days: Solitary Soul
Inspired by Kurt Cobain—his struggle with addiction, his musical genius and his suicide—Blake (Michael Pitt) is a ravishing disaster. When he is finally found dead, we watch as his soul departs his body, naked and climbing…
6. Milk: Harvey Milk's Assassination
We know it's coming for the entire movie, but that doesn't make it any less painful—in fact the anticipation, the calm before Dan White (Josh Brolin) shoots Harvey Milk (Sean Penn), makes it that much worse. And then once he's been shot, the moment draws out as he looks through the window to the city he loves… devastating and beautiful.
7. My Own Private Idaho: Fast, Little Dutch Boy, Harder!
In a movie full of heartrending moments (the campfire declaration of love from River Phoenix's Mike to Keanu Reeves' Scott comes to mind), there is just no forgetting this hilariously pervy scene as a cleaning fetishist ogles hustler Mike (scrubbing his apartment in short white overalls).
8. Paranoid Park: The Train
Skateboarders Alex (Gabe Nevins, an unknown actor in his first role) and his new buddy Scratch (Scott Patrick Green, a photographer who appears in several of Van Sant's films) jump a train. When a security guard comes after them, Alex knocks him back—into an oncoming train. The result is gruesome. We see his cleaved legs, his crawling torso, his entrails dragging behind him, and Alex's own young life forever changed.
9. Psycho: The Peephole
In a shot-by-shot remake, this one dramatic change—that Norman (Vince Vaughn) masturbates while watching Marion (Anne Heche) disrobe through the peephole–is one that we truly wish we could unsee, but no luck erasing those panting jerk-off sounds.
10. To Die For: Dancing Seduction
In this hilariously scary "mockumentary," Nicole Kidman plays a woman who is willing to do anything to be a news anchor. In fact, she'll plot to murder her husband. We watch her gather young, impressionable minds using her sexuality and charm – like a very young Joaquin Phoenix for instance.
Find out which of Gus Van Sant's movies made it into 1001 Movies You Must See Before You Die.