Ooh La La! The 10 Sexiest Movies in French Cinema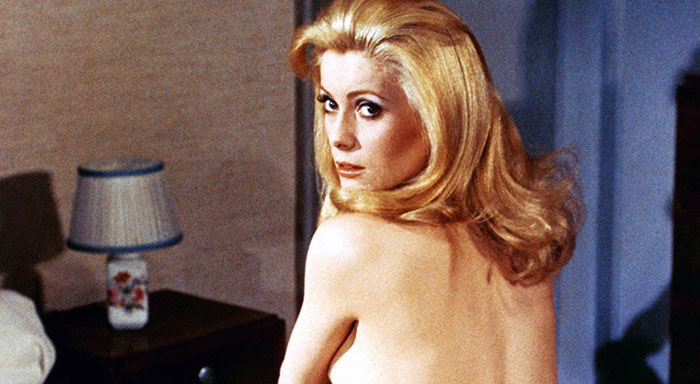 This year's 50 Shades of Grey may have titillated mainstream moviegoers like never before, but the French have been pushing sexual boundaries on the big screen with scintillating savoir faire for decades. Consider these 10 sultry films your intro into sexy French cinema. As they say in France, yowza!
1. After Sex
Sex is much more exciting when it's forbidden, and nobody does illicit sex quite like the French. Director/co-writer/star Brigitte Rouan plays Diane, a Parisian book editor in her forties who's married with children, but also having an affair with a young engineer. Their magnetic attraction leads to hot rendezvous action, which leads to a dangerous, full-on affair that exposes Diane's crippling vulnerabilities.
2. And God Created Woman
If God created woman, then director Roger Vadim's provocative movie surely created the quintessential French bombshell: Brigitte Bardot. As Juliette, she plays an 18-year-old orphan whose intoxicating sex appeal and seductive nature drive the men in Saint Tropez wild. The film was a massive hit in the U.S. despite receiving a ton of criticism at the time for its depiction of sex.
3. Belle de Jour
A sexually repressed, wealthy housewife, Séverine (Catherine Deneuve) grows tired of her mundane life and loses herself in her erotic daydreams. While she longs to be tied naked to a tree and whipped, her erotic fantasies have no place in her marriage to a respectable surgeon (Jean Sorel). Instead, she explores her fetishes as an afternoon prostitute at a local brothel while her husband is at work. Although the story revolves around Séverine's sexual awakening, nudity is at a minimum—proving that sometimes an uncensored imagination can be far more irresistible.
4. Betty Blue
No list of the hottest French movies would be complete without this steamy, Oscar-nominated gem. Director Jean-Jacques Beineix chronicles the obsessive love and delirious lust between an unstable Betty (Béatrice Dalle) and her handyman lover, Zorg (Jean-Hugues Anglade). In between Betty's unhinged breakdowns and unpredictable outbursts, explicit sex runs rampant, and Anglade and Dalle's onscreen chemistry makes their characters' yearning for one another feel genuine.
5. Emmanuelle
Female masturbation, copulating on planes with strangers, public group sex, a woman smoking a cigarette with her vagina—it can all be found in this steamy story about the sexual exploration of the bourgeois Emmanuelle (Sylvia Kristel), whose boring diplomat husband encourages her carnal experimentation. Perhaps not surprisingly, this 1974 movie was the first in a series of soft-porn flicks of the same name directed by Just Jaeckin.
6. Last Tango in Paris
Bernardo Bertolucci's art-house classic serves up a lascivious affair in an empty apartment between two strangers: submissive French girl Jeanne (Maria Schneider) and dominating American widower Paul (Marlon Brando). The movie delves not only into Paul's explicit sexual cravings (butter as lubricant, anyone?), but also into the role sex plays in their respective lives. Paul and Jeanne both turn to their uninhibited encounters as a respite from their ordinary lives.
7. Swimming Pool
Sarah (Charlotte Rampling) is an English author working on her latest book at her publisher's summer home in the south of France. Her creativity is jeopardized when her publisher's daughter, Julie (Ludivine Sagnier), makes an impromptu visit. Julie is everything Sarah isn't: wild, young and sexually free. While Sarah may be inconvenienced by Julie's presence and the different men she parades through the house, she's eventually drawn to the French youngster's salacious conduct.
8. The Dreamers
Bernardo Bertolucci's erotic NC-17 film explores such taboo themes as incest and threesomes. Set against the riot-filled Paris of 1968, it tells the story of Matthew (Michael Pitt), a naïve American movie buff who shacks up with French cinephile twins Theo (Louis Garrel) and Isabelle (Eva Greene). Not only does Michael's movie knowledge get tested by his new roommates, so do his sexual boundaries.
9. The Lovers
Starring an alluring Jeanne Moreau as a rich wife stuck in both an unfulfilled marriage and an uninspiring extramarital affair, The Lovers explores infidelity from a woman's perspective. The movie's frank take on sexuality—and, more importantly, director Louis Malle's depiction of a sexually independent woman rejecting society's traditional roles for her—caused such hand-wringing that a theater manager in Ohio was charged with public depiction of obscene material for screening it. The case went all the way to the Supreme Court, which reversed the conviction.
10. The Piano Teacher
Michael Haneke's The Piano Teacher is one of the few erotic films that features an older woman sexually involved with a younger man. Erika Kohut (Isabelle Huppert) is a respected piano teacher living an uneventful life with her controlling mother. Her only source of intimacy comes from visiting sex shops, watching couples having sex at drive-in movies and masochistic self-mutilation. It isn't until a 17-year-old student falls for her that Erika is able to play out her dark fantasies.
Want more wantonness? Check out our list of five sexy, boundary-busting movies that are even better than 50 Shades of Grey.