10 Things You Didn't Know About "Mad Max"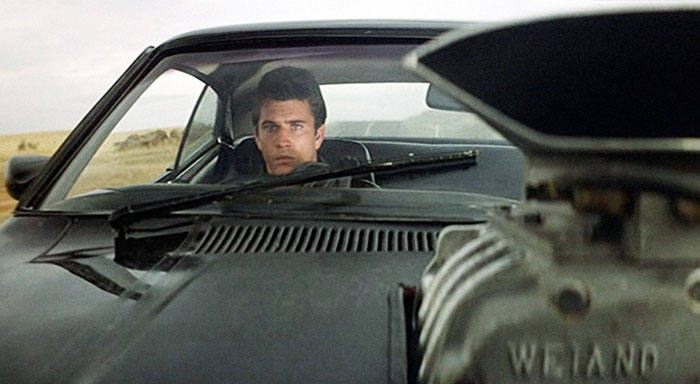 Action classic Mad Max hit theaters in 1979, introducing the world to a young Mel Gibson and putting Australian cinema on the map. The high-octane, dystopian road movie was a massive hit, spawning a pair of even bigger sequels and, this summer, the series reboot Mad Max: Fury Road. What you might not realize is just how tirelessly the team behind the original movie worked to turn limited resources into groundbreaking cinema. Here are 10 surprising tidbits about the making of Mad Max:
1. The budget was insanely small.
A paltry $350,000 or so (in Australian dollars) was nowhere near the standard allotment for making an action flick in '79. Summer camp comedy Meatballs, released the same year, was shot for four times as much—and that movie features markedly fewer car chases and explosions than Mad Max.
2. The director worked in an emergency room.
Director George Miller raised a good deal of that $350,000 by working as an ER doctor in Sydney before launching a full-time career as a filmmaker. Miller drew inspiration from the job as well as funds, witnessing untold numbers of injuries and deaths caused by high-speed collisions and violence.
3. Mel Gibson was almost cast as a "freak."
Then a 21-year-old no-name actor, Gibson tagged along to a friend's Mad Max audition not long after taking a beating in a bar fight. Producers took one look at Gibson's "black and blue pumpkin" of a face and told him to come back in a few weeks—because, "We need freaks!" Gibson's face had healed to its naturally handsome state by the time of his callback, and producers gave Gibson a chance to read for the part of Max Rockatansky.
4. The bikers were played by real bikers.
Miller and his fellow producers couldn't afford trained extras, so they hired members of an actual Victorian biker gang called The Vigilantes, paying them largely in beer and free motorcycles. The bikers took to the road in costume with menacing prop weapons in tow, as well as typed letters from Miller to give to police in case they were questioned or pulled over. Those notes became the tongue-in-cheek inspiration for the "get-out-of-jail-free card" that Jim "Goose" Raines (Steve Bisley) gives the triker.
5. Tim Burns took his role of Johnny the Boy very seriously.
As Toecutter's young protege Johnny the Boy, actor Tim Burns apparently went a little too Method, staying in character between takes and annoying the cast and crew so much that they once left him handcuffed to a wreck during lunch.
6. They reused cars a lot.
The yellow police interceptors used during the production were repainted to be used as other cars over the course of the movie. In fact, the vehicles were spruced up so frequently, they were often driven with the paint still wet!
7. The crew went the extra mile for the car crashes.
When a van gets wrecked in the opening scene, the movie's crew made it happen by pushing it into the path of oncoming cars by hand after removing its engine. In the final scene, when a motorcycle is run over by a rig, the truck driver tasked with smashing the cycle balked at doing damage to his vehicle, so the crew attached a false front to his rig in order for him to devastate the bike in good conscience.
8. They didn't use real leather.
The movie couldn't only afford leather outfits. Gibson got to don the favored fabirc, but almost everyone else wore vinyl imitation leather.
9. An actress literally broke a leg during shooting.
Sheila Florence, who played the elderly May Swaisey, broke her knee when she tripped. Florence completed the rest of her scenes with her leg in a plaster cast.
10. There's a reason some characters disappear halfway through.
In a deleted scene, bikers attack the Main Force Patrol HQ and kill Fifi, Roop and Charlie—which might explain why those characters' storylines inexplicably ended before the movie did.


Not enough Mad Max for you? Find out which movie in the franchise made it into 1001 Movies You Must See Before You Die.