10 Reasons We Want to Be Melissa McCarthy's BFF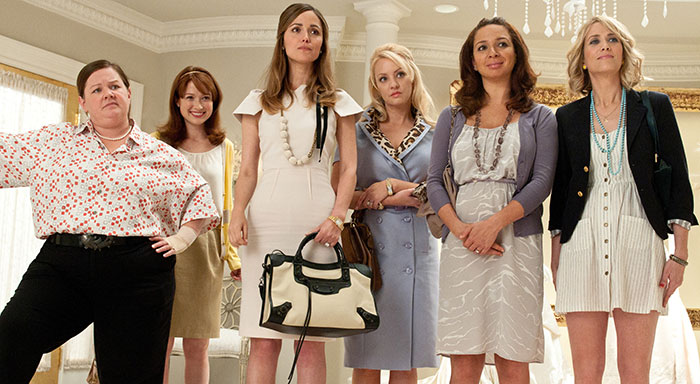 Melissa McCarthy is an incredibly funny, down-to-earth, all-around great gal—and for obvious reasons, we're pretty much obsessed with making her our best friend. But in case you've somehow missed out on the awesomeness that is McCarthy, here are 10 reasons why she'd be an amazing BFF.
1. She's the perfect wingman. (Bridesmaids)
McCarthy co-stars in this chick-driven comedy as the ballsy Megan, who's not ashamed to be single. In fact, if you're bored at home on a Friday night, call her up to join you for happy hour; she might give you the same man-hunting pep talk that she gave Annie (Kristen Wigg)—which was mostly improvised by Melissa in the movie: "We are going to tour this man salad bar and just dish it up with a ladle." We're not exactly sure what that means, but we want in!
2. She'll always get you. (Gilmore Girls)
McCarthy plays the ultimate best friend in this TV dramedy, and to this day, we're incredibly jealous of Sookie's relationship with Lorelai (Lauren Graham). Sookie is quirky, loyal and an excellent chef—all qualities required in a BFF. Also, she invented the word "smad" (being sad and mad at the same time)—which pretty much means she understands us deeply.
3. She's great at karaoke. (Identity Thief)
Diana loves singing along to the radio—no matter what the song—and when Sandy Patterson (Jason Bateman) tries to drown her out by changing stations, he's no match for her vocal chops. We'd definitely want her to help us belt out "My milkshake brings all the boys to the yard!" onstage.
4. She'll love you just the way you are. (Mike & Molly)
You can find love in the most unexpected places, a truth that McCarthy's Molly Flynn knows quite well since meeting her now-husband, Mike (Billy Gardell), at an Overeaters Anonymous group in Chicago. Though her temper can sometimes get the best of her, it's clear Molly is devoted to her husband. We can all learn a thing or two from her about fully accepting your partner for who they are—flaws and all.
5. She'll be there for you through tough times. (Samantha Who?)
When Samantha Newly (Christina Applegate) suffers from retrograde amnesia after a hit-and-run, she must rediscover who she is, which includes getting to know her family and friends all over again. In this quirky sitcom, McCarthy plays Dena, the type of friend who's slightly needy and socially awkward, but who never gives up on a friendship.
6. She's daring. (Spy)
Melissa reunites with brilliant Bridesmaids director Paul Feig in this movie that debuted at this year's SXSW (and comes out in theaters next month). Her character, Susan Cooper, is an ordinary CIA analyst who wants more than the 9-to-5 life, so when a new agent is needed to go undercover, Susan volunteers. She needs to work on whipping out her gun and rolling over a car hood like a pro, but she's definitely got potential.
7. She'd make a great neighbor. (St. Vincent)
Vincent MacKenna's (Bill Murray) favorite pastimes are drinking and taking the son of McCarthy's character, Maggie Bronstein, out to the bar to drink some more. Still, Maggie befriends the Vietnam War veteran, building a unique relationship with the retiree. She's there for him when he loses his wife and helps him to recover after he suffers a stroke. We'd feel lucky to live next to someone like her.
8. She'll bail you out of jail. (Tammy)
If you find yourself in trouble with the law, have your first phone call be Tammy. When her grandmother Pearl (Susan Sarandon) is arrested, Tammy pulls money together the only logical way—by robbing a fast-food restaurant with a paper bag over her head. Plus, she gets some pies while she's at it, because why not? You'll be out of jail in no time and you'll have dessert. Win-win!
9. She's a hopeless romantic. (The Hangover Part III)
Although passing a saliva-covered lollipop back and forth might not be the typical way we show our love, it's kind of adorable when McCarthy's Cassie does it with Alan (Zach Galifianakis).
10. You'll never be lonely on the dance floor. (The Heat)
Shannon Mullins is one dancing machine. In this Paul Feig-directed buddy-cop comedy, McCarthy teams up with Sandra Bullock (who plays Sarah Ashburn) and shows her character how to loosen up—maybe too much. After all, foul-mouthed Shannon is the type of person who offers your more Jagermeister when you're already puking, but you can bet she'll have you back on the dance floor with a choreographed number and get everyone in the bar on their feet, too.
Check out another lady we love! Read our 10 Reasons We (Still) Love Issa Rae and The Mis-Adventures of Awkward Black Girl.