Saddle Up! 10 Great Westerns You Must See Before You Die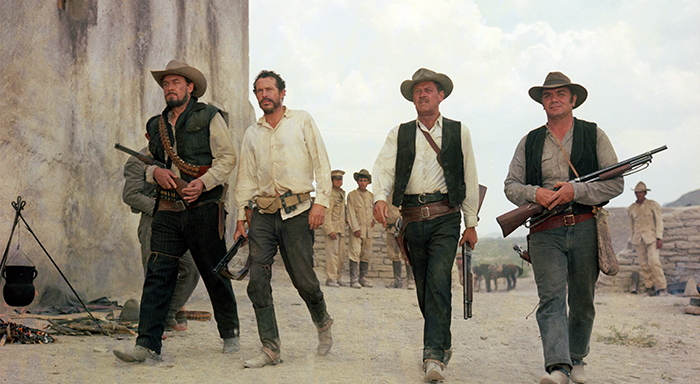 Selecting from "the good, the bad, and the ugly," these are ten of the greatest oaters ever made. They range from golden age classics to recent revisionist dramas by Clint Eastwood, and all are noted in 1001 Movies You Must See Before You Die.
1. Butch Cassidy & The Sundance Kid
George Roy Hill's buddy movie became one of the most-popular Westerns ever. The two title characters are legendary turn-of-the-century outlaws who rob trains until a bungled second attempt on the Union Pacific Express leads to relentless pursuit by authorities. The movie picked up an Academy Award for Best Original Screenplay, and was selected as one of the greatest screenplays ever written by the Writers Guild of America.
2. High Noon
Fred Zinnemann's legendary classic features a lawman awaiting a showdown with ruthless bandits. Hadleyville's aging town marshal Will Kane (Best Actor-winning Gary Cooper) is newly-married to a pacifist Quaker bride (Grace Kelly), but his sense of justice and duty drives him to put everything on the line and confront the gang arriving on the noon train.
3. Once Upon a Time in the West
After the success of his earlier "spaghetti Westerns," Sergio Leone had a bigger budget from a Hollywood studio and bigger-name stars (including Charles Bronson and Henry Fonda) for this revisionist Western. At the time of its release, it was a financial flop, but the movie has since gained cult status and none other than Quentin Tarantino, Martin Scorsese and George Lucas have all cited it as an influence on their work.
4. Red River
This tightly-structured Howard Hawks movie portrays intense father/son rivalry and chronicles the first historic cattle drive north along the Chisholm Trail from Texas to Abilene, Kansas. The father/son rivalry might remind you of a Greek tragedy, but the movie is also telling in its unintentional depiction of the attitude of whites at the time.
5. Shane
This beloved Western, a Technicolor-ed marvel, is about a gunfighter Shane (Alan Ladd). As a hired hand for the pioneer homesteading Starrett family, Marion (Jean Arthur) and Joe (Van Heflin), Shane is goaded into defending them and other farmers from vicious threats made by ruthless cattle ranch baron Ryker (Emile Meyer), and hired gunslinger Wilson (Jack Palance).
6. Stagecoach
Director John Ford's first sound Western elevated the dying genre to more serious levels and features John Wayne in his breakthrough role. Ford and Wayne would go on to become one of the most important pairs in cinematic history. In this movie, passengers traveling on a stagecoach through dangerous Apache Indian land may seem like stereotypes now—dance-hall girl, a drunken doctor, a shady Southern gambler, whiskey salesman and a corrupt banker—but Ford takes the time to tell their stories. And because he does, it holds our interest even today.
7. The Outlaw Josey Wales
One of the last major studio Westerns until the 1990s was Clint Eastwood's fifth-directed film (and his eighth Western starring role). Considered Eastwood's personal favorite, this sober Western tells the story of Josey Wales, an ex-Confederate fighter. He witnessed the massacre of his family during the war, and after the war he refuses to surrender to an amnesty bargain. While being pursued by Union militia, bounty hunters and lawmen, he regains some of his humanity after rescuing aging Indian Cherokee Lone Watie (Chief Dan George), and saving farm family settlers from Comanche raiders.
8. The Searchers
John Ford's finest movie was shot in the director's most popular locale, Monument Valley. Frequently named as the best Western of all time—and one of the greatest American movies ever, the picture follows a man's obsessive five-year quest for revenge after raiding Comanche Indians massacred a frontier family. It was cited by The New York Times as the "most radical western ever made."
9. The Wild Bunch
Director Sam Peckinpah's controversial, brutally-violent Western tells about the demise of a desperate, small gang of aging outlaws (the 'wild bunch') in the early 1900s. The movie shocked audiences with the level of carnage, but the story remains stunning, and the camerawork was groundbreaking at the time of its release.
10. Unforgiven
Clint Eastwood's magnificent last Western masterpiece and Best Picture-winner is a violent tale about retribution. Hog farmer William Munny (Clint Eastwood), dirt farmer Ned Logan (Morgan Freeman) and gunfighter "The Schofield Kid" (Jaimz Woolvett) join forces to confront the corrupt, sadistic and autocratic Sheriff "Little Bill" Daggett (Gene Hackman). The movie takes on the myths of the Old West and shows a much more complicated truth.
Next Steps:
1. Find out when you can watch Clint Eastwood movies on SundanceTV.
2. See the full 1001 Movies You Must See Before You Die schedule on SUNDANCE TV.
3. Order a copy of the 1001 Movies You Must See Before You Die book.