Here's How to Get Down: 10 of the Sexiest Dance Scenes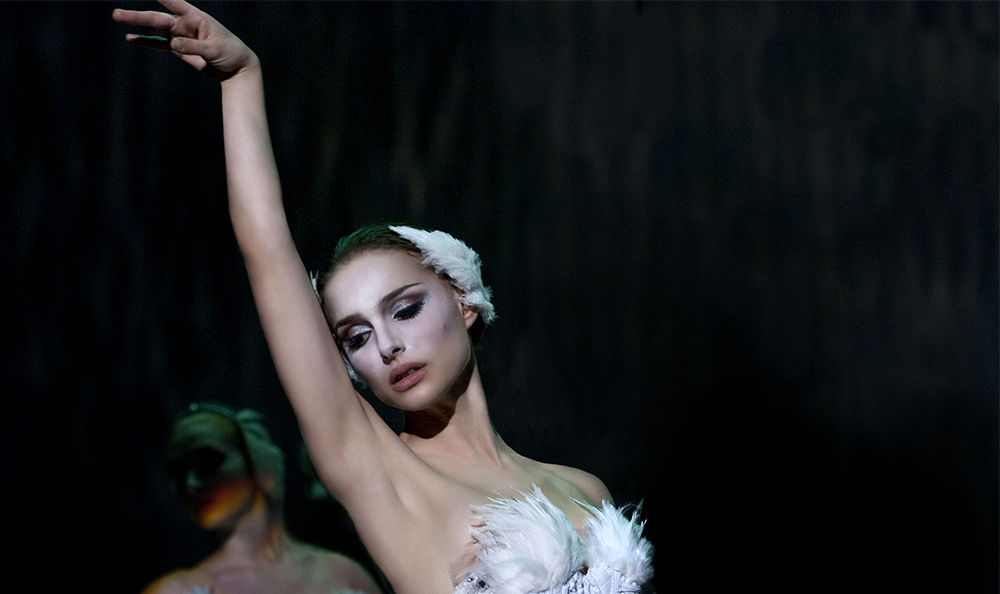 Movies use dance to convey eroticism, longing, or just plain sexiness. Here's a list of ten movies from 1001 Movies You Must See Before You Die in which very different kinds of dance are employed to similar results—thrilling audiences.
1. Black Swan
As if the ballet scenes weren't enough, Darren Aronofsky's Oscar-winning psychological thriller features one of the most enticing Sapphic dance sequences since Sharon Stone and Leilani Sarelle strutted their stuff in Basic Instinct. Aronofsky plays the scene—which sees Natalie Portman and Mila Kunis taking drugs and dancing sensually in a packed nightclub to, appropriately enough, The Chemical Brothers tracks—like a tortured dream. It is an erotic counterpoint to the classical ballet scenes, but also hints at the gothic horror to come.
2. Do the Right Thing
Spike Lee's drama is better known for its engagement with racial politics, but it opens with Rosie Perez performing a confrontational dance to the camera. She wears, by turns, a red dress, blue Lycra leotard and shorts, a tight top and boxing gloves. With its aggressive choreography and Public Enemy's "Fight the Power" on the soundtrack, the sequence is both sexy and provocative—the perfect opening to Lee's brilliant, powerful and furious movie.
3. Flashdance
Jennifer Beals' factory worker moonlights as an erotic dancer while dreaming of becoming a ballet dancer. No one will ever forget the artistic strip-tease, done to the song "He's a Dream", that includes nothing less then a thorough dousing of the dancer with a bucket of water. Cue everyone's fantasies for the next decade…
4. La Dolce Vita
Anita Ekberg's Sylvia turns a rather staid nightclub on it's head when she gets the party going to an upbeat jazz number. She kicks off her shoes, swings her long hair and shakes her stuff in a very low cut dress—wowing an audience with her presence on the dance floor. Everyone is enraptured… except her finance.
5. Gentlemen Prefer Blondes
One of Hollywood's greatest show-stopping musical numbers, Marilyn Monroe's "Diamonds are a Girl's Best Friend" defined everything that made her a star. Dripping in jewels and surrounded by tuxedoed men, she successfully plays coy and sexy simultaneously. She shakes, shimmies, and gives a stunning performance in a sequence that has been copied by Madonna, Kylie Minogue and Nicole Kidman.
6. Pulp Fiction
As it begins, John Travolta and Uma Thurman's dance in Quentin Tarantino's Oscar-winning gangster movie might remind us of the actor's strutting in Saturday Night Fever, but it's soon forgotten as it becomes just as iconic. The actors famously weren't choreographed—Tarantino just asked them to see what came out of their improvisation. The pair are the first contestants in a dance contest and they twist, swim and do just about every other dance move to Chuck Berry's "You Never Can Tell."
7. Saturday Night Fever
The finger pointing. The splits. The white suit. The Bee Gees. It's hard to choose just one favorite dance scene from the iconic disco movie of the '70s, but if we had to, we'd say it's the moment Tony (John Travolta) ditches his dance partner so he can really strut his stuff to "You Should Be Dancing," which is brilliant from the first cuff check on.
8. Singin' in the Rain
If Debbie Reynold's Kathy Selden is the image of innocence in Singin' in the Rain, Cyd Charisse represents the darker side of Gene Kelly's desire. Charisse's ankle is the first thing we see, before the camera moves up her leg to reveal the dancer wearing an emerald green dress ad sporting a black bob. From there, she puffs her cigarette and leads Kelly's Hollywood aspirant astray in a sexy Hollywood dance number—those legs on full display.
9. The Conformist
Before Portman and Kunis, there was Stefania Sandrelli and Dominique Sanda in Bernardo Bertolucci's masterpiece. In one of the movie's most famous scenes, the two actresses do a tango to an entranced crowd in a glass pavilion. While everyone else wears drab clothes, they are dressed to impress in silk and furs. And like Black Swan, it's heady stuff.
10. Top Hat
Fred Astaire plays an American dancer who, on a visit to London, encounters a woman (Ginger Rogers) who is staying on the floor below him in a hotel. She storms into his room to complain about his singing and dancing, which has interrupted her sleep. When she leaves and returns to her bed, Astaire sprinkles sand on the floor and performs a soft shoe dance to the same tune, "No Strings (I'm Fancy Free)", whose soothing sounds, as he moves across the floor, send her off to sleep.
Bonus: Ones that got away…
There are a number of dance movies that should perhaps have been included in 1001 Movies You Must See Before You Die including…
Dirty Dancing
One of the most popular films of the 1980s, features a stunning collection of 1960s songs and the line "Nobody puts Baby in the corner." It also features a range of different dance styles, leading up to the climactic dance between Patrick Swayze and Jennifer Grey where she does a running leap into his arms and he lifts her over his head. Now that is having the time of your life.
Save the Last Dance
Flashdance for the noughties, Thomas Carter's urban dance movie reverses the storyline of that earlier flick. But finale is pretty much a re-run of Flashdance, but when tk (Julia Stiles) combines her techincal ballet prowess with her new hip-hop movies and "All or Nothing" by Athena Cage, the judges are impressed. And so are we.
Next Steps:
1. Find out when you can watch Flashdance on SundanceTV.
2. See the full 1001 Movies You Must See Before You Die schedule on SUNDANCE TV.
3. Order a copy of the 1001 Movies You Must See Before You Die book.