Boost Your Indie Cred: 10 Under-the-Radar Record Store Movie Scenes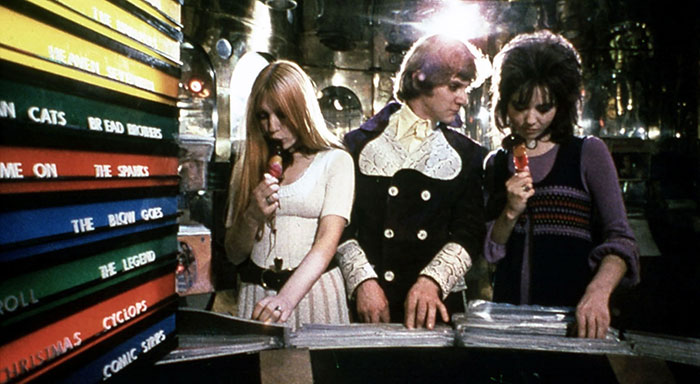 Nowadays, it's not uncommon for a movie to set a scene in a music shop, usually to emphasize the "indie" nature of the characters. But once upon a time, everybody went to the record store to get their music—and the scenes featuring stores were woven into movies so seamlessly, you might not have noticed them. So this Record Store Day, skip the usual chatter about High Fidelity and Pretty in Pink and impress your friends with your deep knowledge of hot wax … in the movies.
1. A Clockwork Orange
Malcolm McDowell is on the prowl, so he visits what looks like a futuristic set that Kubrick had made up for the movie, but which was in fact a real shop at the time, the Chelsea Drug Store. He steps in between two popsicle-sucking "lovelies" and idly flips through the LPs while engaging them in flirtatious banter, which apparently works since they go home with him to have a threesome under his Beethoven poster. What you might've missed when first seeing this scene? A copy of the soundtrack to 2001 is front and center on display in the record racks.
3. Hannah and Her Sisters
In the chapter "Lucky I ran into you," Mickey (Woody Allen) and a beret-wearing Holly (Dianne Wiest) reunite in a Tower Records, after he spies her through the window. Though she's holding operas, we see them stroll up and down the jazz section with section cards for artists like Joseph Jarman and Yusef Lateef. The one record Mickey himself picks up and shows off is a 1977 Randy Weston album.
4. Jailhouse Rock
Elvis, as a singing ex-con, goes into a music shop to buy what he thinks is his own record, "Don't Leave Me Now." But it turns out that unscrupulous industry types have put out the same song with another more established singer instead. Elvis heads out of the listening booth, a man on a mission, and in the next scene, he slaps around the ethically-challenged producer in a victory for defrauded artists everywhere.
6. Scanners
In this David Cronenberg mind-blower, a van, riddled with shotgun blasts, crashes through the window of a "Disc o mart." The remaining two scanners escape from the wreck and take refuge in a basement room filled with boxes of records. In one shot of the store carnage, at least four copies of Frank Zappa's 1979 Sheik Yerbouti are displayed on the racks. The sprinkler system comes on as the van catches fire, making all the records dumpster material.
7. Taxi Driver
Yes, Travis Bickle goes record shopping and what is our unstable protagonist looking for? A Kris Kristofferson record to give to the object of his affections, Cybill Shepherd's Betsy. Why? Because Betsy has mentioned a Kristofferson song and Travis is following the first rule of dating, always listen to your dates, show them that you were paying attention. This doesn't stop Travis from violating the second rule of dating, don't take your date out to a seedy theater playing a Swedish adult film.
2. The Blue Gardenia
In this Fritz Lang noir, the playing of a record figures into the detective work. Richard Conte hears a song, triggering a memory of music from the crime scene; he asks, "What's that?" Another character answers "Music. Canned. They can everything these days." The investigation leads to a scene in Melrose Music Shop and eventually to the guilty party.
5. The Man Who Fell to Earth
Rip Torn goes into a large record store and finds a record called The Visitor, a clue to the fate of the David Bowie character. Perhaps the most notable things in this scene are the large hanging poster showing cover images of Bowie's Young Americans and the fact that omnipresent yellow signs tell you that, seemingly, all records in the store were $4.66. Except, The Visitor just happens to be on sale for only $3.66, so it is Torn's lucky day.
8. This Is Spinal Tap
The band attempts a record signing in a record store, but no one wants a copy. Letterman band leader Paul Shaffer, playing Polymer records Artie Fufkin, leans over the cut out bin and invites an ass-kicking from the band as punishment for the debacle. It's not in the original cut of the movie, but there exists a sequence where the band attempts to sign a copy of the "black album" for a lone interested customer. With a black pen.
9. Vivre Sa Vie
In this movie, Anna Karina as Nana wants to be an actress but winds up a prostitute. In the second episode, however, Godard shows her working in "le magasin de disques" aka the record store, answering the kind of record store clerk questions one got back in those days from customers: Judy Garland? Rafael Romero on guitar? And then another clerk reads aloud from the magazine article that inspired the movie as the camera pans to the windows. Very meta, very New Wave, very French.
10. Why Does Herr R Run Amok?
Rainer Werner Fassbinder's movie about a breakdown shows the title character asking clerks to help him identify a song he wants to give his wife. At one point he's asked about the singer and he replies, "Male, I think. It's hard to tell nowadays." The two girls, barely able to contain their laughter at his haplessness, eventually find the record but not until after he's asked to sing a few bars. Perhaps this is just another reason why he did run amok.
Increase your hip factor even more—here are 10 cult movies you need to screen immediately.