6 Questions with "BEHIND THE STORY: Parks and Recreation" Host Patton Oswalt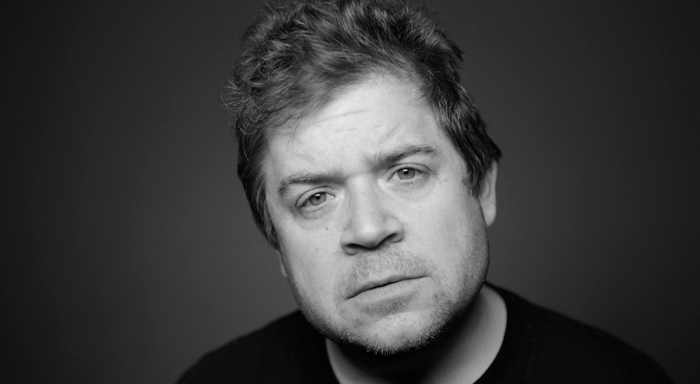 Patton Oswalt never stops. A comedian-TV-movie star with a new book under his belt, Oswalt only has more to come (some of which, he apologizes, he can't discuss here). But Oswalt did talk to us about hosting the Parks and Recreation episode on BEHIND THE STORY WITH THE PALEY CENTER, what he'll miss most about Parks and which 2015 Sundance Film Festival movies he loved.
Q: You did a great job hosting the panel featuring the cast of Parks and Recreation for BEHIND THE STORY. Was there anything new you learned about the cast?
A: I wish I could say there was some huge revelation for me, especially watching them interact up there onstage. But the truth is they were exactly as hilarious, and fun-loving, and friendly and wicked with each other as I expected them to be. My favorite show turned out to contain my favorite people.
Q: Is there anything you love most/will miss about Parks?
A: The relationship between Leslie Knope and Ron Swanson on a weekly basis was some of the best, truest writing about how people who disagree on everything can still co-exist and even be friends. I'm being greedy wanting to see more of that, I know, especially when they resolved it so perfectly. But yeah, I will miss those scenes especially.
Q: You made a memorable appearance on Parks and Recreation as Garth Blundin. What did you like most about guest-starring on the show? How did they work in your passion for Star Wars—were you involved in shaping the character?
A: What I liked most—and I know this sounds simplistic—was that I got to be on Parks and Recreation. And they in no way worked my love for Star Wars into the script. That whole rant was a happy mistake—they never yelled cut and I panicked 'cuz I didn't want to get fired. So I did a huge trivia dump and that became the scene.
Q: Parks ended, but there are always new shows and trends popping up. Is there anything in particular that has you excited about the TV landscape right now?
A: Oh man, there's too much great stuff. Network, cable, online and streaming. This is what it must have felt like being a movie buff in the early '70s. Every week, three or four new classics.
Q: You're a known movie fanatic, focusing on your film addiction in your latest book Silver Screen Fiend—what have been your favorite movies so far this year? Anything you're excited to see coming out of the 2015 Sundance Film Festival?
A: TV is so amazing right now and my schedule is so punishing, I honestly have not had a chance to see any new movies yet this year. Oh wait, I saw It Follows. That was terrific. And Going Clear, of course. Wow.
Q: So as we've covered, you're everywhere—doing stand-up, TV, movies, writing your own book, tweeting out brilliant cultural commentary, moderating the panel featuring the cast of Parks and Recreation—what else is coming up for you this year that can keep our Patton fandom thriving?
A: A new special, some very fun TV appearances, and something else I can't talk about yet. Sorry.
Don't miss BEHIND THE STORY WITH THE PALEY CENTER, premiering Tue., Apr. 7 at 8/7c with Patton Oswalt moderating the cast of "Park and Recreation."
Test your TV fandom with the Parks and Recreation Quiz and Parks and Recreation Quotes Quiz.