10 Hottest Femme Fatales of the New Millennium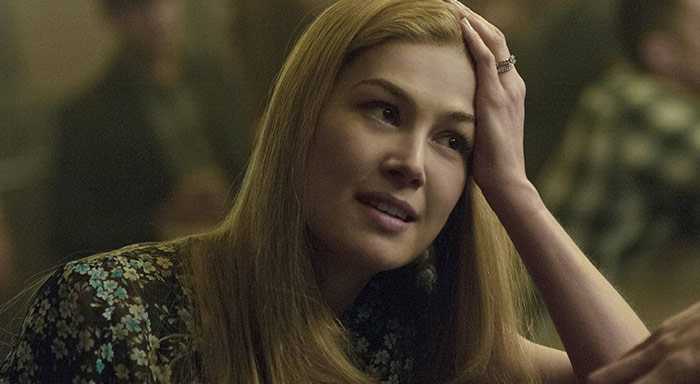 Femme fatales were a staple in film noir movies of the 1940s and 1950s, but today you can still find many modern examples of wanton women who seduce their way into getting what they want—at the expense of everything (and everyone) else. Here are just 10 of the hottest femme fatales we've seen onscreen this millennium.
1. Penny Lane (Kate Hudson), Almost Famous (2000)
Kate Hudson's hippie-glam groupie Penny Lane may not prove fatal to men in a literal sense, but the sexy spell she casts on Stillwater lead singer Russell Hammond (Billy Crudup) does precipitate the dissolution of his band. Penny proves equally irresistible to the young journalist (Patrick Fugit).
2. Sophia/Nadia (Nicole Kidman) Birthday Girl (2001)
In this crime drama, Kidman plays a woman who's purportedly a Russian mail-order bride. But like many femme fatales, she turns out to be more than what meets the eye. Ben Chaplin portrays the lonely British bloke who pays for Kidman to come into his life—and who then puts his own life on the line in his quest to live happily ever after with her.
3. Laure/Lily (Rebecca Romijn-Stamos), Femme Fatale (2002)
You may not find a more classic femme fatale in modern moviemaking than Romijn-Stamos in the title role of director Brian De Palma's mystery-thriller. She plays a mercenary thief who attempts to double-cross her partner in a diamond heist, assumes others' identities, and, of course, seduces more than her fair share of men.
4. Jane Smith (Angelina Jolie), Mr. and Mrs. Smith (2005)
Angelina Jolie was so skilled at playing the irresistible femme fatale opposite Brad Pitt in this action-comedy that in real life, she managed to lure him away from his then-wife, Jennifer Aniston. In the movie, Jolie and Pitt portray married assassins who are unaware of one another's secret professions. Their love grows stale, only to be put to the ultimate test when they're each assigned to eliminate the other—which, of course, only heats things up.
5. Nola Rice (Scarlett Johansson), Match Point (2005)
Do blondes have more fun? Not when they're Nola Rice, the struggling American actress whose lonely life in London is thrown into a tailspin when she meets upper-crust tennis instructor Chris (Jonathan Rhys Meyers), who marries the older sister of her ex-fiance. As a modern-day version of the classic film-noir femme fatale, Johansson plays Nola as equal parts alluring and unbalanced; her increasingly desperate attempts at wooing Chris away from his wife prove equally damning for both of them.
6. Maria Elena (Penelope Cruz), Vicky Cristina Barcelona (2008)
In one of Woody Allen's most scintillating movies, Cruz portrays Maria Elena, the emotionally turbulent ex-wife of an alluring artist named Juan Antonio (Javier Bardem). Juan falls for a young American woman named Cristina (Scarlett Johansson), and Maria Elena comes to believe that she and Juan can enjoy a healthy relationship if Cristina agrees to live with them as a polyamorous threesome. All's well until Cristina leaves and Maria Elena catches Jaun with another lover. And shoots her in the hand.
7. Jennifer Fox (Megan Fox), Jennifer's Body (2009)
With her lush lips, curvy physique and come-hither gaze, Megan Fox was born to play a femme fatale. In this horror/black comedy hybrid, written by Oscar winner Diablo Cody, Fox unleashes her feminine wiles as a high-school cheerleader-turned-succubus with a penchant for murdering her male classmates.
8. Chloe (Amanda Seyfried), Chloe (2009)
As a young call girl, Amanda Seyfried's titular character seduces just about everybody in director Atom Egoyan's erotic thriller. Originally hired by Catherine (Julianne Moore) to test the faithfulness of her husband David (Liam Neeson), Chloe soon finds herself romantically entwined with Catherine and, later, Catherine and David's son, which all threatens to tear the family apart.
9. Sydney Prosser (Amy Adams) American Hustle (2013)
In director David O. Russell's crime-heist drama, Amy Adams plays a slinky con woman who manages to wrap both crime-boss Irving Rosenfeld (Christian Bale) and FBI agent Richie DiMaso (Bradley Cooper) around her fingers. Even Jennifer Lawrence, as Bale's put-upon wife, can't help but lay a wet one on Adams' kisser in the midst of telling her how much she hates her.
10. Amy Elliott-Dunne (Rosamund Pike), Gone Girl (2014)
Sometimes a femme fatale feels more like an ice princess than a sexy seductress. Such is the case for Amy Elliott-Dunne, the seemingly perfect wife Pike portrayed in director David Fincher's whodunit. Cunning and cold-blooded, Amy has a habit of framing her romantic partners for crimes they didn't commit and, like many femme fatales, for getting her way no matter what.
Is it hot in here? Turn the heat up even further with our list of the steamiest sex scenes from the last six months.