Top 10 Buzzed About Movies at SXSW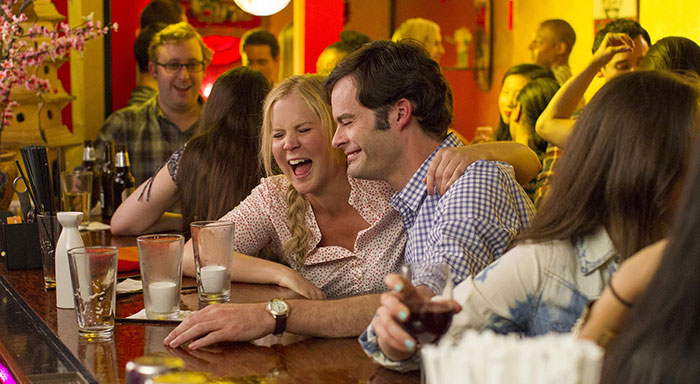 2015′s South By Southwest Film Festival kicked off Friday, and this year boasts a long list of buzzed-about features, from biographical docs to Judd Apatow's latest comedy. If you're anywhere near Austin, don't miss these ten screenings. And if you're not, you just might see them in theaters—or streaming—soon.
1. 6 Years
The third movie from A Teacher director Hannah Fidell follows a pair of high school sweethearts reassessing their relationship as the end of college draws near. One part coming-of-age drama, one part love story, the movie goes dark as it explores more than one variety of domestic abuse. Produced by the Duplass brothers and starring Taissa Farmiga (Vera's little sister), 6 Years was snapped up by Netflix after premiering in competition Saturday.
2. Brand: A Second Coming
Russell Brand: Movie star. Media darling. Messiah? Though some called the British comedian an annoyance and celebrated the rapid decline of Brand's acting career in the wake of his scene-stealing Sarah Marshall performance, the star seems to have pulled off an unlikely transformation into a revolutionary-minded modern day man of letters. This movie (denounced and boycotted by Brand himself in a rumored publicity stunt) is a winning portrait of a voice of dissent stepping out from the mainstream… or a PR Svengali at the height of his powers.
3. Ex Machina
This techno-thriller from frequent Danny Boyle-collaborator Alex Garland features the scariest cinematic robots since Terminator, without ever resorting to machine guns and motorcycles. Domhnall Gleeson's young programmer wins a chance to spend a week at CEO Oscar Isaac's fully automated vacation home. Things get complicated when the cantankerous billionaire introduces his guest to a new, artificially intelligent prototype with a beautiful human face in what's been dubbed the smartest science fiction movie in years.
4. The Final Girls
A horror/comedy that recalls 2012′s Cabin in the Woods with its meta, painfully genre-savvy reinvention of dusty scream queen tropes. With the younger Farmiga headlining once again, the stand-out cast also features Silicon Valley's Thomas Middleditch, Workaholics star Adam Devine, and The Vampire Diaries' Nina Dobrev in a meeting of TV's most hilarious and most spooky protagonists.
5. The Grief of Others
This quiet family drama has received acclaim for its depiction of a family in mourning, disrupted by the arrival of an unexpected stranger whose presence may uncover long-buried secrets. Writer-director Patrick Wang (In the Family) adapted the movie from Leah Hager Coen's Oprah-selected novel.
6. Hello, My Name Is Doris
A new drama from comedy legend Michael Showalter (The State, Wet Hot American Summer) explores what happens when a sixty-something Brooklynite, played by Sally Field in a triumphant return to top billing, decides to pursue John (Max Greenfield), a hipster in his thirties. The barrier-crossing romance has been hailed as an unpredictable crowd-pleaser.
7. The Invitation
A twisty new thriller from Jennifer's Body director Karyn Kusama follows a former couple who attends a dinner party together in at a pair of friends' chic mansion in the Hollywood Hills. Tension mounts as the hosts lead the group in a very L.A. round of alternative group therapy.
8. Trainwreck
This year's big ticket is Amy Schumer's new Judd Apatow-directed rom-com, a typical jerk-meets-girl redemption story by all appearances—only this time the jerk is the girl . And the outlook-altering object of affection? Bill Hader. Schumer's dedicated non-monogamist magazine writer finds herself falling for Hader's charming sports doctor and wonders if it's time to give hitched life a chance.
9. Spy
When master TV director Paul Feig (Arrested Development, Mad Men, Parks and Recreation) first tried his hand at a big-budget feature, the resulting Bridesmaids changed the landscape of cinematic comedy. Here Feig reteams with star Melissa McCarthy, who plays an unconventional and hilarious femme fatale in this spy comedy for the new millenium.
10. Steve Jobs: The Man in the Machine
The latest doc from Going Clear director Alex Gibney digs into the life of tech's most interesting man. Neither a hagiography nor an indictment, the movie has been hailed as a nuanced look at the visionary that will change the way you think about Jobs, Apple and the nature of genius.
Love indie movies? Find out which flick represents your inner spirit.