Michael Douglas, Sex Symbol: 5 Movies That Suggest as Much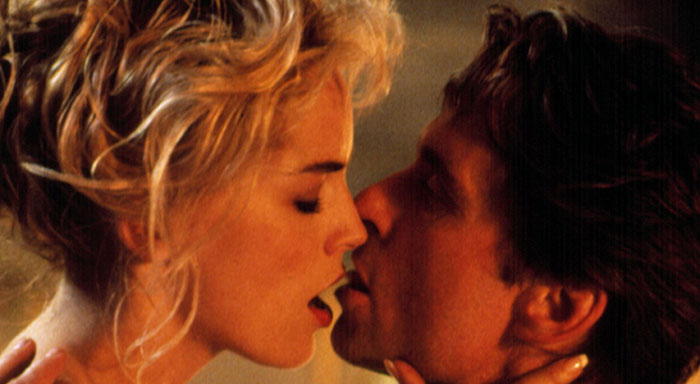 Michael Douglas is now into his fifth decade of a career marked by sizzling moments in memorable sex scenes… and he isn't even a dick about it. Douglas has freely admitted that making onscreen love with beautiful women like The Sentinel's Kim Basinger isn't exactly a tough day at the office, and that it's tougher on actresses because they're generally buck-naked in a roomful of men. Still, as he once observed, "everybody has had sex… everyone has an opinion on how it should be done." And Douglas has always done it his way — quite unforgettably — in the following five movies.
1. Romancing the Stone (1984)
Rugged-adventurer Jack T. Colton (Douglas) and unlucky-in-love romance novelist Joan Wilder (Kathleen Turner) meet cute in Colombia, but it's not love at first sight—more love after a literal mess of slogging and bickering through jungle mud. But when they finally reach (relative) safety, all their pent-up longing breaks loose in a picturesquely passionate night in the sack. (We mention the picturesque part because Douglas sent his back into spasms holding one visually attractive, but uncomfortable, position.) Tame by his later standards, this scene transformed Douglas from an intense leading man (concerned with nuclear reactors, the draft, and judicial corruption) to a carnally savvy romantic lead.
2. Fatal Attraction (1987)
A high-water mark in the the erotic thriller genre, Fatal Attraction's most talked-about scene features Douglas as a married man and Glenn Close as the weekend fling who subsequently will not be ignored. Director Adrian Lyne says Close and Douglas "loosened up" with champagne and margaritas before the movie's notorious sex-in-the-kitchen scene, in which they go at it over a kitchen sink full of dishes… and cutlery. Nothing turns up the heat on a sex scene like the hint of danger to come…
3. Basic Instinct (1992)
…and speaking of danger, five years later, Douglas was baring just about all. Though he refused to go full-frontal, his backside is on full display as he squares off against mantis-in-a-white dress Catherine Tramell (Sharon Stone)—a novelist suspected of being an icepick-wielding killer—on the battlefield of lust. The hottest scene (and there are several from which to choose) has to be the one in which the dominating Catherine ties his wrists to a brass bed-frame with a silk scarf. Not looking so edgy now, huh, Fifty Shades of Grey?
4. Disclosure (1994)
There was a time when businesses were serious about no-fraternizing rules. They had a point! When ex-girlfriend Meredith Johnson (Demi Moore) gets the promotion Tom Sanders (Douglas), now married, thought was his, things get rough. "Just another dull day in the computer business," whispers vixen Meredith as she forcefully suggests that Tom shut up, unzip and do her against a folding table. Things get raunchy and semi-naked—before Douglas tears himself away. The movie's tagline is "Sex Is Power" and Meredith is a power player. She turns the tables on Tom and accuses him of sexual harassment—almost ruining his life in the process.
5. Behind the Candelabra (2013)
Twenty years after he stipulated that his Basic Instinct character could not be bisexual, Douglas was comfortably playing flamboyant entertainer Liberace to the hilt—including numerous sex scenes with Matt Damon as a hunky boy toy. Some critics singled out a scene in which Douglas is taken from behind as especially startling but to be honest, Douglas' onscreen sexual career has included more than one instance in which he's not top dog. And you know, it takes a confident man to admit that sometimes he's just fine with letting someone else do the heavy lifting.
Find out when you can watch Michael Douglas movies on SundanceTV.
Wondering how a couple has sex while driving? So do we. Check out the top 10 most unrealistic sex scenes.