6 Questions with "Fun Home" Writer Alison Bechdel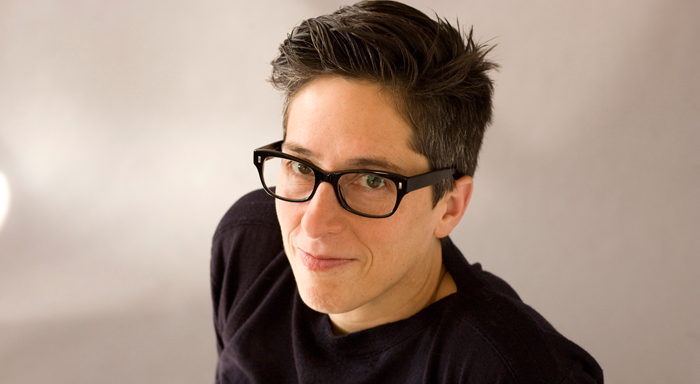 Alison Bechdel, winner of the 2014 MacArthur Genius Grant, is loved by comic fans for her provocative, queer-friendly works like her long-running strip "Dykes to Watch Out For" and her graphic memoirs, including Are You My Mother?: A Comic Drama and Fun Home: A Family Tragicomic. She's also revered by cinephiles for devising the "Bechdel Test," a set of rules for determining a movie's female-friendliness by measuring its number of female characters and the kinds of conversations they have on-screen. Soon, Bechdel's Fun Home will make its way to Broadway, as it has been adapted into a musical, which previews starting Mar. 27, and officially opens on Apr. 19. In anticipation of that premiere, we talked to Bechdel about what it's like to see your life story onstage and which are her favorite Bechdel Test-approved movies.
Q: You handed over artistic control of Fun Home as a musical to Lisa Kron and Jeanine Tesori. Was it an easy decision to make? Were you part of the Sundance Labs workshop at all, or were you consulted during the adaptation period?
A: I knew Lisa's work, so I knew and respected her and trusted her. But that being said, I also felt like the idea of a musical was so outside of my realm. I just don't have much of a relationship with theater or musicals. It seemed like, "Well, why not?" It didn't feel as problematic as, say, a movie. There was a movie offer early on with Fun Home that I didn't pursue because I felt like it would be so awful if there were a bad movie of this intimate aspect of my life. I guess I felt like if the musical wasn't any good, no one would see it. It would just sort of disappear. Whereas a movie would not disappear. It would be on a DVD shelf for eternity.
Lisa and Jeanine both talked to me a lot and I met with them several times, but it was never in any kind of official capacity. It was more like they were getting information from me, asking me about my family and about the process of writing the book. I had some inklings of what they were doing and thinking, but not really until I saw the first version of a script at the end of 2010.
Q: What delighted or surprised you most about seeing the finished product of Fun Home's musical adaptation?
A: When I first experienced it, it was just alone in my office on my computer. I had the script and I had the soundtrack of the songs that Jeanine did, a really excellent recording of the songs. I wasn't used to reading a theatrical script. It was hard for me to make sense of that at first. But the songs immediately overwhelmed me. I had not been prepared for the power of a really good musical. I just didn't quite understand that, I guess. The first time I saw it on stage was almost a year after that. By the end, I was crying. And I'm not a big crier… I don't cry. I was very unnerved to see that people had been kind of looking to me to see what my reaction was going to be. So I'm glad I had one.
Q: What's it like to see your more personal moments expressed in musical form?
A: Most of the time when I'm watching it, I'm just in this sort of altered state, buffeted by very powerful emotions. That first staged reading was pretty powerful. There were different problems all along that eventually got worked out, things that felt clunky or didn't work initially—but all of that stuff amazingly just keeps getting better and better. It's been such a privilege to have these brilliant, brilliant artists working with my story. And I don't use the word "brilliant" lightly. I feel like Jeannine and Lisa and [director Sam Gold] have done something really amazing. Each of them in their own medium have done something amazing with this material.
Q: What kind of opportunity does Broadway offer for your story?
A: I want as many people to connect with it as possible. It's amazing for this lesbian story and this lesbian character to be on the stage in this very mainstream setting and I think that's a great thing for everyone to see—lesbians and young queer people especially, but everyone. So I just hope a lot of people get to see it.
Q: Your work has a pop-culture sensibility, yet it's also studied, analyzed and taught at universities nationwide. Do you feel responsibility as an artist to keep changing and adding to the perception of feminism in the world?
A: It has been a little surprising to me that, not just Fun Home, but even my comics are being taught in college classes. It's very strange considering that I began as this total outsider to the culture. But I love the comics form. I love the lowbrow nature of comics. That's always been a big appeal of it for me, that it's so accessible. As I worked more and more at it, I could tell more and more complex stories still using that comics format. That's always a puzzle that intrigues me, how to tell the most complicated stories I can in a way that's still accessible.
I don't feel like I'm interested in perceptions of feminism, per se. I want to write about my own life and my own reality as a woman. That's what feminism is all about, for women to have that kind of subjectivity and that kind of agency in the world. I don't care what people think about feminism as long as I can say what I want.
Q: The Bechdel Test is now widely known and used amongst movie critics—a test coined by you, where in order for a movie to pass it must feature at least two female characters who talk to one another about something other than a man. What's your favorite "Bechdel Test-approved" movie?
A: You know, I never have a good answer for that. The sad thing is, I don't see that many movies and I often watch movies that don't pass the test at all. I don't watch that many movies, period. I don't go out that much… What is my favorite Bechdel Test-approved movie? Can I do a little research and email you on that? [Note: Bechdel later emailed to say, "It's a toss-up between Hannah Arendt and Iron Man 2."]
Read the interview with the Fun Home book and Broadway musical adapter Lisa Kron.
Watch the video of how Alison Bechdel's graphic novel was brought from the page to the stage.