6 Questions with "Finding Neverland" Co-Songwriter Eliot Kennedy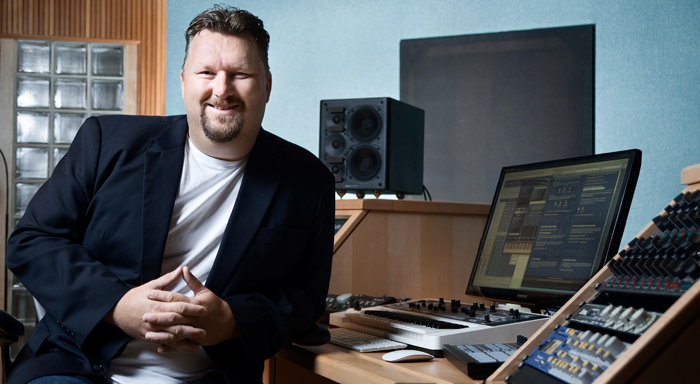 In 2012, British pop songwriter Eliot Kennedy got a call from his longtime collaborator, Gary Barlow, saying producer Harvey Weinstein wanted them to pen a few numbers for a musicalization of his Oscar-nominated movie Finding Neverland. Even though they had never written for the stage, the two jumped at the opportunity. Three years later, the show with songs by the duo is set to bow on Broadway. Kennedy talks about the differences between writing for the pop charts and for the theater, Weinstein's loud but inspiring style, and the challenges of making the story behind Peter Pan soar.


Q: Before this incarnation of Finding Neverland, another musical based on the movie with an entirely different creative team played in England. You and Gary got involved with this production right after that. How did that come about?


A: Gary called me and said, "El, do you know who Harvey Weinstein is?" I had already worked with Harvey on a movie called Bobby so I said, "Yes, and tell him yes, whatever he wants!" Originally Harvey asked for a song or two with a contemporary hit sound, so we watched the film and wrote the duet "What You Mean to Me" and the main "Neverland" number. We sent those two demos by email and got a phone call back from Harvey about 15 minutes later saying [in a gruff American voice], "Yeah, we're gonna need more of these!" I've gotten good at my Harvey impression! We had never written for the stage before so we were so enamored by the challenge. It's been a real whirlwind of a journey but we've had these incredible people working with us, the genius that is Diane Paulus [the director] and James [Graham] the book writer and Mia [Michaels] doing choreography. 

Q: Since you and Gary come from a pop-music background, did you try to change your style to make it more theatrical? 


A: No. We said from the outset that we weren't going to try to become Broadway writers. We were going to stick to doing what we do and bring our pop sensibility to it. That's actually what got Diane excited. When we present ideas, they're so different from what she's used to. If memory serves, we tried to write one song that we felt was like a real Broadway number and Diane just hated it! Theater songs need to convey the story, it can't be just a three-minute hole in the action. It's got to move us through the next few hours or days or even years.


Q: Did you and Gary constantly rewatch the movie for inspiration or did you let it go at a certain point?

A: Originally we said, let's just watch it and see what inspires us. But as soon as Diane came on, we realized we weren't making a musical of the film; we were doing a unique piece of work that was driven by that narrative. She brought a whole new arsenal of ideas to tap into. Do you know what I love about her? In addition to being a creative genius, she's a mum. Gary and I are both parents, and we often draw on our children for inspiration in what we do. With Finding Neverland, we constantly ask Diane what her daughters think.


Q: Finding Neverland had an out-of-town tryout last summer at Cambridge, Massachusetts' American Repertory Theater, where Diane serves as artistic director. I know some of the characters were recast. Has the rest of the show changed significantly since then?
A: We have a whole new first 20 minutes! The story of author J. M. Barrie and Peter Pan is really difficult to tell. Everyone knows Peter Pan and as a result, you want to make sure you tell the story of how it came about in as truthful a way as possible. But the reality is, it's extremely complex. You've got these very strong but divisive characters, like his wife, Mary, and Frohman, his producer and best friend, and Barrie was a bit of an enigma. He was married to this beautiful actress but their marriage was never consummated, and he had this terrible, tormented childhood where he lost his brother and that sort of messed him up. So you've got lots of serious emotion going on and you can't skip over it. Anything truly amazing like Peter Pan is usually born out of some extremely painful process. If you deny that darker side, it won't feel real. So as a result, we have this really difficult setup, and I felt like we copped out a bit at A.R.T., if I'm being honest. We had an up-tempo song that didn't really do it for people. So we thought a lot about the new beginning, and we put Barrie front and center, and we have Peter Pan straight away, so it becomes, "let me tell you how this happened." I've seen the show on Broadway with audiences three times now, and I think we have a really dynamic opening. It's a collision of worlds — the pop songs are what the world sounds like in Barrie's head — they're futuristic because he was a futurist. But he lives in Edwardian England, so the underscore is very traditional. We're still working on it and tightening up the screws, but it's a pretty exciting beginning now.


Q: When the show was at A.R.T., infamous New York Post theater columnist, Michael Reidel, wrote a not-so-flattering piece about the production without having seen it. Subsequently, Harvey challenged him to come to the show, and if 80% or more of the audience loved it, Michael would have to do the ALS ice-bucket challenge. If not, Harvey would do it. Were you there the night Michael got doused?

A: I was standing right next to him! … They brought in Ernst & Young to adjudicate and 96% of the people loved it. Michael was really good fun, quite charming and self-deprecating. He told a really fun story about going to see a friend's show in a workshop and saying, "Look, cut your losses now. I know you're in for a lot of money and it's going to be the end of you." That show turned out to be Wicked! Of course, the day after he went back to NYC after seeing Neverland, the first thing he wrote was, "So Harvey, when you decide who your leading man is, let me and Jeremy [Jordan, the actor who played Barrie before Glee's Matthew Morrison replaced him] know, will you?" And I thought, you nasty bastard! [Laughs.] Everyone has a little Captain Hook in them!
Q: You and Gary seem to like working with Harvey. I hear the three of you are already collaborating on a new musical?

A: Yes, Around the World in 80 Days. Harvey calls me and Gary the Lost Boys, which is a bit worrying. [Laughs.] But he's a motivator in all kinds of ways. There's a lot you can say about Harvey but when he gets something in his head, he's the most impassioned man you'll ever come across. He's inspiring, you want to work hard for the guy.
Get tickets and learn more about Finding Neverland on Broadway.
Read an interview with Finding Neverland Broadway choreographer Mia Michaels.
Tune in on Apr. 8 at 10pm to see the movie Finding Neverland on SundanceTV.