6 Questions with "Finding Neverland" Choreographer Mia Michaels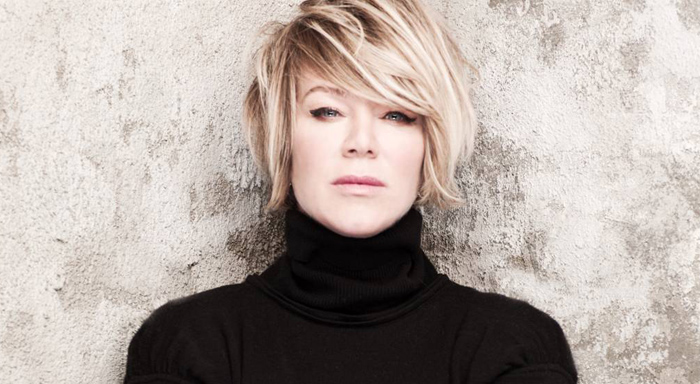 Although she's best known for her work as a judge and choreographer on the hit reality TV competition So You Think You Can Dance, Mia Michaels began her career on stage. Bringing her unique style to Broadway has been a long-held dream, and now she's doing just that as choreographer for the soon-to-open Finding Neverland, a musical based on the 2004 Oscar-nominated film of the same name, which airs on SundanceTV this month. Michaels chats about how working on the show has helped her embrace change, her collaboration with Tony Award-winning director Diane Paulus and choreographing the world-famous Rockettes for another big NYC project, Radio City Music Hall's New York Spring Spectacular.


Q: You have a lot of stage experience, but Finding Neverland marks your Broadway debut. Was that always a goal for you?



A: The stage is my home. It's my first and foremost love. Somehow I wound up in TV land and did much of my work for the small screen for the past ten years. But it's been a beautiful domino effect. If it weren't for So You Think You Can Dance, I would have never known that I was a storyteller. I won Emmys for it, and I was like, I would love to do Broadway because it's all about story. I kept putting that out in the universe and sure enough, [director] Diane Paulus and [producer] Harvey Weinstein came calling for Finding Neverland and here I am. 


Q: So it sounds like there may be more Broadway shows in your future? 

A: Absolutely. I've moved to New York and now I'm in it to win it, you know? I want Broadway to be the next big chapter of my life. I want to choreograph and direct! This show has been the hardest thing I've ever done, but I'm madly in love with the Broadway community. It just feels like I'm home.


Q: Although you and songwriters Eliot Kennedy and Gary Barlow are all new to Broadway, Finding Neverland is directed by Tony winner Diane Paulus. What was it like collaborating with the celebrated stage veteran?


A: I'm so used to directing myself, so collaborating with Diane and the whole creative team was both amazing and challenging. I had to learn how to be a great collaborator in order to do an original Broadway musical. It's very different when you're just a choreographer. You have to get inside the director's head and create from what you think they see, not from what you see. So that's new for me! [Laughs.] But Diane and I have grown to be like sisters. We love each other, we respect each other, we argue, it's a very healthy creative relationship. I'm very blessed to have her come into my life.


Q: You two must really enjoy working together—concurrent to Finding Neverland, you also collaborated on the opening number for Radio City Music Hall's brand-new New York Spring Spectacular.


A: Yes! We had been talking about doing the whole show together, but the schedule for Neverland was just so crazy. So they brought in [Tony-winning Broadway veteran] Warren Carlyle to direct and choreograph, and asked me to do the opening number. As a little girl, my dad used to bring me to New York City to see shows, and I remember watching the Rockettes at Radio City and being like, "Oooooh!". They were so magical to me. That's one of the things that inspired me to go back home and work hard to be a dancer-choreographer, and it's just so cool how things have come full circle. Warren has this amazing, classic theatrical aesthetic, and I'm just putting my contemporary stamp on the one number. It was really fun creating in that world because it's so structured and linear and precise, and that's the very opposite of who I am as an artist. But I just dove in there and created my vocabulary in their world, and it was a great marriage. I have the Rockettes do their iconic kick line, but in a Mia Michaels' way! 

Q: Before this incarnation of Finding Neverland, another musicalization of the movie with an entirely different creative team played in England in 2012. Did you see it, and if not, did you keep going back to the original film for inspiration? 


A: I never saw that other Finding Neverland musical, no. As for the movie, you know, I like to do the research, but I don't overload myself with the history of something. I like to get the information so I know the story, characters and world I'm creating in, and then I go from there and make my own calls. As an artist, I don't want to get bogged down with what's supposed to be. I want to have an open palette to create in. So I watched the movie a couple of times, and then I just went on the journey with Diane and Harvey and the creative team, and allowed every moment to tell me what the show wanted. I believe that shows tell you exactly what they want to be, you've just got to get out of the way and listen. One of the most beautiful things about the process for me was learning how to let go. An original Broadway musical changes all the time, there are constant cuts and shifts and this and that. You can't hang on to your work. I used to do that very passionately. But you just kind of have to be liquid and allow it to be what it's supposed to be. 


Q: Speaking of changes, Finding Neverland had an out-of-town tryout last summer at Cambridge, Massachusetts' American Repertory Theater, where Diane Paulus serves as artistic director. I know some of the cast members changed. Has the rest of the show changed significantly since then?

A: Yes. I've done a lot of new work since A.R.T. Some of it stuck, some of it didn't. There are constant changes. Actually, I'm going in right now to work on a new opening! Broadway previews are a time to explore things with an audience to see what lands and what doesn't. We get our feedback from how the audience responds, so every day we try new things. You just kind of have to go with it. I wasn't good with change at A.R.T. and it did not serve me. I was always frustrated. But the reality is that things are going to change until the director and producers feel it's perfect. So you've got to be part of that and help facilitate the changes. So am I Zen about it? You know what? I have to be.
Tune in on Apr. 8 at 10pm to see the movie Finding Neverland on SundanceTV.