Shot Through the Heart: Most Romantic Movies of the 21st Century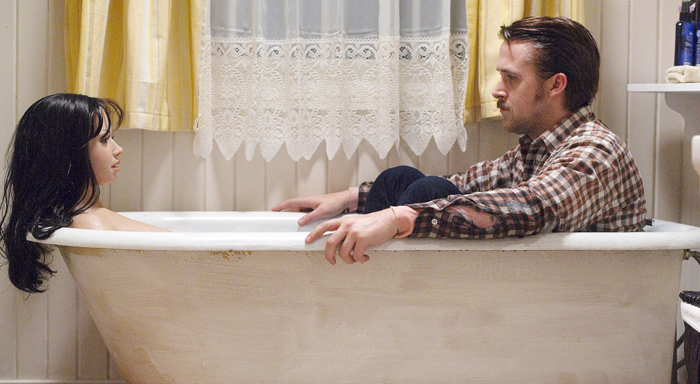 Yeah, yeah, yeah—we've heard it all. This is the 21st century: Flowers and chocolate and "happily every after" are out. Booty calls and friends with benefits are in. To which we say, stuff and nonsense. Sure, romance can be complicated—William Shakespeare said as much four centuries ago and we're still quoting him about its course never running smooth. But we haven't given up; far from it. These movies are evidence that we're as in love with love as ever.
1. Brokeback Mountain
"I wish I knew how to quit you," hisses one confused, ostensibly straight ranch hand to another in the movie that became an unexpected cultural touchstone. It made the word "brokeback" synonymous with heartbreaking gay romance and proved that even when love fails to conquer all, it changes everything, forever.
2. Kissing Jessica Stein
What's a nice, disillusioned Jewish girl to do when she answers a too-good-to-be-true personal ad, only to find that her dream dude is a lady? She kisses a girl and likes it… and that's only the beginning of her romantic complications, which have just enough tartness to keep the whole fluffy confection from tasting like a too-sweet cream puff.
3. Lars and the Real Girl
Painfully shy Lars can't work up the nerve to so much as talk to a real girl, so he buys a "Real Girl"—a kind of eerily lifelike, high-end sex doll. This movie couldn't sound creepier, but you'll want to cheer as Lars transfers the lessons he learns from "Bianca," his wheelchair-bound plastic, fantastic lover. To a real real girl.
4. Love Actually
How many ways are there to sabotage your own romantic life? Let this cheerful tangle of overlapping stories—whose lovelorn players range from jewelers to politicians, cater-waiters, pop stars and porn actors—demonstrate that everything from bad attitude to bad timing can derail the love train… and, fortunately, how blind fate can get the most unlikely romance back on track.
5. My Big Fat Greek Wedding
A Cinderella story for 21st-century girls and boys: There's no glass slipper, fairy godmother or wicked step-family, just an insecure, not-as-young-as-she-used-to be singleton whose interfering, bossy but infinitely well-intentioned relatives almost torpedo her romance with a reserved WASP. Almost being the key word, because even the biggest cynic in the world secretly wants to see "happily ever after" trump "what might have been."
6. Once
If music be the food of love, play on: Yep, Shakespeare had something catchy to say about just about every aspect of attraction. But even he might have been surprised by the subtle power of this bittersweet romance in which a pair of performers struggle to reconcile two very different kinds of passion. Once is sweet, sexy, sad and seductive all at once, which adds up to unforgettable.
7. The Eternal Sunshine of the Spotless Mind
The gimmick of selective memory-tinkering drives this haunting romance that asks whether it's really better to have loved and lost than never to have loved at all. A brain-bender with a cotton-candy center, Eternal Sunshine is a gift that keeps on giving: You'll find it coming back to you at the most unexpected times.
8. The Twilight Saga
Hush up, star-crossed lovers with families who don't see eye to eye about religion, race, class or politics. If the 'rents can get over a vampire boy friend who looks as though Tinkerbell hit him with the fairy-dust sparkle stick, they can get over anything… even if it takes a total of five feature-length films to unite the vamp and the virgin in eternal bliss.
9. Wall*E
You think that five-star hottie is out of your league? Behold, the reason Wall*E reduced everyone from teenage girls to cold-hearted movie critics to tears: if there's anyone who can't identify with the low-tech, interstellar garbage-'bot smitten with "Eve," the sleek, curvaceous Scarlett Johanssen of robo-babes, we don't want to know them… they may be flesh and blood, but they're heartless.
10. Warm Bodies
And speaking of unlikely scenarios, how about this one set in an apocalyptic future in which the teen daughter of knee-jerk zombie hater falls for a shambling emo-boy who happens to be a bonafide walking corpse. Behold, the birth of the "rom-zom com," and it's sweeter than a basket full of kittens. We know, we didn't believe zombies could be cute either, which just goes to show it's never too late to learn.