'80s Movie Theme Songs You Didn't Know You Knew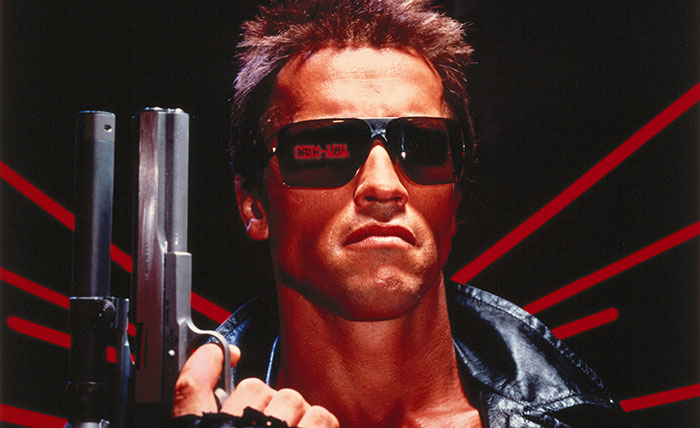 Maybe you never knew that chart-topping hit was written to score a movie, or maybe your ears perk up at that haunting instrumental that you never knew you knew, but here's one thing we do know. Prepare yourself: The following 10 movie theme songs have high earworm probabilities.
1. "Axel F," Beverly Hills Cop
The synth stabs in Beverly Hills Cop's catchy theme song, titled simply "Axel F," made it an international number 1 hit back in 1985, and the instrumental song is still instantly recognizable today. The theme sounds just as much at home within today's electronic music scene as it does in the opening of the movie that launched Eddie Murphy's career into superstardom.
2. "Main Title," Blade Runner
This Vangelis composition is perfectly compliments Ridley Scott's neo-noir masterwork. The movie's themes of the human race being outmoded by synthetic versions of people that aren't even aware of their own (apparent) lack of humanity is mirrored quite well by Vangelis' entire score, which was performed using much of the 80′s most advanced musical equipment. It's a deliciously dated landmark of what the future could have looked (and sounded) like if the '80s never stopped.
3. "Title," Chariots of Fire
Vangelis also created the driving and dreamlike theme for the classic Olympic running movie Chariots of Fire. While primarily known as a writer of electronic music, Vangelis's piece utilizes more traditional orchestral elements that exude a timeless atmosphere to the point where some folks forget it originated in the '80s, not Ancient Greece.
4. "Main Title," Escape From New York
Since this flick touches on something that many New Yorkers seem to want to do on a regular basis (if even for the weekend), there really can't be a much more epic way of doing just that than by soundtracking said exodus by playing Director/Composer John Carpenter's slow-burning melodic paean to getting-the-hell-out of urban wasteland.
5. "Nothing's Gonna Stop Us," Mannequin
Still heard in regular rotation karaoke dens, weddings and in key moments of The X Factor, this '80s smash hit by Starship had humble beginnings as the theme song of Mannequin, the '80s fantasy flick starring Andrew McCarthy and Kim Catrrall. Though not written specifically for the movie, Starship gave their feel-good power ballad over to the movie and dedicated their 1987 music video to it.
6. "If You Leave," Pretty in Pink
There's really only one thing about this John Hughes 1986 cult flick that has failed to stand the test of time—the homemade monstrosity of a pink dress that Andy (Molly Ringwald) wears in the final scene. The iconic '80s synth pop ballad—"If You Leave"—that's playing during that scene however is as wrenchingly comely and belt-it-out-worthy as ever. Legend has it that Hughes wrote the famed final scene at the high school dance in the production's final hour and called on Britpop stars Orchestral Manouevres in the Dark (OMD) to write the perfect song—in 24 hours.
7. "Scarface (Push it to the Limit)," Scarface
Giorgio Moroder's funky, keyboard laced theme "Scarface (Push it to the Limit)" has been sampled numerous times in in other songs, including by Kanye West, Daft Punk and Rick Ross—keeping it current and recognizable. These days the mobster throwback is ubiquitously iconic within modern rap culture and the titular character Tony Montana's status as an anti-heroic figure continues to rise higher than the massive pile of one particular illicit substance on his desk.
8. "Rhythm of the Night," The Last Dragon
Even though this movie has a pretty incredible official titular theme song, the more fitting, and endlessly more recognizable unofficial theme is "Rhythm of the Night," created for soundtrack by the largely-forgotten pop-funk family band DeBarge. The flick itself is only a few steps away from an extended music video masterminded by Motown Records head honcho Berry Gordy to show off various artists' tunes and has reached cult status in its own right. And "Rhythm of the Night's" calypso-influenced rhythm section and rapid-fire chorus is an awesome reminder that all it takes is a few good karate moves to dispatch evil.
9. "The Terminator Theme," The Terminator
Composer Brad Fiedel rocked all sorts of boats when he created the synth theme song for The Terminator in a signature time no one could figure out. The result of a happy accident with his machinery—the now-documented 13/16 time creates an off-kilter feeling and sets the tone for the whole movie. Something is not quite right…
10. "Main Theme – Desolation," The Thing
The theme from John Carpenter's masterpiece horror sounds a bit like the last thumps of a heart in distress—that's the part we all remember. It's chilling minimalism and slow build to Gothic bombast mimics the unwitting team of researchers' descent into paranoia and madness at the heart of the film. Italian composer Ennio Morricone (who's known for his spaghetti-western themes for The Good, The Bad and the Ugly trilogy) collaborated with Carpenter on the music that ended up being just as cold, isolating and memorable as this horror classic.
Find out when The Terminator is playing on SundanceTV. Want more music to rock out to? Check out our list of the top movie soundtracks.