10 Times Hollywood Lied About What College Would Be Like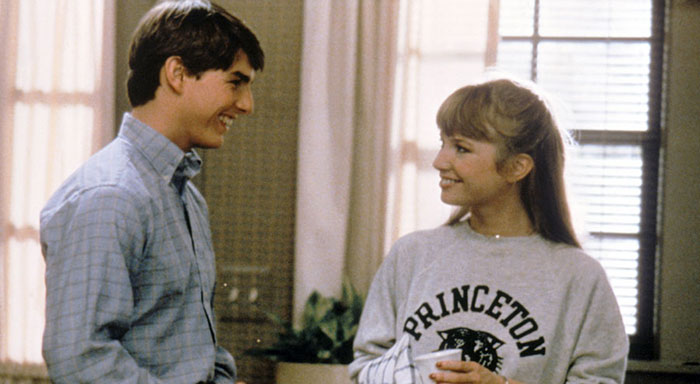 If you thought you would be high-rolling in Sin City or hanging with prostitutes at home after you graduated high school, you can blame Hollywood. Here are 10 lies about college we totally wanted to believe thanks to the silver screen.
1. Ace your interview with help from a few hookers. (Risky Business)
When he gets the house all to himself, high school student Joel (Tom Cruise) doesn't just throw a party. He hires a call girl and turns his home into a one-night brothel. A Princeton admissions rep picks the same night to stop by for an evaluation and—although the interview is interrupted by party-goers and ladies of the night—Joel is accepted.
2. All you need is a little pot to get into Harvard. (How High)
When their dear friend Ivory (Chuck Davis) passes away, Jamal and Silas (Redman and Method Man) pay tribute in true stoner style—by using his ashes as fertilizer for a new batch of marijuana, of course. Soon they discover that their concoction summons the ghost of Ivory, who aids them during their college entrance exams. They both score perfect scores and voila! Hello, Harvard!
3. Take any course you want. (Accepted)
Rejection is hard on us all, but when Bartleby Gaines (Justin Long) is denied admittance from every college he applies to, he turns to his best friend Sherman Schrader III (Jonah Hill) for help. Together, they create a fake college where students teach themselves and take whatever classes interest them. The name of the school? South Harmon Institute of Technology—and, yes, that would make the acronym S.H.I.T.
4. Join the school band to be the cool kid on campus. (Drumline)
The life of a band geek is really not that glamorous, except if you're Devin (Nick Cannon). With his extraordinary drum solos and Battle of the Bands victories on the football field, he's nothing less than God's gift to the marching band. And he gets the girl.
5. You'll do just fine in math class. (Good Will Hunting)
Will Hunting (Matt Damon) is content with his janitorial job at MIT, but after anonymously solving a difficult graduate-level math problem like it's no big deal, he goes on to study advanced mathematics with renowned Professor Gerald Lambeau (Stellan Skarsgård). If you barely got by in Calculus 101, you'll hate the big screen for this one.
6. Pay for your tuition with gambling profits. (21)
Forget scholarships and financial aid. If you're unsure about how to pay for grad school, take your cue from Ben (Jim Sturgess), a gifted math major at MIT, who joins a secret campus blackjack club instead of befriending Sallie Mae. After lavish weekends in Las Vegas with Professor Rosa (Kevin Spacey) and reassuring himself that counting cards isn't technically illegal, Ben becomes an integral part of the team and starts rolling in the dough. Winner winner, chicken dinner!
7. You can totally fit an elliptical machine in your dorm room. (Legally Blonde)
Exercise is important to Elle Woods (Reese Witherspoon) because "exercise gives you endorphins, endorphins make you happy," but if you lived in anything larger than a two-inch wide closet with four bunk beds and a hot plate crammed inside during your freshman year, consider yourself among the elite few.
8. You'll become rich. (The Social Network)
If you aren't working on becoming the world's youngest billionaire in your sophomore year or getting sued by your best friend for $600 million, you're doing it wrong. When programming prodigy Mark Zuckerberg (Jesse Eisenberg) builds a simple online social networking website, it attracts the attention of wealthy investors and grows into the multi-billion dollar company we can blame for the introduction of poke wars: Facebook. Hey, at least this one is based on a true story.
9. You'll never want to leave. (National Lampoon's Van Wilder)
They say the college years are the best years of your life, but Van Wilder (Ryan Reynolds) takes the phrase "stay in school" a bit too literally. He's been a student at Coolidge College for seven years with no intention to graduate, like, ever. Maybe he lucked out and never had to deal with all-nighters, overpriced textbooks or boring lectures?
10. You can always go back. (Old School)
Post-college life can be pretty sucky, but not for this trio of middle-aged best guy pals. After Mitch Martin (Luke Wilson) moves into a house near Harrison University designated for school-related activities, Frank (Will Ferrell) and Bernard (Vince Vaughn) help him turn it into a frat house and they enjoy college all over again—except for the whole learning part.
Hollywood may have lied about your college experience, but is it spot-on when it comes to your workplace? Check out the 10 movie workplaces from hell.