10 Reasons We (Still) Love Issa Rae and "The Mis-Adventures of Awkward Black Girl"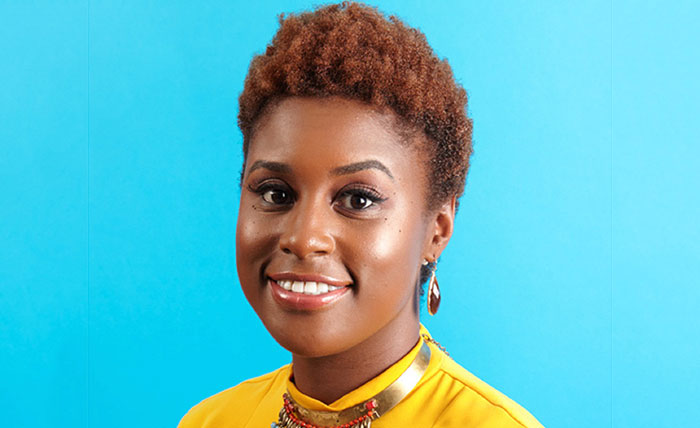 So what happens when you come up with an idea for a web series that stars a woman, addresses the dearth of television shows about people of color and makes viewers scream with joy as they think "so smart!"? Well, if you're Issa Rae, you win a Shorty Award for Best Web Series… and then you're inundated with racist attacks on Twitter. But if Kim K can hold her ground in that realm, we're sure the creator of The Mis-Adventures of Awkward Black Girl, can too. And if you haven't seen the show yet, here are ten reasons why you need to binge. Right now. (Extra Bonus Reason: Issa Rae's new book, also titled The Misadventures of Awkward Black Girl, just hit stands. And you're going to want to read it.)
1. Rap Lyrics: The New Journal Entry
We've loved the narrative journal entry since My So Called Life.
Get with it and swag your feelings out in verse. Don't know what that means? Don't sweat it, the kids do. Everything is better when you express yourself like a violent thug. Oh you think I'm playing Trick!?!
2. Interracial Dating
White guys are always casual, even when they're serious.
3. New Favorite Cell Phone Ringtone
Were it not for J's awkward passion for hip-hop we would never have the joy that is the Doublemint Twins, and their soon to be classic jam, Booty Shawts. Here's the Youtube link. (You're welcome.)
4. Girl Clubs
In case you were wondering, sororities and sorority sisters are still just as terrible as ever. Even a well-choreographed dance, or in this case a Step du Soleil, can't hide the fact that an all-girl click is anything more than a breeding ground for eating disorders, terrible fashion choices and bad decisions that can impact the rest of your life.
5. The Color Purple Hand Clap
In case you didn't register it, please refer to episode 4 where J and Cece experience separation anxiety. During an office "Icebreaker" the besties must split up, but not before they reenact (at 3:39) that brutal separation scene in The Color Purple between Celie Johnson and her sister, Nettie Harris. You know, where Nettie ends up running away to Africa and reconnects with Celie's children—the ones she was forced to have with her father—before later reuniting the family. Yeah, that hand clap.
6. Spoken Word
To quote Episode 7, "God invented liquor because he foresaw spoken word. Praise him…"
7. POTUS Impersonations
Attention hip, liberal, progressive white men of America, and fans of said white men. If you've ever had the inclination to impersonate President Barack Obama, but felt like maybe somehow people just might, possibly, sort of, not, get it. We have three words for you: White Jay, Halloween.
8. A Girl Thing
Maybe you're like us and have grown tired of hearing the "golden rule" that follows every well executed handshake between young, or just terrible, dudes: Bros before Hos. Kudos to the Awkward universe and its latter-day feminist re-appropriation of the aforementioned dogma for giving us "Besties before Testes."
9. Ottomans: The Once and Future Citizens of the World
Turns out that the if you mix the races enough, sprinkling various ethnicities and skin colors from all the continents, and toss in some spices for good measure, you get an Armenian. Not just any Armenian, you get an Armenian that's dark enough (but not too dark) to blend in with any race, and free to be as rude as they want. Or as ABG puts it, a "rainbow of racism." Looks like the old empire was more encompassing than we originally knew.
10. Culturally Insensitive Bosses
We've all had a boss that's completely oblivious to their political incorrectness. But actually, they miss social cues because it's more convenient. Cultural propriety and social progression just get in their way of having fun. And that's not fair. Be it gender, sexual orientation, or racial differences, they'll put their foot in their mouth, at your expense for sure.
Watch The Mis-Adventures of Awkward Black Girl.
Keep reading! Check out 10 more fearless women screenwriters we love.