"BABYLON" Recap: Episode 3 (Thameside Center)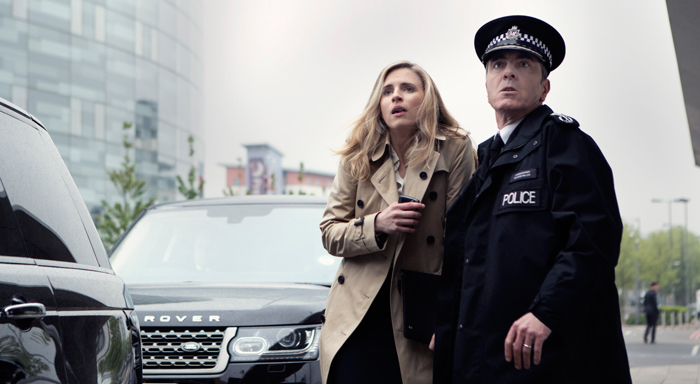 On Robbie's first day at Specialist Firearms Command, the guys haze him by faking a suicide jump and he wets his pants.
A terrorist calls an emergency dispatcher and warns of a bomb planted at the Thameside Exhibition Center. The commissioner meets with Liz and the team to decide how seriously to take the threat.
Miller calls an unidentified woman and warns her to stay away from the possible bomb site.
The deputy mayor asks Liz to meet him for coffee and offers her a job on his staff at City Hall. Liz declines the offer.
Clarkey, Davina and Nobbo investigate the bomb threat. Clarkey, recklessly checks a suspicious bag, which turns out not to be the bomb. Clarkey gets a call from his wife, who suspects he's having an affair, and while defending himself lets word of the bomb scare slip to a passing pedestrian.
An off-duty Inglis gets distracted by a call from his wife while shopping for house supplies and tries to exit the store while still clutching a bottle of unpaid-for shampoo. A security guard stops him.
After a week of refusing to address her ultimatum, Miller apologizes and tells Liz he will support the Metwork plan and fire Finn. Miller tells Liz that hiring her was the best decision he ever made and kisses her on the cheek.
Liz tells Finn and Mia that Metwork is going forward and insinuates that Finn may soon be out of work.
Warwick, taking an unauthorized day off from work, finds himself aiming a real gun at his TV while playing a violent video game. Matt Coward tries to tag along with Banjo, Tony and Robbie, but Robbie tells him they're covering for Warwick and he can't follow them.
Back at the Met, Inglis explains the shampoo incident to Liz and Miller, who tells Inglis to go home. Liz proposes that Miller address the now-leaked bomb threat personally by making an appearance at the Thameside Center and Miller seizes upon the heroic-sounding idea.
As they arrive at the Thameside Center, Miller reveals to Liz that news is about to come out of an extramarital affair, since ended, which he conducted with a fellow employee named Amy. Miller asks Liz to try to kill the story.
Liz contacts the journalist behind the story of Miller's adultery and offers her an alternative scoop involving illegal activity at high levels of the police force (the shampoo incident), holding off on details until she can get clearance from Miller.
Miller oversees the operation as a police robot rolls into the Thameside Center to deactivate a package tentatively identified as the bomb.
Coward appears at the Thameside Center to film Robbie and dig into the mystery of Warwick's absence. Liz shuts him down, identifying his police permit as expired and having his camera confiscated, but not before Coward can slip the memory card into his pocket.
Davina braves the detonation zone to escort a custodian unaware of the bomb scare to safety. The robot smashes the "bomb," which turns out to be a fake.
Liz proposes sacrificing Inglis to Miller, also explaining that they'll be forced to drop the Metwork plan and give the journalist first dibs on all new stories. Miller agrees, pointing out that if the story runs, he'll be personally and professionally destroyed. Liz argues that the truth will come out eventually regardless. Suddenly, the actual bomb blasts an upper level of the Thameside Center to pieces, causing one injury.
Banjo, Tony and Robbie chase down an innocent Hindi-speaking bombing suspect. Robbie, who knows a little Hindi, takes charge of the situation and averts any unfortunate outcome.
Finn confronts Liz about trying to oust him and Inglis, warning her that Miller is only capitulating to her demands to avoid losing her to Delgado.
Banjo, Tony and Robbie pick up Warwick at his flat, where Banjo and Tony congratulate Robbie on his good police work and admit that they all pissed themselves when they were hazed on the first day.
As Miller prepares to tell Inglis he's going to throw him under the bus, Liz receives another call from the journalist. Liz stops Inglis from entering Miller's office and confronts Miller: he was observed warning his wife's sister to stay away from the bomb site. Miller admits to an ongoing affair with his sister-in-law. Liz asks, "Would it have been me next?" Recognizing that Miller is finished, Liz leaves as Miller makes a sudden reversal, telling Inglis he'll make sure the shampoo incident stays buried.
At a police-haunt bar after work, Miles fires Matt for disobeying orders and filming the Thameside Center bombing. Davina tells Banjo they have to talk.
Late that night, Miller gets a call about the scandal and replies, "No comment." He tells his wife he has to go out, and calls Liz, who doesn't pick up, before throwing himself into the Thames River.
Need to catch up? Read recaps from previous episodes.