That Awkward Moment When… (a.k.a. Embarrassing Family Movie Scenes)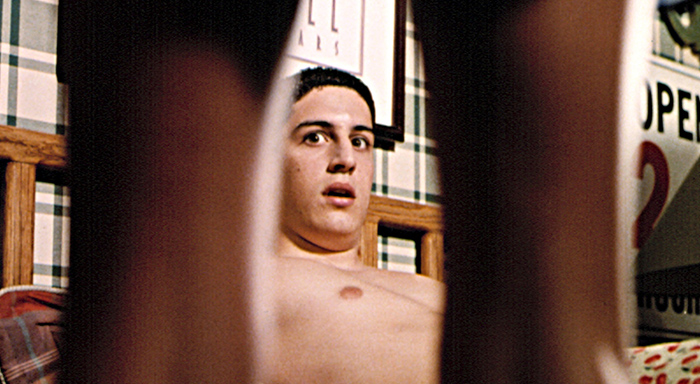 'Tis the season of family gatherings. To, um, celebrate, we've gathered the most awkward, amusing, cringe worthy or downright creepy family moments in the movies. This selection of titles covers some of the best and most guffaw-inducing moments out there, whether it be a talk about the birds and the bees, lying to mom, or perhaps something even a bit more weird…
1. American Beauty
There are so many deliriously awkward moments in this film, with Kevin Spacey as Lester Burnham mooning and swooning over Mena Suvari to the bottomless disgust of his daughter Jane (played to a T by Thora Birch). But perhaps the best is when Lester is first struck by Mena's, er, beguiling charm, and fumbles dreadfully while offering her a ride after a high school basketball game, all in front of both his daughter and wife. As Jane puts it, "I need a father who's a role model, not some horny geek-boy who's gonna spray his shorts whenever I bring a girlfriend home from school." True that, Jane. True that.
2. American Pie
We don't know why masturbation plays so prominently in awkward family moments in the movies, but there you have it. Up there with the most awkward of awkward is when Jim's dad catches him pants down with an apple pie.
3. Black Swan
It's such a relief when Natalie Portman, in her Oscar-winning portrayal of a severely overstressed New York City ballet dancer, finally lets loose, relaxes and starts playing with herself upon waking. Which makes the shock of finding her mother asleep in a chair not three feet away from her bed all the more uncomfortable—and ever so slightly insane.
4. Brighton Beach Memoirs
This '80s movie adaptation of the Neil Simon play captured the essence of what it meant to live in a cramped Brooklyn tenement with your entire Jewish immigrant family, with quarters a bit too close for any modicum of privacy. It reaches a boiling point when one son is walked in on while on the toilet, as he pleads, "Close the door! Close the door!" and reaches for the shower curtain. Oy.
5. Chinatown
For anyone who hasn't seen this remarkable Roman Polanski classic, stop reading: the twist in this movie is one for the record books. Although the moment doesn't happen amongst family members, Faye Dunaway's legendary breakdown, crying "She's my sister and my daughter!" as Jake Gittes (Nicholson) slaps her repeatedly, reveals a whole layer that you never saw coming at all, and what an icky layer it is.
6. Rachel Getting Married
Perhaps the most cringe-worthy movie toast of all time, the crown jewel of Anne Hathaway's performance in this movie comes when she is called on to make a little speech at her sister's rehearsal dinner. This she does, but in the process digs herself so deep—making it totally about herself and her troubles—that no one seems to be breathing by the end.
7. Sideways
Paul Giamatti as manic Miles fakes a little visit with mom, just to steal some of her money. What makes this even more hilariously watchable is the fact that Miles isn't a freeloading college student down on his luck and pinching some twenties from mom's purse; he's a severely middle-aged schmoe who should be very, very past this.
8. Star Wars Episode V: The Empire Strikes Back
Oh, the good old days. When you could kiss your own brother passionately on the mouth and not have to deal with the fallout until the next movie!
9. The House of Yes
This whole movie is one long amazingly awkward family moment, what with Geneviève Bujold (perhaps the most awkward actress of all time) as the family matriarch, a gawkish Tori Spelling and Parker Posey being … well, Parker Posey. In this tour de force, Posey's character is actually fairly smooth, and if it weren't for her sexual infatuation with her twin brother, things would just be peachy keen.
10. The Ice Storm
The '70s still had an innocence in which it may have seemed A-OK for a Dad to have a heart-to-heart with his son about certain facts of life, but in Ang Lee's subtle masterpiece, it all amounts to a 3-minute meandering speech in which the father (Kevin Kline) ostensibly instructs his poor son (played by a boyish Tobey Maguire) on where to masturbate. Yikes.