Make a Wish! 10 Unforgettable Birthdays from the Movies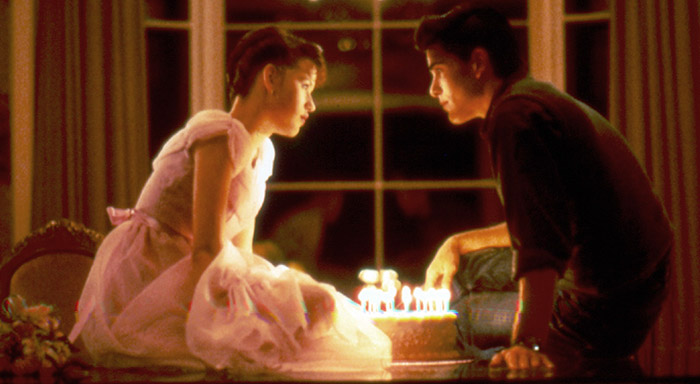 Like it or not, every year we spend on this planet brings each of us the same thing: another birthday. And with each birthday comes the universal hope that our own day be unforgettable: hilarious, crazy, beautiful … or at least give us some motivation for the coming year. If only life was like the movies. Here are the top 10 birthday scenes we'd like to blow out the candles with.
1. Easy Money
Playing a photographer hired for a kid's fifth birthday party, Rodney Dangerfield cracks wise and introduces a bunny puppet who accidentally poops out a few joints. Who the hell invited this guy?
2. Old School
Remember, kids, nothing screws up a birthday party quite like a stray animal tranquilizer gun. But then again, nothing's quite as funny as Frank's (Will Ferrell) nose-dive into the pool either.
3. On Golden Pond
Norman's (Henry Fonda) birthday cake is perhaps the best movie birthday cake ever—every layer and all 80 candles of it. And of course there's Norman's speech as well—his gracious salute to Ethel (Katharine Hepburn)—"I'm glad I got to spend so much time with this beautiful woman."—warms the heart.
4. Rocky IV
Sylvester Stallone adds a small shindig to his screenplay, giving birthday boy Paulie (Burt Young) the most annoying talking robot since that Short Circuit guy. So idiotic, it's never to be forgotten.
5. Sixteen Candles
It was the best of birthdays, it was the worst of birthdays. Wait, reverse that and you have a night in the life of teenager Samantha Baker (Molly Ringwald). The evening starts with an army of freshman dorks ogling Sam's panties and ends with a kiss with the school hunk. Horror and bliss on one birthday. Welcome to high school, John Hughes-style.
6. The Jerk
Tunafish salad on white bread with mayonnaise, a Tab, two Twinkies, homemade gifts and the bestowing of a family heirloom Zippo lighter. What we wouldn't do to sit around the table at Navin's (Steve Martin) party. Do we need to repeat the thing about the Tab?
7. The Rocky Horror Picture Show
It's a birthday dinner table like no other: Janet Weiss (Susan Sarandon) is in a bra, Dr. Frank N. Furter (Timy Curry) is a transvestite to reckoned with and the meal of the evening is Meat Loaf. Literally.
8. This Is 40
When characters in a Judd Apatow movie organize a 40th birthday bash, estranged family members show up, older guys eye the requisite hot girl, and someone ends up punched in the face. There's nothing like proclaiming birthday love from a hospital bed.
9. Tootsie
The friends of unemployable actor Michael Dorsey (Dustin Hoffman) throw him a surprise birthday party, where he works hard to pick up a girl. Soon enough, he'll work hard to become one.
10. Twilight Zone: The Movie
What's your ideal birthday meal? For a boy whose family fears his dangerous psychic powers, it's candy and junk food (and not just on his birthday) in Joe Dante's chapter from the 1983 compilation feature.
Find out when you can catch Dustin Hoffman in Tootsie on SundanceTV.
Sometimes you want to sing "Happy Birthday," sometimes you want to dance. Check out our list of the top 10 dance movies.