Top 5 Robert Carlyle Movies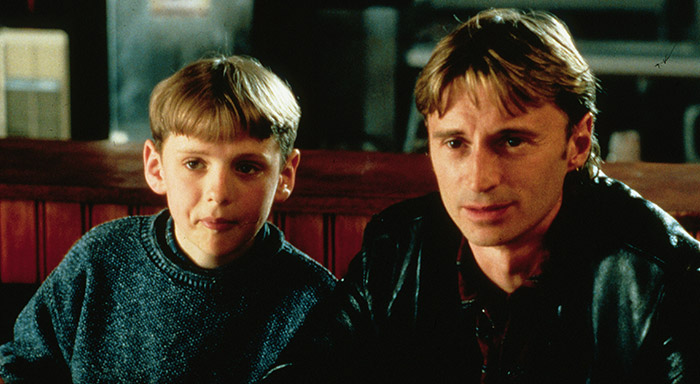 Whether he's showcasing his psychotic side in a Danny Boyle flick, or putting on the most joyous (and hysterical) strip tease of all time, Robert Carlyle has a knack for stealing scenes. The Scottish actor's got a magnetism and raw intensity that carries over between drama, comedy and even horror—and you'll find some of each on our list of his top five performances.
1. 28 Weeks Later
In this bloody zombie sequel, Carlyle transitions from emotionally distraught leader Don to the star "Rage virus" victim seamlessly. That is to say, he's serving as caretaker of a quarantined London district one minute and feeding on flesh the next. After abandoning her during the infection, Don is reunited with his wife, who turns out to be an asymptomatic carrier of the disease. He begs her forgiveness—only to become infected and attack every healthy human in sight for the rest of the movie (including his own child). Carlyle shines before and after his character's contagion—and seems to delight in showcasing his more menacing side.
2. Riff Raff
In his first-ever movie role, Carlyle stars as the blue collar Stevie, recently released from prison and struggling to build a new life for himself in London. With his sketchy new employer, unpopular political views and tumultuous romance, Stevie's existence is anything but stable. Carlyle nails the complicated role, delivering a charismatic performance and putting his name on the map.
3. The Beach
Here Carlyle is Daffy—a crazed Scottish traveler who gives a mysterious map to American backpacker Richard (Leonardo DiCaprio) when they meet in a Thai hostel. Ranting about a secret beach paradise before committing suicide, Daffy establishes the "not quite right" undertone that permeates The Beach. Though only featured in the very beginning of the movie, Carlyle's performance is kooky and haunting, propels the story forward and serves as that ominous red flag that audiences knew Leo shouldn't have ignored!
4. The Full Monty
In the Oscar-nominated comedy The Full Monty, Carlyle is Gaz—part of an unemployed crew of guys who form a male strip tease act in order to earn some much needed cash. What sets these fellas apart from their Chippendale-inspiration is their admirable willingness to go "the full monty,"—which they deliver on in the movie's priceless final scene, baring all to the soundtrack of "You Can Leave Your Hat On." Despite the less than pure premise, Monty is a heart-warmer—in thanks to Carlyle's warm appeal as a man taking the hilarious, exhibitionist route to redemption.
5. Trainspotting
This British crime-comedy-drama is an excruciating study in urban poverty, following a group of heroin addicts in Edinburgh's late '80s economic depression. Carlyle plays Begbie, the violent sociopath of the group—a role the Scotland native felt adequately prepared for, stating, "I've met loads of Begbies in my time. Wander round Glasgow on Saturday night, and you've a good chance of running into one." Trainspotting has the signature Danny Boyle style—breakneck pace, dazzling visuals, epic pop soundtrack—and Carlyle's ferocity as a dangerous addict feels right at home in this high-energy movie.
Danny Boyle's latest work, the long-form feature BABYLON, is airing Thu., Sep. 25 on SundanceTV. Check out the trailer now!