The Master at Work: Top Ten Philip Seymour Hoffman Movies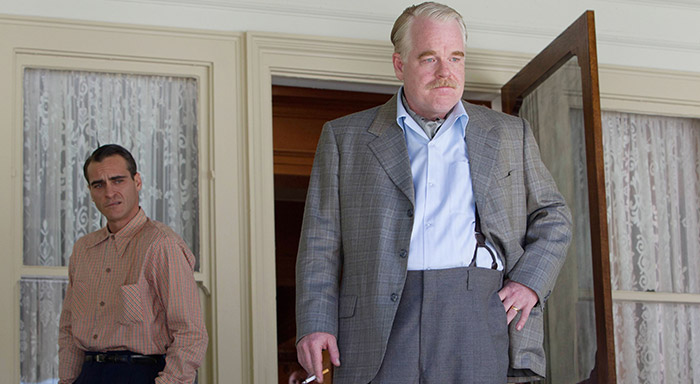 A truly masterful actor with impeccable taste, Philip Seymour Hoffman was and is almost synonymous with ultra-creative and boundary-pushing projects. He brought life and empathy to characters that other actors would run screaming from—from that of a masturbating prank caller (Happiness) to an accused pedophile (Doubt). Hoffman's presence elevates indie flicks—like Synecdoche, New York—and adds the necessary ham and heft to every Hollywood blockbuster he was cast in. Here, a list of his finest movies.
1. Before the Devil Knows You're Dead
Hoffman's revealing performance as a real estate agent whose drug addiction is ruining his life shows the actor at the top of his game. When an audit stands to uncover Andy (Hoffman)'s drug-fueled embezzlement, he hatches a plan with his brother (Ethan Hawke) to rob their parents' jewelry store. The plot is bungled, of course, and when things go from bad to worse, the character's inadequacies and self-hatred, traits that Hoffman plays with precision, begin to bubble to the surface.
2. Boogie Nights
One of Hoffman's most memorable and likable early roles is as Scotty J., the closeted production assistant in this glorious ode to the golden era of pornography. Boogie Nights made breakout stars of both Mark Wahlberg and Hoffman, who was still in his twenties at the time of filming. Hoffman's later characters often bordered on ill-intentioned or creepy—so it's refreshing to see him in a much sweeter and lighter role. As a testament to Hoffman's budding dexterity, that same year he also perfectly played a smug and stuffy personal assistant of the titular character in The Big Lebowski.
3. Capote
Hoffman won an Academy Award for his role as legendary true crime writer Truman Capote, most memorably channeling the journalist's strained, high-pitched voice. The morally ambivalent material suits Hoffman—as Capote is driven by his own selfishness and ego to finish his crime masterpiece In Cold Blood, he pushes his way into the victim's families home and eventually into the good graces of one of the killers, Perry Smith. Hoffman is particular brilliant in the final scenes, witnessing Smith's execution at his request, and the sorrow and horror of the situation finally crash down on Capote, who until that moment seemed ruthless in his pursuit of a good story.
4. Charlie Wilson's War
In the sharp, funny, based-on-a-true-story screenplay by Arron Sorkin, Hoffman is CIA operative Gust Avrakotos—the insider who knows how to get the job done. He assists Charlie Wilson (Tom Hanks) in a gunning-running operation to supply the Afghan mujahideen during their war with the U.S.S.R., and let's just say that Charlie Wilson wasn't winning any wars without him. Hoffman takes on the role with, ahem, gusto. Gust's fascinating dedication to the cause might be unhinged, but the audience is still somehow endeared to this broken man. Hoffman picked up the Oscar nomination for best supporting actor for his performance…and using a wrench has never seemed so satisfying.
5. Cold Mountain
Even cast alongside huge stars like Nicole Kidman and Jude Law, Hoffman's corrupt southern preacher Reverand Veasey manages to steal the show in this Civil War blockbuster. Veasey's dry wit, flamboyance and one liners, served with a slow and spot-on drawl, are side-splitting: When a farmer offers him his flask of booze, the not-so-righteous preacher responds, "Thank you, you are a true Christian."
6. Doubt
Meryl Streep and Hoffman go head to head as nun and priest, each one in a dance to out-act the other, and it's heavenly to behold. Set in the 1960s at a Bronx Catholic High School, Streep plays a chilly and notoriously strict head principal and Hoffman is the school's progressive new priest Father Flynn. When Flynn sets out to try to reform the school's heavy-handed ways, Streep's character drops charges of pedophilia against him. And the audience is left grappling with the heady questions of did he or didn't he and at what point do a person's convictions become truth?
7. Happiness
Never shying away from playing a man in shambles on the big screen, Hoffman takes the intimate and the obscene to the next level in this indie tale of human dysfunction. Here Hoffman is Allen, the neighbor with a dirty phone call habit. While Happiness is often remembered for Hoffman's very graphic masturbation scene, what's truly exceptional about his performance is that his character still milks a shred of sympathy from the audience. It's not fun to see Allen rejected.
8. Synecdoche, New York
This surrealistic flick featuring a washed-up, middle aged loser is the quintessential Hoffman role. He plays Caden Cotard, an unaccomplished theater director whose mounting health problems have him questioning his worth. When he unexpectedly wins a MacArthur Fellowship, he decides to put on the play-to-end-all plays, building an almost to-scale replica of his life and surroundings inside a massive hangar in Manhattan's theater district. We get to watch Hoffman's character age over 17 years as reality and the world inside the play lose all distinctions. Hoffman's character is pathetic and painful—and right at home in his strange surroundings.
9. The Hunger Games: Catching Fire
After building a reputation as an indie darling known for dark and arty roles, it is pure joy to see Hoffman ham it up as head Gamemaker Plutarch Heavensbee and leader of the rebel forces of District 13 in what is presently one of the world's most profitable movie franchises. Critics and fans alike loved this dystopian action blockbuster, even better than the original‐and Hoffman surely had a hand in elevating it.
10. The Master
Scientology's swindling beginnings inspires this Paul Thomas Anderson screenplay, for which Hoffman earned a well-deserved Oscar for Best Supporting Actor. Hoffman is Lancaster Dodd, the effervescent leader of a philosophical movement known as "The Cause." Dodd collects followers, such as the wayward alcoholic Freddie (Joaquin Phoenix), who fall under his spell. Hoffman is at his best in this movie when he's stumping—most notably in an opulent dinner party scene where he loses his cool in a tete-a-tete with a skeptic of his time travel hypnosis theories.