Bill Murray's Top 10 Movie Quotes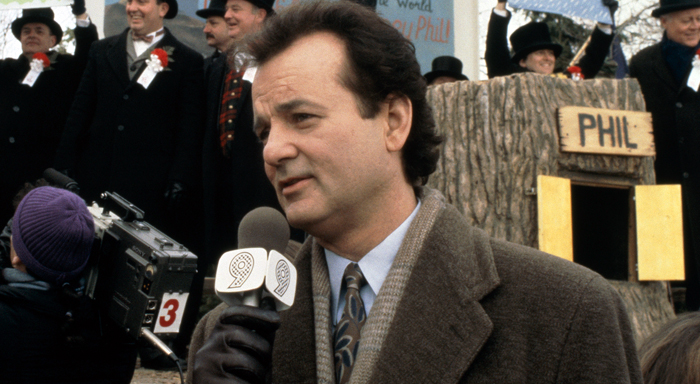 SundanceTV is ringing in Bill Murray's birthday with back-to-back Bill Murray movies on Sun., Sep. 20. Watch Groundhog Day at 9/8c, Rushmore at 11:15/10:15c and Broken Flowers at 1:15/12:15c. Before you tune in, fuel your brain with these classic Bill Murray quotes.
Don Johnston, Broken Flowers: "Well, the past is gone, I know that. The future isn't here yet, whatever it's going to be. So, all there is, is this. The present. That's it."
Carl Spackler, Caddyshack: "So we finish the eighteenth and he's gonna stiff me. And I say, 'Hey, Lama, hey, how about a little something, you know, for the effort, you know?' And he says, 'Oh, uh, there won't be any money, but when you die, on your deathbed, you will receive total consciousness.' So I got that goin' for me, which is nice."
Peter Venkman, Ghostbusters: "I make it a rule never to get involved with possessed people… Actually, it's more of a guideline than a rule."
Phil Connors, Groundhog Day: "I was in the Virgin Islands once. I met a girl. We ate lobster, drank piña coladas. At sunset, we made love like sea otters. That was a pretty good day. Why couldn't I get that day over and over and over?"
Mr. Bishop, Moonrise Kingdom: "I hope the roof flies off, and I get sucked up into space. You'll be better off without me."
Herman Blume, Rushmore: "…I send my kids here because the fact is, you go to one of the best schools in the country: Rushmore. Now, for some of you it doesn't matter. You were born rich and you're going to stay rich. But here's my advice to the rest of you: Take dead aim on the rich boys. Get them in the crosshairs and take them down. Just remember, they can buy anything but they can't buy backbone. Don't let them forget it. Thank you."
Frank Cross, Scrooged: "We're going to need champagne for 250 people, and send the stuff that you send to me. Don't send the stuff that I send to other people."
John, Stripes: "Chicks dig me because I rarely wear underwear, and when I do, it's usually something unusual."
Steve Zissou, The Life Aquatic with Steve Zissou: "Don't point that gun at him, he's an unpaid intern."

Bob Wiley, What About Bob?: "Roses are red, violets are blue, I'm a schizophrenic and so am I."
Want more chances to watch? Check out the full schedules for Groundhog Day, Rushmore and Broken Flowers. And get even more Bill Murray with our list of his top 10 most memorable scenes.