Now You See It: Top 10 Overlooked Sundance Film Festival Movies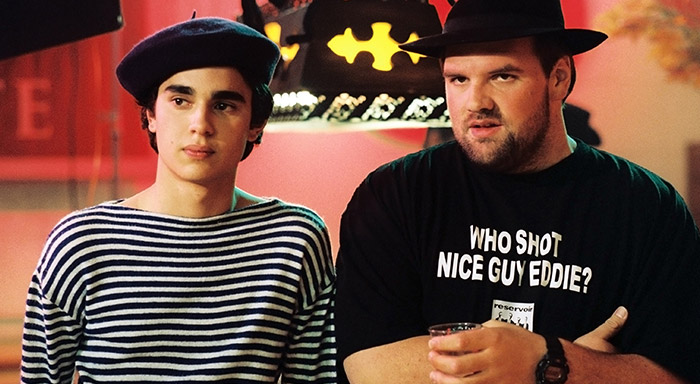 Sure, you've seen Clerks, Napoleon Dynamite and Supersize Me, but there a few movies that screened at the Sundance Film Festival to rave reviews and didn't get wide recognition upon release. Here are 10 gems that you probably haven't seen yet—but should!
1. Art School Confidential (2006)
Terry Zwigoff and Daniel Clowes, reuniting after 2001′s Ghost World, turn their attention to the hypocrisy of art school and the art establishment. Some condemned for it being too mean and cynical, but this bilious screed is a giddy blast of contempt aimed at the strivers, poseurs and sellouts that clog any artistic ecosystem.
2. Black & White & Red All Over (1997)
Written and directed by the team of DeMane Davis, Harry McCoy and Khari Streeter, this ambitious debut puts a subversive spin on the theme of black-on-black violence by keeping the violence off-screen and confining the action (which is mostly talk) to a single Boston apartment.
3. Chameleon Street (1990)
Actor-writer-director Wendell B. Harris Jr. won the Grand Jury prize (from a jury that included Steven Soderbergh) for this sharply funny, furiously inventive take on an actual Detroit con artist whose adopted personas include a Time reporter, a French Yale student and a surgeon. Despite raves, this bold flick got only the tiniest of releases and became a cult footnote.
4. Sleepwalk (1986, shown in 1987)
Sara Driver's first feature is an eccentric, magical mystery about a Manhattan woman's quest to translate an old Chinese manuscript. (She's a distinctive voice who also made When Pigs Fly and produced Stranger Than Paradise.) Director (and Driver's longtime partner) Jim Jarmusch shared cinematography duties on Sleepwalk. It shows.
5. Sure Fire (1990, shown in 1991)
One Utah land developer becomes consumed by his get-rich scheme in this bleak, troubling drama, a typically uncompromising depiction of the curdled American dream from longtime indie agitator Jon Jost.
6. Suture (1993, shown in 1994)
David Siegel and Scott McGehee have gone on to higher-profile work (e.g., The Deep End, Bee Season), but their excellent debut, a playful high-concept neo-noir with a genuinely inspired concept ("lookalike" half-brothers are played by a black actor and a white one), should have a bigger following than it does.
7. The Slaughter Rule (2002)
Anchored by David Morse and Ryan Gosling in rock-solid performances, Alex and Andrew Smith's feature debut is a high-plains tone poem about the bonds and frictions between sons and father figures. Shot in majestic CinemaScope by Eric Edwards, this pic barely sneaked into theaters.
8. To Sleep With Anger (1990)
Charles Burnett spent much of his career being championed by critics as an unheralded master. His debut, Killer of Sheep, completed in 1977, was released in 2007 to belated acclaim. His third full-length movie won a special jury prize at Sundance. A family melodrama set in South Central L.A. but steeped in Southern folk superstition, this is vintage Burnett: a lived-in, full-blooded film with a strong sense of place and community.
9. Trans (1998, shown in 1999)
After breaking out of a juvenile detention center, a teenager goes on the lam in the strip-mall dead-zone of southwest Florida. With its woozy rhythms and trance-inducing sound design, Julian Goldberger's impressive debut worms its way into the fractured psyche of its protagonist.
10. Who Killed Cock Robin? (2005)
Travis Wilkerson's first feature, following up on the lyrical agitprop of his Butte, Montana documentary An Injury to One, portrays the life of a rootless teen in the same dead-end town: shoplifting, hanging out in abandoned mines, grappling with the decline of employment prospects… It's at once bold, unfashionable and earnest.
Now that you've read about the most overlooked films, check out the top ten breakthrough films from the Sundance Film Festival.