Top 10 Chick Flicks About Food, Faith, Love And Travel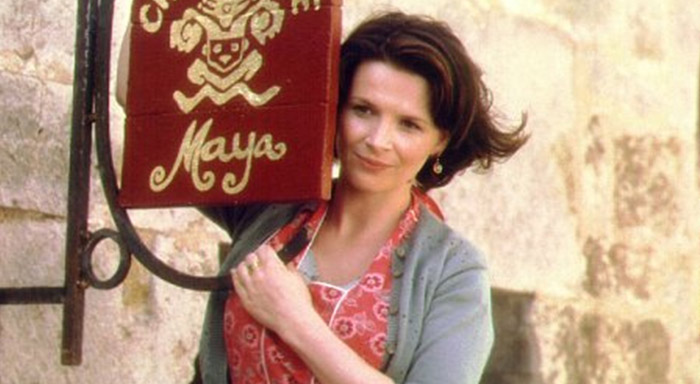 Want an excuse to laugh, cry, swoon and eat chocolate? Then go ahead and indulge with these guilty pleasure movies. The women on our list will make you feel things—all of them good.
1. My Big Fat Greek Wedding
Writer and star Nia Vardalos portrays Toula Portokalos, a single woman from a large Greek family who rebels against working at the family restaurant, takes over a travel agency and commits the sin (in her family, at least) of falling for a non-Greek, Ian Miller (John Corbett). In a total chick flick triple crown, Ian is nice, hot and, to appease her family, gets baptized in a Greek Orthodox Church. And then opa—it's stuffed grape leaves and wedding cake for all!
2. Bridget Jones's Diary
Bridget Jones (Renee Zellweger) worries about her age, job and lack of a relationship while binge eating. Or, you know, just another Saturday night in romantic movie singledom. After an office affair with her smarmy boss (Hugh Grant), our plucky heroine ends up with her soulmate. Snagging a smart, rich lawyer with a British accent? Now this is the total package!
3. Chocolat
Johnny Depp and Juliet Binoche pair up in this tale about a single mom who moves to France and commits brazen blasphemy by opening a chocolate shop across the street from a church during Lent. While dealing with resistance from townsfolk by tantalizing them with chocolate, she has a sensual encounter with an unwelcome and irresistible drifter. Paris, chocolate and Depp? We don't need to go any further.
4. Tortilla Soup
A retired chef Martin Naranjo (Hector Elizondo) has lost his sense of taste, but is still able to ply his culinary skills. He shows his love for his three daughters who grapple with the challenges of life, perils of the heart and wavering devotion to faith by cooking them sumptuous Mexican feasts. This is a sentimental favorite that will have you ordering up tamales in no time.
5. Julie and Julia
Based on a true story, a woman literally spices up her life by creating a blog about cooking each dish from Julia Child's cookbook, The Art of Mastering French Cooking. Simultaneously, the film goes back in time to the '50s and chronicles Child's life and love affair with her husband while the two were in Paris. Amy Adams and Meryl Streep star in this film featuring New York, Paris, French cuisine and amour— in other words, all the right ingredients.
6. The Holiday
Two women (Cameron Diaz and Kate Winslet), living on separate continents suffer unfortunate break-ups and engage in major escapism by swap residences. In perfect "chick flick" style, they find themselves and love in their temporary homes. Watching Jack Black, who seems a bit miscast as Winslet's romantic interest, is just as entertaining as watching Jude Law's charming performance with Diaz.
7. How Stella Got Her Groove Back
Stella Payne (Angela Bassett) copes with losing her job by going on vacation to Jamaica with her best friend (Whoopi Goldberg), and falls in love with a younger man (Taye Diggs). Redefining one's life is hard work, but doing it on a tropical island with a little rum punch and cougar bait doesn't sound so bad.
8. Under the Tuscan Sun
Get a divorce, move to Tuscany! That all makes perfect sense in this romantic comedy about a woman (Diane Lane) living in San Francisco, who becomes depressed after her divorce. On a whim while visiting Italy, she buys a broken-down villa. And, naturally, she meets a guy.
9. Fried Green Tomatoes
In this Southern portrayal of "girl power," Evelyn (Kathy Bates) become dissatisfied with her marriage finds friendship and support with an elderly woman, Ninny (Jessica Tandy). While discovering her inner strength, Evelyn also learns the history of the Alabama town, Whistle Stop, and the cafe of the same name where fried green tomatoes and, um, a special kind of barbecue were served. The perfect for women of all ages.
10. Sex and the City 2
The movie sure made escaping the misfortunes of love and life look glamorous, but after traveling to Abu Dhabi for a deluxe excursion, Carrie, Samantha, Miranda and Charlotte come to realize that life and love back home is better than they thought. Storybook endings (mixed with some fabulous fashion) equals girl time well spent!
Find out when Bridget Jones's Diary is airing on SundanceTV.
Want to schedule more time with some fierce females? Add these secretly feminist films to your watch list.