The Moviemakers Went Down to Georgia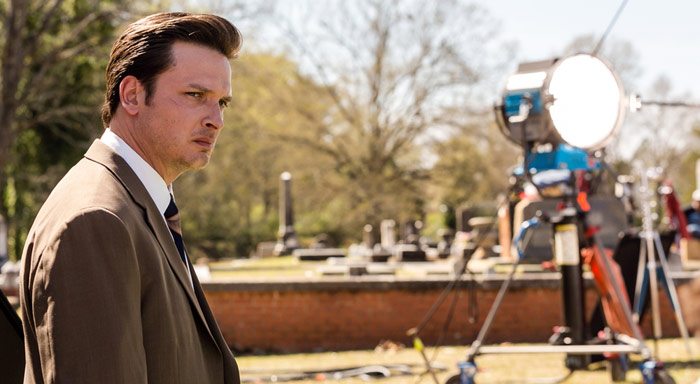 What do Hershel's farm on The Walking Dead, the Holden family residence on RECTIFY, THE RED ROAD's New York-New Jersey border towns and Halt and Catch Fire's Dallas-in-the-'80s milieu all have in common? Geographically speaking, about 130 miles of Georgia highway. Those four highly acclaimed shows—as well as ABC's Resurrection, The CW's Vampire Diaries (and its spinoff, The Originals), BET's Being Mary Jane and a slew of reality TV offerings—all shoot in the greater Atlanta area, often down the road from one another.
So how did the Empire State of the South turn into the new New York of TV production? The long answer requires rewinding to 1972, the year that Deliverance, shot on location in northern Georgia, was released; its success prompted then-governor Jimmy Carter to found the state's first film office the following year. The short answer is: locations, locations, locations. "We have a lot of looks," says Lee Thomas, deputy commissioner of the Georgia Film, Music and Digital Entertainment Office. "We have a major metropolitan city, we have mountains, we have coastlines, we have a lot of small towns." (It also doesn't hurt that Atlanta's Hartsfield-Jackson International Airport, repeatedly ranked the world's busiest hub, offers 26 flights a day to L.A., according to Thomas.)
While Deliverance paved the way, Thomas credits AMC's The Walking Dead, which debuted in 2010, with increasing the number of Georgia-based productions. "If things are working well for that one show, it's a market they [companies] already know, it's people they can trust, and they can keep an eye on all of their shows in one place." Case in point: many locally filmed programs come from the same networks, such as SundanceTV's RECTIFY and THE RED ROAD and AMC's The Walking Dead and Halt and Catch Fire. RECTIFY creator Ray McKinnon, an actor-turned-producer, not only hails from Adel, Georgia, he's also appeared in several movies that were shot in the Peach State, including Driving Miss Daisy, The Blind Side and the 2011 remake of Footloose.
Speaking of Georgia natives, there's another that intensified the state's investment in local film and TV production: Ray Charles. After the producers of 2004 biopic Ray chose to shoot in Louisiana, the state felt compelled to act. "Louisiana started a very aggressive incentives program, and we lost the Ray Charles story—a Georgia story—after [the film] already had offices set up here," says Thomas. "It was a big wake-up call for our legislators. We've got a great program now."
Indeed, while picturesque and varied locations lure filmmakers, tax breaks sure do help. And while Louisiana, home of True Blood, Treme, and American Horror Story: Coven, got into the game earlier than most U.S. states, up-and-comers like Georgia are quickly gaining ground. "Everything has changed in the last 10 years because of incentives," Thomas says. "Everybody was kind of equal and everything was about location, but then Louisiana got out ahead." After the dust settles, she predicts four or five major markets outside of New York and L.A.
In the meantime, fans may want to build their own TV-tour itineraries around small towns like Sharpsburg, Senoia, Griffin, Hiram, and Cartersville, all Atlanta suburbs that have earned screen time as a result of AMC and SundanceTV programming.
Think you'd like to live in a small town? See how long you'd make it in RECTIFY's Paulie, Georgia.
Need to catch up on RECTIFY? Find out where to stream, download or purchase Seasons 1-4.