Robin Williams' Top 5 Non-Funny Movies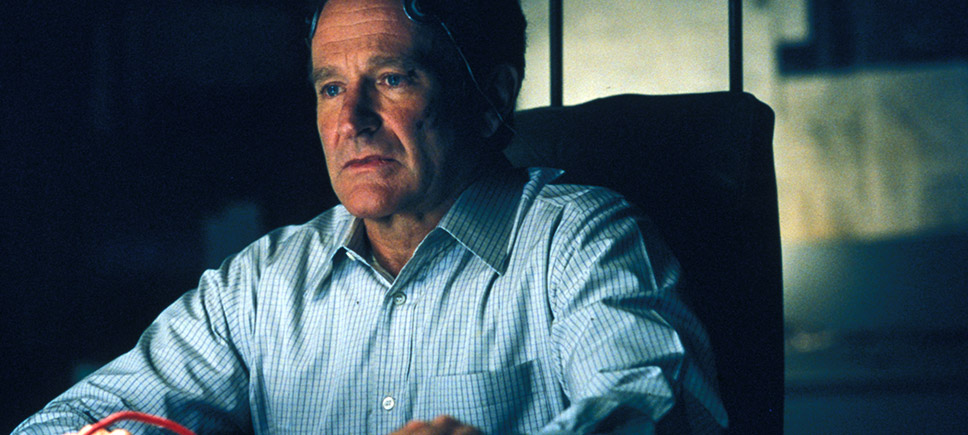 You know him for his high-octane comic performances, and even when his movies crank up the drama, Robin Williams always seem so good-natured. He can't help but make you smile. Or so you thought. Check out these movies in which he turns off the charm. Big time.
1. Insomnia
Directed by Christopher Nolan, this remake of a 1996 Norwegian thriller features Williams as an unhinged mystery writer whose own horrific crimes intersect with those of a conflicted LAPD detective (Al Pacino). An isolated fishing town in Alaska becomes the backdrop for a disturbing meditation on anger, violence and the limits of the justice system. Mork is nowhere in sight.
2. One Hour Photo
The quintessential Robin Williams creep-fest, One Hour Photo tells the strange, sad story of Sy Parrish, a lonely photo technician who, obsessed with a seemingly idyllic family of longtime customers, starts making extra copies of their photos for himself. Williams is utterly convincing as the socially awkward nebbish with years of suppressed rage and envy bubbling under the surface.
3. The Final Cut
This scifi flick takes place in a world where ubiquitous brain implants are capable of recording audio and video from a lifetime's worth of memories. Williams shines as Alan Hakman, a technician who edits the memories of the recently deceased into flattering greatest hits reels to show at funerals. Sworn by his professional code to hide damaging truths, Hakman's carefully honed amorality comes back to bite him as terrible secrets from his own past start to form a disturbing narrative.
4. The Night Listener
Six years before Catfish was released, The Night Listener told the unsettling story, inspired by real-life events, of a radio show host (Robin Williams) who reaches out to a young fan suffering from AIDS only to find that the child may not be who he says he is. Williams' pitch-perfect performance takes the well-meaning broadcaster into depths of insanity as spine-tingling. Horrific.
5. The Secret Agent
Williams steps back in time to portray a mysterious 19th-century anarchist known only as "The Professor." The terrorist's steely nihilism shows through in a terrifying conversation with Gerard Depardieu's undercover spy. (The Professor describes the bomb he keeps strapped to his chest at all times, wired to a detonator in his pocket.)
Find out what Robin Williams movies are airing on SundanceTV.
Looking for a few more thrills? Check out our list of the top 10 killer death scenes.