10 Tense Middle East Movies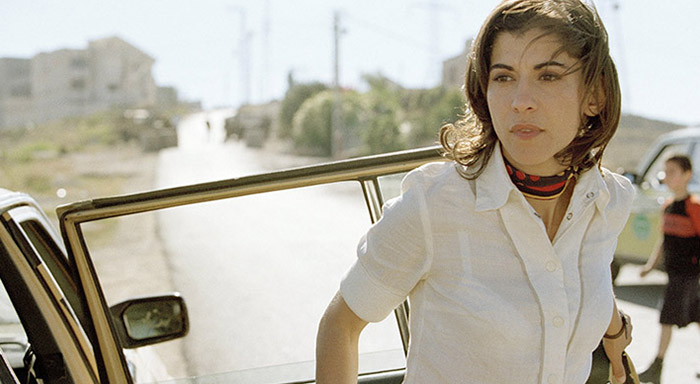 Conflicts in the Middle East are often portrayed as inscrutable, boiled down to divisive headlines and screaming matches between talking heads. These 10 flicks, one which co-stars THE HONORABLE WOMAN's Lubna Azabal, buck stereotypes and get beyond the good versus bad, West versus the rest way of thinking about the Middle East, portraying conflict, humanity, and morality as something on a spectrum between black and white.
1. Syriana
There are surprisingly few movies about the Middle East's hold on Black Gold, considering oil's vice grip on modern geopolitics. Maybe that's because Syriana got it all right. The multiple, masterfully interwoven storylines jump between locations in Iran and Lebanon, Switzerland, and then over to Washington, D.C. and Texas. George Clooney is just one of many characters in this whirlwind of melodrama, wealth, corruption and power.
2. Paradise Now
The first Palestinian flick to earn an Oscar nod, and co-starring THE HONORABLE WOMAN's Lubna Azabal, Paradise Now tells a tender and humanizing story of two childhood best friends from Gaza, Khaled and Said, recruited abruptly for a suicide bombing mission in Tel Aviv. The pair spend what is presumably their last day on Earth with their families, filming awkward goodbye videos with machine guns held in the air, but then the mission goes wrong—and they must confront to what degree they each believe in what they're doing.
3. Control Room
Media spin is a tool of war, and this startling and subversive documentary shows the wildly differing portrayals of the Iraq War shown on American news sites such as Fox and CNN as compared to Al Jazeera, the Arab world's most-watched TV network. The combination of news footage and interviews with soldiers and journalists will have the most cynical viewer questioning the Bush administration's claims that Al Jazeera was a mere "mouthpiece of Osama bin Laden" during the war.
4. Argo
Seeing Bryan Cranston and Ben Affleck in polyester and sporting mutton chops helped make this stylized retelling of the Iran hostage crisis of 1980 a huge blockbuster. But what makes it so watchable is the outlandish yet all-too-true plot: A CIA operative rescued six Americans by convincing authorities they were filming a scifi movie in Iran and then gets them out of the country by the skin of their teeth on a Swissair flight.
5. The Hurt Locker
This 2012 Oscar sweeper (not incidentally, it marked the first Best Director win for a female director, Kathryn Bigelow) set during the Iraq War boasts a raw, hand-held camera style, shot from a soldier's perspective. The psychology is what's most fascinating here: What motivates this three-man American Explosive Ordnance Disposal team, lead by Jeremy Renner, to volunteer to disarm IEDs and other explosives? Is it bravery or just pure insanity?
6. Jarhead
Sam Mendes' Jarhead tells the story of Marine sniper Tony Swofford, and reveals the big picture of what war is like by focusing on the little picture of one man's experience. The boredom of the day-to-day is juxtaposed with the potential for danger around every corner—along with the chilling realization that the men who are fighting the war have little idea of what they are fighting for.
7. Munich
"There's no peace at the end of this, no matter what you believe." This line comes at the end of what is one of Steven Spielberg's most controversial and difficult flicks. Munich recounts the retaliatory aftermath of the kidnapping and murder of Israeli athletes by a Palestinian terrorist group at the 1970 Olympic Games. Moral ambiguity, trauma and more violence is stirred by the revenge mission sought by the Israelis, as they systematically murder of nine of the 11 suspects.
8. Dirty Wars
This investigative documentary made by journalist Jeremy Scahill started in 2010 in Afghanistan without a strong sense of story. Scahill's truth-seeking journey took him from the hinterlands of the Mideast all the way to Somalia. What he found was nebulous and disturbing: In the U.S.'s ever-expanding, no-end-in-sight War on Terror, shocking numbers of civilian casualties, cover-ups and entire covert campaigns have been hidden from the American public.
9. Body of Lies
This is a straight-shooting, big-budget, gadget-packed spy thriller by the director of Black Hawk Down and updated for today's Mideast headlines. Leonardo DiCaprio speaks fluent Arabic as a CIA operative at ease with the locals, hunting down a Jihadist and terror ring in Jordan. But he's being led astray by layers of deceit originating from his own boss (Russell Crowe), the Jordanian intelligence head and other nefarious sources.
10. Green Zone
In light current events in Iraq, this 2010 thriller starring Greg Kinnear and Matt Damon and set in the early days of the toppled Saddam Hussein regime feels fresher than ever. It looks sharply on what Damon's character calls the "manufactured intelligence" linking Hussein to weapons of mass destruction. The best parts are the realistic glimpses into the then-new Iraqi government's anarchic meetings held inside Saddam Hussein's opulent Baghdad palace.
Looking for another engrossing story set in the Middle East? Tune in to THE HONORABLE WOMAN, Thursdays at 10/11c on SundanceTV.
Read on for more war movies—this time set in Africa—that you just can't shake.