It's Good To Be Bad: Top 8 Evil Ben Kingsley Roles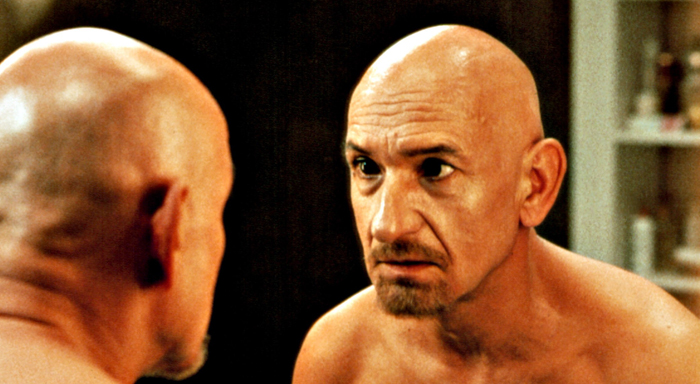 Iron Man's The Mandarin. Shutter Island's Dr. Cawley. Sexy Beast's Don Logan. Ben Kingsley is just so good when he's being bad. And look how many types of bad he can do! See our list below for best of Sir Ben's baddies.
1. Iron Man 3: The Mandarin
Kingsley as supervillain. What's not to love? Both incredibly dangerous and mysterious, The Mandarin gives Tony Stark a run for his money as they battle wits and technology. Fun fact: Kingsley actually admitted to "scaring himself" while inventing The Mandarin's haunting accent. Watch Iron Man 3 and you'll see why.
2. Oliver Twist: Fagin
Kingsley plays Fagin in the 2005 adaptation of this literary classic, thereby bringing loads of charisma to the malicious leader of a London pickpockets gang. Fagin's complicated relationship with the title character is central to the story here: As soon as orphan Oliver catches a break, Fagin's kind facade drops. In true evil form, Fagin preys on Oliver and plots to kill him. Of course, since this is Kingsley, you can't take your eyes off the screen whenever Fagin appears.
3. Sexy Beast: Don Logan
Sexy Beast–widely considered one of the best British crime films of all time–earned Kingsley an Oscar nom for his portrayal of sociopathic con man Don Logan. Whether planning a bank heist or smashing a beer bottle in a friend's face, Logan radiates no-holds-barred intensity (while also spewing a host of obscenities).
4. Shutter Island: Dr. Cawley
Even with minimal screen time, Kingsley creates a quietly horrifying character in Dr. Cawley. Despite being the lead psychiatrist at a mental hospital for the criminally insane, he's hardly the type you'd turn to for counseling. But you can see why Scorsese turned to him to play the role.
5. The Dictator: Tamir
Who said Kingsley can't play broad? After being passed over as successor in the fictional Republic of SAIHA, Kingsley's treacherous Tamir follows Aladeen (Sascha Baron Cohen) to NYC and schemes his cold little heart out. The results? In a word: Outrageous.
6. Thunderbirds: The Hood
In this scifi flick, Kingsley is The Hood–the head of a diabolical team of scientists, plotting to bring down those do-good Thunderbirds. Armed with missiles and mind powers, The Hood is formidable and, thanks to Kingsley, full of attitude, too.
7. War, Inc.: Walken
In this 2008 political satire, Kingsley is Walken—a creepy hit-man with a Southern accent. That's right–Kingsley with a southern accent. Believed dead after murdering protagonist Hauser's (John Cusack) wife, Walken is alive and well and not to be trifled with. When assassins, journalists and oversexed pop-stars meet in fictional Turaqistan, Kingsley's emphatic drawl is there to remind you this is comedy.
8. You Kill Me: Frank Falenczyk
Here Kingsley stars as Polish hit-man Frank Falenczyk–the sloppy, alcoholic son of a mob family who is banished to San Francisco to clean up his act. Whilst making waves on the West Coast, Falenczyk may find love–but, he never loses that lust to kill. Kingsley nails the crime-comedy vibe that made this film a critical success.
Check out the on-air schedule for You Kill Me on SundanceTV.