How Geena Davis Made the '80s (and Some of the '90s, Too)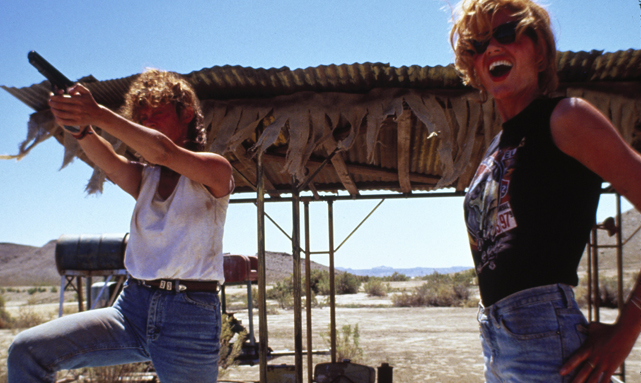 Actress Geena Davis has been portraying kick-ass characters since Reagan was president. She's still awesome, but the decade between 1982-1992 brought us most of her most memorable work. Go ahead and take a trip down memory lane.
1. Tootsie, 1982
Wildly popular and groundbreaking for its time, Tootsie features two things never before seen on the big screen: Geena Davis and Dustin Hoffman in a dress. As young soap star April, Davis first meets her new costar Dorothy (Hoffman in drag) wearing nothing but her skivvies. Despite the T&A, Davis' first flick is both a feminist and comedy classic. Thanks to tip-top acting and writing, Tootsie manages to tackle the heavy topics of stereotypical gender roles and sexism in the media (and the workplace in general), while making us laugh. And laugh. And laugh.
2. Fletch, 1985
In her second movie, Davis is Larry, the fresh-faced but hard-nosed sidekick to investigative reporter Fletch (Chevy Chase). As the paper's researcher (and Fletch's biggest fan), she collects all the intel while Fletch runs around in various costumes trying to uncover a crime ring. Chevy Chase is a comic genius as Fletch, but it wouldn't be the same movie without Davis' Larry as his cute-but-capable support system.
3. Transylvania 6-5000, 1986
The "story" is largely irrelevant, but a true Davis fan wouldn't skip a chance to see her wearing not much more than a bowtie and fangs. As sexually-liberated vampire Odette, she pulls out all the stops—including a heavy Eastern European accent—to seduce a hapless reporter played by Ed Begley, Jr. Don't expect much more than high camp, but the movie does have the dubious honor of being where Davis met future husband and frequent collaborator Jeff Goldblum.
4. The Fly, 1987
Davis teamed up with Goldblum again in this terrifying remake. The two do have great onscreen chemistry but as scientist Seth (Goldblum) becomes more fly than human, the vibe goes from hot to horrific. The movie's climax is the stuff of nightmares—the revelation of Seth's plan, Davis's ripping half his face off, his final transformation… You get the idea.
5. Beetlejuice, 1988
In Tim Burton's first feature, Davis and Alec Baldwin play a freshly-minted couple of ghosts. They're just settling into this whole being-dead thing when a new family moves into their beloved house. As novice ghouls, their attempts to scare off the invaders are unsuccessful. So they call in an expert: the terrifying Beetlejuice (Michael Keaton). A teenage Winona Ryder plays the new residents' unflappable daughter Lydia. The visual style is vintage Tim Burton.
6. Earth Girls Are Easy, 1988
It doesn't get much more retro than a musical romcom with aliens based on a 1984 pop song of the same name. Davis is Valerie, Valley Girl manicurist of the '80s. After kicking her cheating fiance to the curb, she lives it up with some totally radical extraterrestrials (Jim Carrey, Damon Wayans, and, of course, Jeff Goldblum). She may be scantily clad and a bit of an airhead, but Valerie has an open mind and a heart of gold. 100% campy fun.
7. The Accidental Tourist, 1988
That same year, Davis changed gears for a role that won her an Oscar as best supporting actress. In this quiet romantic drama based on the popular novel by Anne Tyler, Davis finally explores her emotional range. Her character Muriel, a dog trainer, is a complicated woman: fun-loving, sensitive and sweet. Playing opposite the emotionally fragile William Hurt, she ends up teaching new tricks to more than just the family pooch.
8. Quick Change, 1990
Davis quickly changes back to laughs as a bank robbing accomplice in this edgy crime caper comedy. Disgruntled ringleader Grimm (played by Bill Murray, who also directs) pulls off a daring heist in the middle of NYC dressed as a clown. Davis' complicated Phyllis finds this irresistibly arousing—clown suit and all. The movie really starts, though, when the trio (completed by Randy Quaid) try to flee the city with the loot. Well-reviewed by critics, this snapshot of pre-9/11 NYC was mostly ignored by audiences. An underrated gem.
9. Thelma & Louise, 1991
Along with Susan Sarandon's Louise, Davis makes feminist film history as Thelma in this beloved classic. In a remarkable, nuanced performance that won her the Best Actress Oscar, she evolves before our eyes from a goofy, girlish victim to a powerful, grown woman. We get to watch as she faces a lifetime of experiences in just a few days—the sweet (Brad Pitt!) and the bitter (well, you know how it ends). All this against the stunning, beautifully-filmed backdrop of the American Southwest.
10. A League of Their Own, 1992
In yet another retro-feminist classic, Davis stars as Dottie, the more talented half of a pair of sisters who join the fledgling All-American Girls Professional Baseball League, which really did crop up during WWII. This based-on-a-true-story movie was directed by Penny Marshall and stars Madonna, Rosie O'Donnell, and Lori Petty as three of the miniskirt-clad players, and Tom Hanks as their drunkard manager. Worth it for the costumes alone.
Find out when Thelma & Louise is airing on SundanceTV.
Feeling fired up? Screen our top 10 list of the best secretly feminist films.