The 6 Diane Keaton Movies You Must See Before You Die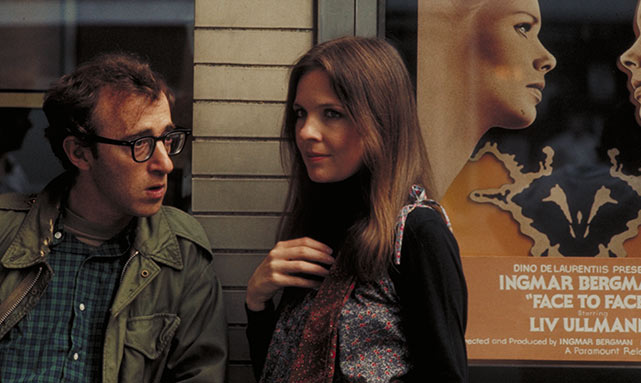 With over 60 credits to her name, getting through Diane Keaton's oeuvre could take you a while. Luckily for you, 1001 Movies You Must See Before You Die narrows the list down to a very doable six. Get started already!
1. Annie Hall (1977) Keaton's fourth film with Allen is the autobiographical, Pygmalion-like Annie Hall. Typecast as a shy self-deprecator who starts living her own life, the brilliant Keaton won a well-deserved Oscar and established a trendsetting look for women in men's clothing. Her great scenes with Allen as Alvy include their first meeting at a tennis club, their madcap drive through traffic and their subtitled conversation on an open-air balcony.
2. Manhattan (1979)
Allen and Keaton pair up once again in this ensemble piece about marital discord. She plays the erudite-yet-insecure Mary Wilke—whose romantic feelings shift from Yale (Michael Murphy) to his best friend Isaac (Allen). The duo's best scenes are all set in iconic New York City locales: Central Park, the Museum of Modern Art, the Hayden Planetarium, and the 59th Street Queensboro Bridge. Maybe the most iconic NYC movie ever. You can thank Keaton for that, too.
3. Reds (1981)
This time around, Keaton teams up with Warren Beatty, and earns a Best Actress nomination for her efforts. She portrays real-life Louise Bryant, the writer-photographer who got stuck in an ill-fated romance with journalist-activist John "Jack" Reed (Beatty). In place of "quirky Keaton," Reds serves up a much more serious side of the actress filled with a compelling mix of frustration and self-loathing.
4. Sleeper (1973)
Diane Keaton became a permanent fixture in a series of movies with writer/director Woody Allen, dating back to this slapstick sci-fi spoof and before that Play It Again, Sam. But it was with Sleeper that Keaton really honed her comedic chops. Here she plays Luna Schlosser, a rich, pseudo-intellectual poetess and greeting card author in the year 2173. Be forewarned: The one-liners never stop so you can expect stomach cramps after viewing.
5-6. The Godfather (1972), and The Godfather: Part II (1974) Keaton appeared in a significant continuing role in the greatest series of gangster flicks ever made: Francis Ford Coppola's Godfather movies. She is introduced in the opening 1945 wedding scene as Kay, the girlfriend, soon to be wife, of Michael, the youngest son of the Mafia family. The first film's iconic last shot is Michael's study door closing on Kay as he is appointed the new Godfather. In Part II, Keaton masterfully portrays how Kay felt 'imprisoned' by the mob lifestyle and alienated from her power-hungry husband. In the film's most emotional scene, Kay confesses to having a vengeful abortion ("It was a son, a son, and I had it killed because this must all end!") and vows to leave with the children, to escape their already-dead marriage.
See the full schedule of 1,001 Movies You Must See Before You Die lineup on SundanceTV, or order a copy of the 1,001 Movies You Must See Before You Die book.