Peekaboo! The Top 10 Semi-Nude Scenes in the Movies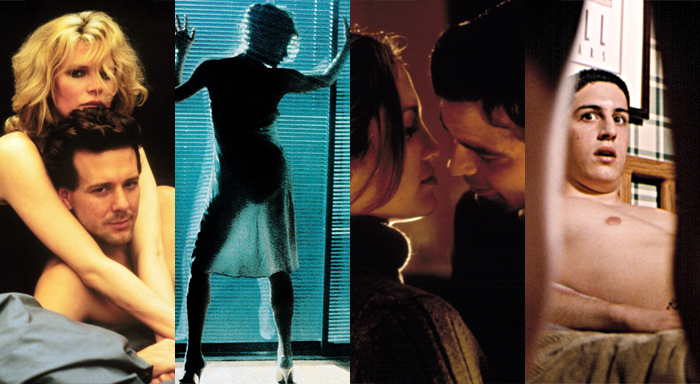 Semi-nude or semi-clothed? The answer might depend on whether you're an optimist or a pessimist, but whatever your view, these 10 movies have mastered the art of the almost-but-not-quite tease.
1. 9 1/2 Weeks
So overcome by passion are Mickey Rourke's John and Kim Basinger's Elizabeth that when they start making love in a rainy alley, they can't be bothered to move the two feet in either direction that would take them out of the direct line of fire from the drain pipe that is oh-so-inconveniently making Ms. Basinger's flimsy tank top wet. And of course neither one has an umbrella either.
2. A History of Violence
David Cronenberg was once told his 2005 movie features the first onscreen example of the 69 position in American cinema history, but for all its boundary pushing, there's no real nudity to speak of. That suits the nature of the scene, which is about playfulness and a sense of innocence, all of which will be contrasted later in the movie by a second sex scene that is angry and violent. Viggo Mortensen and Maria Bello's married couple have a happy life together, but they didn't know each other as teenagers. That's why Bello trots out an old cheerleader costume for a bit of role-playing. Cue the rah rah sis boom bah.
3. American Pie
While Jason Biggs' intimate encounter with a bakery treat tends to hog all the attention for this seminal teen comedy, the best semi-nude scene in this movie is the brilliantly awkward opening, as Biggs' Jim attempts to masturbate to scrambled pornography despite repeated interruption from his oblivious parents. The Weitz Brothers, Paul and Chris, score bonus points here for double semi-nudity—the blurry, grainy images of porn stars on Jim's television and Biggs himself, whose Little Biggs makes a cameo concealed inside a tube sock.
4. Get Carter
Semi-nudish sex scenes are all about the tease—and so is this classic sequence from Get Carter, in which our titular hero (Michael Caine) calls his mistress (Britt Ekland) for a cheeky bit of phone sex. Set to the creaking and in no-way-suggestive sounds of a rocking chair, Carter orders Anna to take off her bra and touch herself; she dutifully complies before being unceremoniously interrupted by a man who was the worst person to ever walk the face of the earth. Director Mike Hodges offers us a fleeting of glimpse of Ekland's naked body right as the sequence ends, heightening the scene's atmosphere of tantalizing pleasures kept just beyond the characters' reach.
5. Goldeneye
The James Bond series has long set the standard for campy love scenes, but this sex-and-fight sequence between Pierce Brosnan's 007 and Famke Janssen's Xenia Onatopp might represent the franchise's all-time high-water mark for winking eroticism. Onatopp's gimmick—a remarkable coincidence, given her name—is that she is a deadly assassin who kills her lovers by crushing them mid-coitus with her immensely powerful thighs. As you might expect, that leads to some kinda-hilarious, kinda-hot wrestling between Bond and Onatopp, and at least one great line ("No, no, no. No more foreplay.").
6. Out of Sight
George Clooney's escaped convict Jack Foley and Jennifer Lopez's U.S. Marshal Karen Sisco spend most of Out of Sight chasing one another around Detroit and Miami as hunter and prey. But for one glorious night they get to drop all of that—but not all their clothes—and hop in the sack together. To prolong the moment the whole movie has been building to, director Steven Soderbergh cuts back and forth between two different parts of the evening—the couple's pre-game barroom flirtations and their amorous activities back in Sisco's hotel room.
7. Psycho
Hard to believe now given its tameness by modern standards, but Psycho was a taboo-buster in its day. With the shower scene, it not only featured one of the greatest (not to mention semi-nudish) onscreen deaths, but the introduction of Janet Leigh's character, Marion Crane, was unheard of at the time too. Dressed, seductively and skimpily (for 1960), in white bra and slip, Marion lounges around a hotel room with her lover Sam Loomis (John Gavin). Marion's undergarments are important beyond base titillation: after Marion steals $40,000 to finance a new life with her man, Hitchcock replaced the character's white lingerie with a black ensemble as a subtle symbol of her turn towards the dark side.
8. The Deep
No man who has ever seen The Deep has forgotten the image of Jacqueline Bisset, swimming underwater in a see-through white t-shirt. The image of Bisset in that wet shirt was so overpowering that it was credited by the movie's producers as single-handedly turning a dreary Jaws knock-off into a massive box office hit. Astonishingly, the technicality of Bisset's semi-nudity—her "clothing" leaves less to the imagination than an X-ray—helped the movie earn maybe the most absurd PG rating in the history of cinema.
9. The Wayward Cloud
Technically speaking, there's no nudity here; Sumomo Yozakura's nether regions are just about entirely obscured by an enormous half of a watermelon resting between her legs. But as her male co-star Lee Kang-sheng begins to caress, lick, finger and eat said fruit in the most sexual way possible there's no mistaking what's going on here.
10. Wet Hot American Summer
Before he played the alpha hetero in the guy's-guy comedy The Hangover, Bradley Cooper took part in one of the all-time funniest (yet oddly tender) gay sex scenes in the sleepaway camp classic Wet Hot American Summer. While his dudely buds ogle some semi-nudish bikini babes, Michael Ian Black's McKinley sneaks off to a nearby equipment shed for a silly, yet warm, lovefest with Cooper's Ben. The sex goes on for a while but it's relatively chaste—the only balls on display are the soccer ones that McKinley and Ben keep accidentally kicking around as they get up in each other's business.
Feeling hot and bothered? Cool down with our list of the most unrealistic sex scenes in the movies.