Beyond the Emmys: The Top 10 Best TV Dramas Ever (With a Caveat)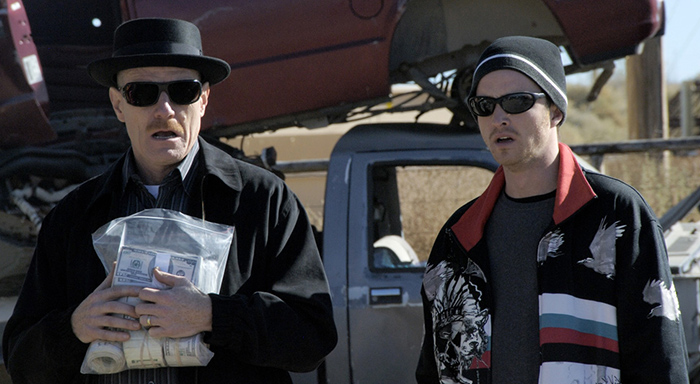 The best drama series on TV defy easy categorizations—they're procedurals with deeply nuanced characters, supernatural thrillers with political ramifications, period pieces impeccably dressed. Some of them invented a whole new way of thinking about television, paving the way for future classics. Others, well, they're just one-of-a-kind. To be completely fair to the competition, we left off RECTIFY and THE RETURNED but we all know they're worthy of this list, too.
1. Breaking Bad (2008-2013)
Extraordinary to look at and impossible to turn away from, Breaking Bad is deeply saturated in both the landscape of New Mexico and the complexity of its characters. Ailing chemistry teacher Walter White (Bryan Cranston) and his former student Jesse Pinkman (Aaron Paul) are the unlikeliest of crystal meth cookers and dealers, and yet they're utterly believable.
2. The Wire (2002-2008)
By taking us deep inside Baltimore's police precincts, schools, City Hall and newspaper, David Simon's masterpiece kept us riveted, desperate to know what would happen to rogue cop Jimmy McNulty (Dominic West), gay vigilante drug dealer Omar (Michael Kenneth Williams) and charismatic gangster/would-be entrepreneur Stringer Bell (Idris Elba), among many, many others. It is, ultimately, a very American story, about crime and cops, the futile war on drugs, a once-great city trying to reinvent itself and people flaunting the rules to follow a greater good.
3. The Sopranos (1999–2007)
One of the most memorable TV characters of all time, Tony Soprano (James Gandolfini) made us rethink life inside organized crime. Who would've thought we'd identify with a mob moss whose troubled psyche led him to see a shrink (Lorraine Bracco) to talk through his marital troubles and work stress? Series creator David Chase imbued the consistently brilliant writing with the darkest brand of humor, right alongside the shocking brutality.
4. The West Wing (1999–2006)
It would be hard for any actual American president to live up to the legacy of Jed Bartlet (Martin Sheen). He was everything we could have hoped for in a leader: a Nobel Prize-winning economist who valued education, equality and compassion above all. Created by one of the great writing talents of our time, Aaron Sorkin, The West Wing pulled back the curtain and gave us a peek at the inner workings of presidential politics with whiplash-fast dialogue and characters we positively fell in love with.
5. Mad Men (2007-present)
Perhaps no other show in the history of television has so brilliantly or beautifully evoked a bygone era as Matthew Weiner's Mad Men. The inner workings of an ad agency and the fascinating creatives on staff—including the unforgettable Don Draper (Jon Hamm) and Peggy Olson (Elisabeth Moss)—bring the turmoil and upheaval of the '60s to life in the most delightfully addictive way.
6. The X-Files (1993–2002)
For a while there, we all wanted to believe that competing alien species were in cahoots with murky government agencies while human oddities lurked in the sewers of New Jersey. Or at least that if the wild conspiracy theories and human-oddity tales were out there, Mulder (David Duchovny) and Scully (Gillian Anderson) would uncover them. In a way, The X-Files summed up life in '90s America: the sense that as the century drew to a close, all was not well in the world's greatest superpower.
7. Gunsmoke (1955-1975)
The drama about a lawman and the colorful characters around him in the Western town of Dodge City, Kansas, (as in "Get the hell out of…") ran for 20 years, a tremendous accomplishment and indicative of the high place it held in American culture. In addition to giving a generation (or two) its mental picture of frontier life, it provided early roles for a slew of young actors, including Burt Reynolds, Nick Nolte and William Shatner.
8. Twin Peaks (1990-1991)
If uniqueness were the sole criterion for greatness in television programming, Twin Peaks would sit firmly atop this list. As it is, it earns a spot for the sheer audacity of David Lynch's premise and execution—but also for the fever-dream quality throughout, the strange take on the whodunit in which the actual solving of the crime (who killed Laura Palmer) is actually less entrancing than a backward-talking dwarf and a damn good cup of coffee.
9. NYPD Blue (1993-2005)
The stories were raw and often painfully close; characters were flawed, and precisely because of that we related to their foibles, even when they were close-minded in ways we almost couldn't forgive. And at the center of it all was Andy Sipowicz (Dennis Franz), the detective-turned-sergeant with an old-school soul keeping the peace (and trying to make his own) in a new-school world.
10. The Twilight Zone (1959-1964)
From that eerie four-note opening theme to those infamous twist endings, The Twilight Zone captivated audiences with tales that were suspenseful, surprising and terrifying. Creator Rod Serling's vision was dark yet culturally cogent, with images that remain embedded in our collective TV-watching conscience.