10 Times Aubrey Plaza Cracked Us Up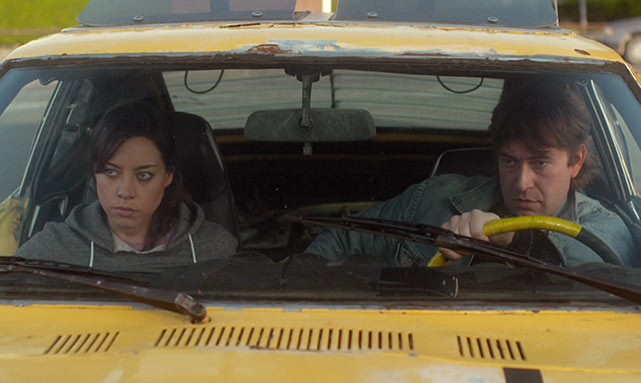 Aubrey Plaza is the queen of the deadpan delivery, the sarcastic quip and the awkward… silence. She's hilarious on social media (Twitter handle: @evilhag), on TV, in movies and super-indie shorts, but here are the top 10 times the actress made us laugh out loud.
1. Ask Amy, "Anxiety"
In real life, Plaza's relationship with Amy Poehler extends past the borders of Pawnee's Parks and Rec department. She made a guest appearance on Poehler's Smart Girls Web series "Ask Amy," answering a question about how to deal with social anxiety. Plaza's sweetly awkward advice: "If you feel like a weirdo, that's okay, because weirdos rule the world. Also, if sometimes you get awkward, you should dance, because that's what I do, and it helps me."
2. Damsels in Distress
Plaza has a priceless turn in indie king Whit Stillman's whimsical Damsels in Distress. The "damsels" in question are coeds at a fictional Ivy League university who are cheerily dedicated to their work at—where else?—the suicide prevention center. They're sure that the cure for serious depression is tap dancing and donuts. You can imagine how well that sits with Plaza's character: "Depressed Debbie."
3. Funny People
2009 was a banner year for Plaza—Parks and Recreation premiered and she made a splash with a small role in Judd Apatow's Funny People. Plaza holds her own in a cast list that reads like a fantasy comedy lineup: Adam Sandler, Seth Rogen, Jonah Hill, Leslie Mann and Jason Schwartzman. Plaza has revealed that she had never done stand-up before playing comedian Daisy. Could have fooled us.
4. Life After Beth
This zombie-themed romantic comedy (a "Zom Com Rom Dram," as she described it on The Daily Show) was penned and directed by her real-life beau, Jeff Baena. The script was written over a decade ago, but Plaza brought it back from the dead to sink her teeth into the title role. Not long after dropping dead, Plaza's Beth comes strolling back from the grave—seemingly totally normal. Her boyfriend and her parents are so psyched to have her back, they decide to just go on like nothing happened. Molly Shannon and John C. Reilly are hilarious as her in-denial parents, and dreamy Dane DeHaan plays the long-suffering boyfriend trying to make sense of it all.
5. Monsters University
Plaza finally gets animated in this Pixar flick. Well, sort of. She again takes on the role of the brooding, emo co-ed, but she does so in CGI. The purple-haired, gray-skin, fur skirt-wearing Claire Wheeler is the Greek Council president, emcee of the Scare Games and school spirit organizer. Claire has so much heart beneath her gruff exterior—and that's what makes Plaza so perfectly cast.
6. Parks and Recreation
Deadpan intern-turned-parks-and-rec-staffer April Ludgate is how most of the world got to know and love Aubrey Plaza. Her dark stoicism is the perfect foil for Amy Poehler's zippy Leslie Knope. Despite her cranky exterior, everyone loves April—and she tends to bring out the best in people, most notably her husband, Andy Dwyer (Chris Pratt), who was teetering on the edge of major loserhood before he finally noticed that she had her eye on him.
7. Portlandia
How's this for cool-kid cred? Plaza was one of the first guest stars on Fred Armisen and Carrie Brownstein's hilarious parody sketch show. In the second episode, she plays the straight man—er, woman—as a college student who comes into the Feminist Bookstore looking for textbooks for her women's studies class. The best moment? When she explains that she can't take their "Queer Questions" course because she has pole dancing class that day.
8. Safety Not Guaranteed
Plaza finally gets a chance to show her emotional range in this indie gem. When we meet Plaza's Darius, she's an intern at a magazine sent to investigate the story behind a mysterious personal ad and the man who placed it. Plaza must turn on the female charm to earn the guy's trust and see what this is all about. Saying more would spoil it—even Plaza herself has said she didn't know how the movie ended until she saw it at the Sundance Film Festival in 2012. But trust us, it's a sweet journey.
9. Scott Pilgrim vs. The World
This movie role cemented Plaza as an indie scenester—the comic adventure Scott Pilgrim vs. The World, based on a graphic novel, is a cult classic. Nerd hero Michael Cera stars as musician Scott, who can only date his current crush once he has defeated her seven evil exes. Plaza plays the small but juicy role of meanie Julie Powers.
10. The To-Do List
The To-Do List is a teen romp in the spirit of Porky's, American Pie, and CaddyShack, starring Plaza as Brandy, a woman with a mission. It's 1993 and the straight-A student and recent high school grad decides she needs to gain some experience and lose her virginity before heading off to college. Although this movie gets major points for its strong, sex-positive female protagonist, it hardly takes the high road—gross-outs and tasteless laughs abound.
Find out when Safety Not Guaranteed is airing on SundanceTV.
Keep the laughs going—check out Chris Rock's top five big screen cult comedies.