10 Movies That Prove Keanu Reeves Was Cool Before "The Matrix"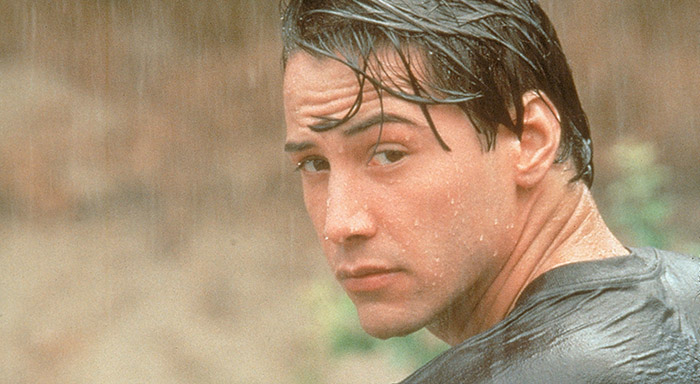 Long before portraying leather-clad Neo, Keanu Reeves was already a name of note. Surprisingly adventurous, he tried his hand at a variety of genres: big-budget action films, teen comedies, indie dramas, period pieces, grunge, even Shakespeare. Let's take a trip back in time to his finest moments before The Matrix made him immortal.
1. Speed (1994)
Who could forget Reeves' turn as daring SWAT officer Jack Traven? A thrill ride from start to finish, Speed costarred Sandy Bullock, Dennis Hopper, Jeff Daniels and a bomb-strapped bus. Despite being offered a dump truck of money, our hero turned down a role in sequel Speed 2: Cruise Control. Bullock wasn't so wise.
2. Much Ado About Nothing (1993)
Keanu Reeves, Shakespearian actor? Why not. In Kenneth Branagh's film, the actor appeared alongside heavy-hitters Emma Thompson and Denzel Washington (not to mention the director himself). His performance as Don John was widely regarded as "meh," but two years later, he received rave reviews for his portrayal of Hamlet in a Canadian stage production.
3. My Own Private Idaho (1991)
One of his boldest roles was Scott Favor, a rebellious rich kid living as a drug-addled hustler on the streets of Portland alongside his narcoleptic buddy, Mike (played by the late River Phoenix). Gus Van Sant's edgy indie tackles issues of friendship, class, loneliness, drug abuse, prostitution, obsession and sexual taboo.
4. Point Break (1991)
Reeves and Patrick Swayze play a pair of thrill-seeking surfers on opposite sides of the law in this cult classic. In between catching tasty waves, Swayze's Bodhi and his pals, the "Ex-Presidents," rob banks while wearing rubber masks and cracking wise; Reeves' Johnny Utah is the undercover cop who infiltrates and tracks the group as their capers grow more and more dangerous.
5. Bill & Ted's Bogus Journey (1991)
Admittedly, this sequel is not nearly as good as the original but as far as "dumb comedy" franchises go, this number two is leagues better than Dumb and Dumber To. Plus Keanu's got an android double. What's not to like about that?
6. Bill & Ted's Excellent Adventure (1989)
For more than a decade, Reeves was best known as (the Ted) half of the dim-witted duo. The spacey Californians go on a time-traveling expedition, collecting important historical figures for a school project. (If they flunk history, they'll be separated and their band, Wyld Stallyns, will cease to exist.) With dude-from-the-future Rufus (the amazing, late George Carlin) as their guide, they learn more than just a few valuable lessons.
7. Parenthood (1989)
In a small yet memorable role, Reeves becomes the unlikely mentor to his girlfriend's little brother, played by a pubescent Joaquin Phoenix. In a scene with the kid's mom (Dianne Wiest), Reeves' Tod explains that the youngster had just discovered, as he puts it, "slappin' the salami … and was getting worried that there was something wrong with him, like he was a pervert or something. I told him that's what little dudes do." Gotta love it.
8. Dangerous Liaisons (1988)
Reeves is utterly charming as the bumbling Chevalier Danceny in the impeccable period drama Dangerous Liaisons. While wooing young Cecile (Uma Thurman), he's swept up into the wicked, intense mind games of French aristocrats played by Glenn Close and John Malkovich. Michelle Pfeiffer and Swoosie Kurtz also star. Don't miss this one> It's better than Cruel Intentions, which is based on the same book.
9. River's Edge (1986)
A group of bored, rebellious high schoolers discovers one of its members has killed another, and the aftermath is as disturbing as the murder itself. Reeves made a splash as one of the disaffected youths, alongside the always-intense Crispin Glover and Ione Skye, who went on to star in Say Anything.
10. Youngblood (1986)
Although he was born in Beirut, Lebanon, and his first name, Keanu, is Hawaiian (meaning "cool breeze over the mountains"), Reeves grew up in Toronto. So it's not such a stretch that his big-studio picture debut was as a goalie in the Canadian hockey flick Youngblood, a Rob Lowe vehicle that also starred fellow Canadian and future surfing pal Patrick Swayze.
Find out what Keanu Reeves movies are on SundanceTV this month.