Top 10 Overlooked Films About Sex, Drugs and Rock & Roll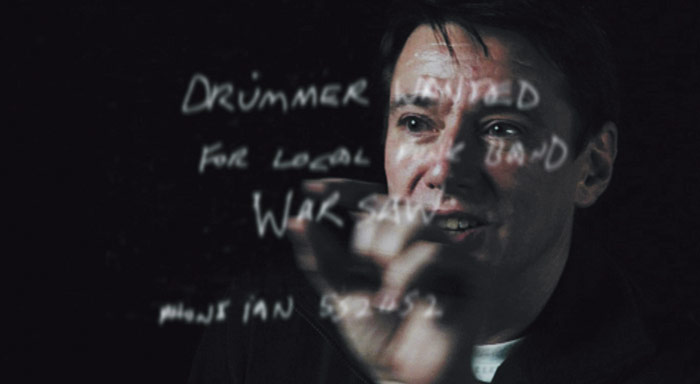 There's nothing like a loud, snarling film to bring out your deviant, inner fist pump. But with so many cliches weighing down the genre, what makes a great sex, drugs and rock-n-roll movie? Here's our list of seldom-seen, under-appreciated, let-'er-rip films. And rock on.
1. Enter the Void
Inspired by the Tibetan Book of the Dead, Void has drug trip visuals that rival the conclusion to Kubrick's 2001, a twisted, neon version of Tokyo, and plenty of contemplation on death, sex and the afterlife. It's like cinematic hypnosis. In the film's pounding soundtrack, LFO chants "This is going to make you freak." You're damn right.
2. 24 Hour Party People
In the late 1970s, the Manchester, U.K. rock scene was on the verge of exploding—Sex Pistols, Buzzcocks and, yes, Joy Division—and a guy named Tony Wilson was there to help make it happen. Party People admittedly mixes fact and folklore to tell how Wilson (Steve Coogan) organically built Factory Records, and of the angry rockers, sad personalities and dumb asses that were involved. Coogan mixes his snarky persona with a touch of naivete—just watch him explain to his wife why a groupie was servicing him in the back of a van. Director Michael Winterbottom always keeps the party moving, conveying the historic importance of the "Madchester" sound.
3. I'm Not There
To work out Dylan's self-guided reinventions, director Todd Haynes uses six actors, each playing a version of the poet during the era of free love and free dope, including the wiry, spot-on Cate Blanchett and a fierce Heath Ledger. Look for an inspired flash of music and violence during the 1965 Newport Folk Festival scene, where Haynes imagines Dylan's guitar as a machine gun when the legend famously "plugs in" for the first time.
4. Another Day in Paradise
After rolling around in teen muck and misbehavior (figuratively, of course), bad-boy director Larry Clark followed up his lightning rod, Kids, with a rambunctious road-trip movie featuring big scores and little smarts. This overlooked cult favorite stars James Woods—cult cool all by himself—and Melanie Griffith as a druggie couple who mentor a pair of younger rebels, including a pre-Mad Men, 18-year-old Vincent Kartheiser. They steal, they screw and then things get dangerously serious. And who does "dangerously serious" better than James Woods? Hey, adults are f-ups, too!
5. Control
Hailed as mandatory viewing for modern rock fans, this biography of Joy Division singer Ian Curtis is part love story, part post-punk tragedy, based on the ironically titled book by Curtis' wife, Debbie. With a Sex Pistols performance as inspiration, Joy Division began playing in late 1977; the strange, sad epileptic Curtis was dead by May 1980. Shooting in stark black-and-white, director Anton Corbijn gets an impassioned performance from actor Sam Riley, who plays Curtis as a confused soul caught up in something bigger than himself.
6. Unmade Beds
You know why the beds aren't made? 'Cause there are plenty of people in them, if you get our drift. The title of this 2009 Sundance Film Festival favorite refers to the various sleeping locations of Axl (Fernando Tielve), a 20-year-old Spaniard who ends up with happy hippies in a giant communal space in London. Director/co-writer Alexis Dos Santos' style is fresh, rocking and decidedly European, conveying the free-wheeling attitude with handheld photography, stills and unexpected music selections. Just jump in and let the French New Wave feel roll right over you.
7. Joy Division
The band Joy Division were smack in the middle of the Manchester movement (as seen in 24 Hour Party People), pounding out of the U.K. punk scene with a danceable, synthesized sound led by enigmatic and deeply troubled singer Ian Curtis. Documentary filmmaker Grant Gee imbues his chronicle of the band with a visual style completely befitting their moody sound. With hundreds of tales about how bands formed and affected their industry, the simply titled Joy Division is surprisingly different, just as the tragic band was.
8. Wassup Rockers
It's often disturbing to see the situations that controversial director Larry Clark has in store for the kids in his films (Kids, Ken Park), from suicide to dangerously unprotected sex. The teens in this lesser-known Clark feature have it a little easier: They're lower-income Latino skateboarders who cross the tracks to shake it up in the wealthier neighborhoods. Taunting cops, meeting white chicks, looking to party…you know, standard troublemaking stuff. Clark fills the soundtrack with skate punk anger, including music from his non-professional cast, playing as The Revolts.
9. Le Donk & Scor-Zay-Zee
Scor-zay-zee is real. Le Donk is not. But that doesn't stop director Shane Meadows from putting the two together in this pseudo-documentary about a rock roadie who dreams of bigger things for himself and DJ buddy Scor-zay-zee, via an opening slot for cheeky real-life Brit rockers Arctic Monkeys. Along the way, fiction meets reality—and sometimes intrudes on reality—in this whacked, wholly improvised comedy that was shot in just five days on a minuscule budget. This one's for anyone who craves mad beats, life on the road and a clueless sidekick.
10. Garage Days
This comedy about a Sydney band with more rock star ambition than talent has a wild, no-holds-barred goofiness. And with all the BS stories about making it big, wouldn't you rather laugh at the band that gets that "one shot at fame"? Garage Days reminds us that fantasizing about arena crowds and sexually promiscuous groupies should be fun. Which it is.
Want to rock some more? Check out our list of the best use of heavy metal in movies and how you can see The Rolling Stones on the screen.