Top 5 Robert Morse Movies from the '60s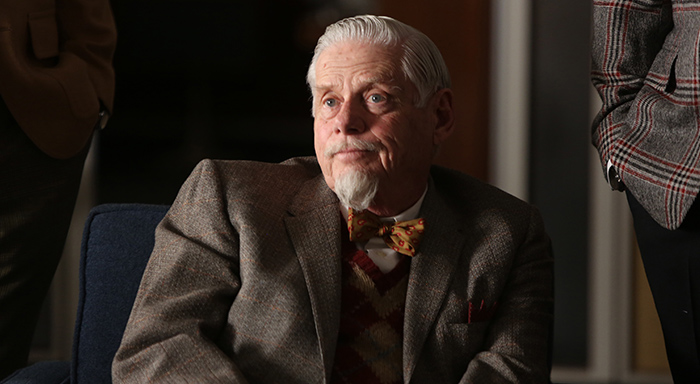 To congratulate Robert Morse for his Emmy nomination, we wanted to go back to the Mad Men era to revisit some of his earlier roles. Check out our picks of his top swinging '60s movies. Just remember to take off your shoes!
1. How to Succeed in Business Without Really Trying (1967)
Morse, who won a Tony for his stage version of the role, is a window washer who sings and climbs his way up the corporate ladder with only a "How to…" manual to guide him. It says something that he manages to steal the show from a brilliant ensemble cast with his wacky, wonderful performance.
2. A Guide for the Married Man (1967)
Morse plays the adulterous Ed Stander who is teaching his reluctant friend (Walter Matthau) the ins and outs of cheating on your wife. A bevy of stars (Art Carney, Lucille Ball, Jack Benny and Jayne Mansfield) act out Ed's hilarious "pointers" in this comedy that's so delightfully wrong.
3. The Loved One (1965)
In a black comedy set in a funeral home, Morse takes on the role of the innocent British poet Dennis Barlow, who lands in L.A. after the death of his uncle. An Evelyn Waugh adaptation, the film manages to send up the entire funeral industry, greed and Hollywood, while still being wickedly funny.
4. Oh Dad, Poor Dad, Mamma's Hung You in the Closet and I'm Feelin' So Sad (1967)
Echoing his role as the naïve youth in The Loved One, Morse is the thumb-sucking son of the mom from hell (Rosalind Russell), and a long-dead (and stuffed) father. They all travel to a resort (yes, even dead dad), along with a sexy babysitter (Barbara Harris), where things, as you might expect, go awry.
5. Where Were You When the Lights Went Out? (1968)
Set during the Great Northeast Blackout of 1965, Waldo (Morse) is a New York executive fleeing town with a briefcase full of money he stole from his company. Along the way, he ends up in a compromising position with the already married Margaret (Doris Day).
Can't get enough of your favorite Mad Men actors? Check out Jon Hamm's best movies and our favorite Christina Hendrick roles!