Top 10 Movies About Hating Your Job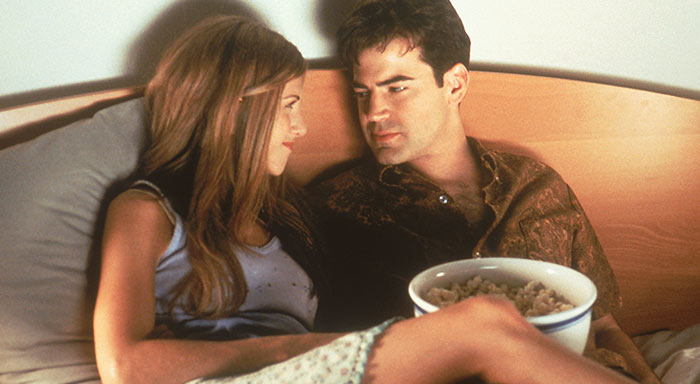 Not loving your J.O.B.? For anyone who's ever wanted to enact the Jet Blue escape plan—open up a hatch and slip down a rubber slide to flee a nine-to-five—here's a top ten list of movies that'll help you get through the day.
1. Office Space
Fed up with an abusive boss and corporate downsizing, Peter Gibbons and his workplace cronies decide to create a computer program that siphons off their corporation's finances penny by penny. Just watching the scene where they beat to death a malfunctioning printer is cathartic enough, but the cult classic also gives new meaning to the song "Take This Job and Shove It."
2. Nine to Five
Jane Fonda, Lily Tomlin and Dolly Parton star in this classic 80′s flick about a misogynistic manager (Dabney Coleman) who makes his employees' lives hell. The ladies commiserate with some "herbal" comfort and fantasizes about bumping off the boss—and in a strange and hysterical string of events, they nearly get their wish. This is the perfect movie to watch when you're dreaming of sweet, sweet revenge.
3. American Beauty
Lester Burnham (Kevin Spacey) rebels against a dead-end job and passionless marriage by developing a mid-life crisis crush on his teenage daughter's friend, Angela (Mena Suvari), whose mere existence motivates him to change his life. This change comes in the form of financially extorting his boss, quitting his corporate job and working at a fast food restaurant. Since our hero winds up meeting an untimely demise, this flick might inspire you to avoid any unnecessary drama and just get a new job.
4. Fight Club
Ed Norton plays a burnt-out auto company employee who, in an attempt to address his aggressive unhappiness, unknowingly develops an alter ego who likes to fight. His alternative persona, portrayed by Brad Pitt, creates an underground club of, yes, fighters who engage in pit brawls to cope with their hum-drum lives. The fight club morphs into a group of corporate marauders who try to take down "the man" and subsequently (to put it mildly) get way out of hand. On those really bad days, substitute this David Fincher film for punching out your boss and blowing up the building.
5. The Devil Wears Prada
Andrea Sachs (Anne Hathaway) is a recent college grad who scores a juicy job working as the assistant to Miranda Priestly (Meryl Streep), editor-in-chief of Runway magazine. This film, allegedly based on Anna Wintour, editor-in-chief of Vogue, shows Sachs paying her dues as she's eaten up and spit out by the cut-throat world of fashion. If you think staying late to make a million copies is bad, at least you don't have to take care of your boss' dog wile wearing five-inch heels.
6. Working Girl
Melanie Griffith stars in this comedy about a secretary, Tess McGill, with big ambitions. When she's paired with a new executive in the company, Katherine Parker (Sigourney Weaver), she believes she's found a mentor. Instead, Parker begins stealing her ideas and plans to present them as her own. McGill turns the tables on the tricky VP by pretending to be Parker while she's out of the office. Watch this as you plot your takeover.
7. Clerks
Called to fill in at the Quickstop, Dante Hicks (Brian O'Halloran) is in slacker heaven as he plays hockey with a buddy on the roof, complains to customers and leaves work to attend a his ex-girlfriend's funeral (where he inadvertently knocks over the casket). This Kevin Smith classic shows how one can have a full day at work without actually working. Perfect viewing to pick up pointers on how to kill time at a job you hate.
8. Training Day
In an Academy Award-winning performance, Denzel Washington portrays a bad cop on the take that partners with a rookie undercover officer, (Ethan Hawke) and makes his first day on duty absolute torture. Getting set up for murder and being set up to be murdered is all in a day's work for Hawke. This one's sure to make your outlook on your current job a little cheerier—at least your boss hasn't taken a hit out on you. Yet.
9. Set It Off
Francesca "Frankie" Sutton (Vivica A. Fox) gets shafted at her bank job after a robbery. She joins Cleo (Queen Latifah as a lesbian gone gangsta), who convinces her and some of her friends to ditch their jobs cleaning offices and become bank robbers. They become successful until, you guessed it, they get caught—all except for one. Watch and dream you're the one who gets away.
10. Willard (2003)
This remake of the '70s movie Ben is about a socially awkward young man, Willard Stiles, who feels more comfortable with his pet rats than with people. After being forced out of his deceased father's company and repeatedly humiliated by his co-workers, he finally loses it when one of his rats is killed at work. Stiles unleashes his deadly army of rodents on his ex-coworkers. Lesson learned: No matter how much you hate your job or coworkers, sometimes it's better to let it go.
Find out when Working Girl is airing on SundanceTV.
Feel like calling in sick? Don't pick up the phone without reading our list of doctors who give new meaning to the phrase "poor bedside manner."